Analisa dan Implementasi Kompresi File Wave Dengan Menggunakan Metode Huffman
Edward Robinson Siagian

Universitas Budidarma Medan
Keywords:
Compression, Wave, Huffman
Abstract
One of the sound file formats that are widely used in the Windows operating system is the Wave format (*. WAV). This format is widely used for gaming and multimedia purposes. Wave is actually a raw format where the voice signal is directly recorded and quantized into digital data. The basic format of this file by default does not support compression and is known as PCM (Pulse Code Modulation). If you record a CD Audio quality song using a sampling rate of 44.1 kHz, 16 bits per sample, 2 channels (stereo), then the total media required to store this audio data per second is 176,400 bytes, so for a duration of 1 minute it takes 10,584 MB. If the average duration of one song is 5 minutes, it takes more than 50 MB of space to store the audio data of the song. This is of course very wasteful of storage media such as hard disks even though there are currently large hard disk capacities available.
References
[1] Basalamah, Affah, Teknologi Multimedia MP3, PT. Elex Media Komputindo, Jakarta, 2001.

[2] Hadi R, Pemrograman Windows API dengan Microsoft Visual Basic, PT. Elex Media Komputindo, Jakarta, 2001.

[3] Halvorson M, Microsoft Visual Basic 6.0 Professional, Step by Step, PT. Elex Media Komputindo, Jakarta, 2000.

[4] Microsoft Developer Network (MSDN) Library Visual Studio 6.0, Microsoft Corporation, 1998.

[5] Shannon, C. E., A Mathematical Theory of Communication, The Bell System Technical Journal, Vol. 27, pp. 379 − 423, 623 − 656, July, October, 1948.

[6] http://www.replaygain.hydrogenaudio.org/file_format_wav.html, 2022.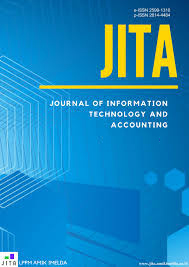 How to Cite
Siagian, E. R. (2022). Analisa dan Implementasi Kompresi File Wave Dengan Menggunakan Metode Huffman. JITA (Journal of Information Technology and Accounting), 5(2), 28-33. Retrieved from https://jurnal.uimedan.ac.id/index.php/JITA/article/view/1041