Penerapan Metode Smart (Simple Multi Attribute Rating Technique) Dalam Menentukan jurusan di SMA Imelda Medan
Elvika Rahmi

UIM

Ika Yusnita

Universitas Imelda Medan
Keywords:
Smart Method, Major Selection, High School
Abstract
One of the roles of SPK in the field of education is in the decision-making process for the selection of majors at SMA Imelda Medan, which in nature can assist decision makers in providing alternative decisions for appropriate majors for students, where the results of the decisions can be used as material to assist teachers and students in make decisions. Most students only follow friends to follow friends to choose a major, so that it allows students to feel unsuitable after entering the major. Therefore we need a decision support system that can calculate the values, abilities and personality of students to help determine majors at SMA Imelda Medan. Smart is a multi-criteria decision-making method developed by Edward in 1977. This multi-criteria decision-making technique is based on on the theory that each alternative consists of a number of criteria that have values ​​and each criterion has a weight that describes how important it is compared to other criteria. The author uses this method to make it easier to determine the right major, according to the desired criteria. This problem can be classified into problems that are multi-objective (many goals to be achieved) and multi-criteria (many criteria that determine in reaching the decision)
References
[1] N. S. Yeni Kustiyahningsih, "SISTEM PENDUKUNG KEPUTUSAN UNTUK MENENTUKAN JURUSAN PADA SISWA SMA MENGGUNAKAN METODE KNN DAN SMART," 2015.

[2] M. I. Ukkas, H. Pratiwi, and D. Purnamasari, "Sistem Pendukung Keputusan Penentuan Supplier Bahan Bangunan Menggunakan Metode Smart (Simple Multi Attribute Rating Technique) Pada Toko Bintang Keramik Jaya," Sebatik, vol. 16, no. 1, pp. 34–43, 2016, doi: 10.46984/sebatik.v16i1.73.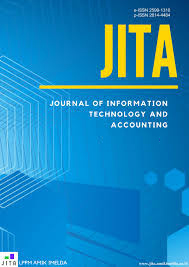 How to Cite
Rahmi, E., & Yusnita, I. (2022). Penerapan Metode Smart (Simple Multi Attribute Rating Technique) Dalam Menentukan jurusan di SMA Imelda Medan. JITA (Journal of Information Technology and Accounting), 5(2), 59-66. Retrieved from https://jurnal.uimedan.ac.id/index.php/JITA/article/view/1103