PKM PENINGKATAN PENJUALAN MINYAK RAMUAN KARO/HERBAL PADA UKM SEBAGAI USAHA MEMPERKENALKAN DAN MELESTARIKAN OBAT TRADISIONAL KARO DI MASYARAKAT BERBASIS DIGITAL MARKET DI MEDAN - NAMORAMBE
Marliana Sari
Marliana Sari

Politeknik Negeri Medan
Keywords:
UKM, NGO, Digital, Web, Application, Promotion, Karo Crude Oil
Abstract
Traditional medicine is a national cultural heritage that needs to be preserved and developed to support health development as well as to improve the people's economy. This traditional medicine has certainly been tested for years and even centuries in accordance with the development of the Indonesian nation's culture is no exception with traditional treatments. Karo tribe, one of them is UKM, Healthy House, Oil, Karo Pot, Shining, where the UKM has carried out production. from decades ago from the legacy of his ancestors.
The method of selling Karusuk rib oil is currently carried out in a conventional form where the sale is done only waiting for buyers at the place of business and the efficacy and usefulness of the treatment of karo oil is still a little Indonesian people who know about it, so I guess the Indonesian people are interested in buying the product because of the lack of promotion carried out by UKM Kusuk Karo Oil also affected the production which was carried out only based on people's demand which also resulted in the lack of income that could be due to the lack of promotion carried out by the Kusuk Karo Oil UKM so that the Kusuk Karo Oil UKM suffered a loss due to greater production costs than revenue sales of Karo Potato Oil SMEs.
Seeing from the above problems, we, from the Community Service Team, wish to increase Digital-based promotion and sales to help UKM Rumah Rumah Koseng Karo Healthy Shine, Increase HR expertise of UKM Rumah Rumah Kusuk Karo Shining Oil in managing the Application of promotion and sale of Kusuk Karo Oil in Indonesia, Increase income of UKM UKM Rumah Sehat Kusuk Karo Oil in the field of sales of Web Design-based production, Make Label production from NGOs UKM Rumah Sehat Kusuk Karo Oil based on Computerization, Make calculation of sales of Kengk Karo Oil based on Computerization so that the input costs and outputs can be monitored optimally from all of these problems are expected for the future from this Digital-based sales can increase the income of this UKM UKM Rumah Sehat Kusuk Karo Oil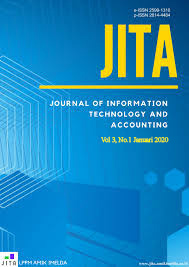 How to Cite
Sari, M. (2020). PKM PENINGKATAN PENJUALAN MINYAK RAMUAN KARO/HERBAL PADA UKM SEBAGAI USAHA MEMPERKENALKAN DAN MELESTARIKAN OBAT TRADISIONAL KARO DI MASYARAKAT BERBASIS DIGITAL MARKET DI MEDAN - NAMORAMBE: Marliana Sari. JITA (Journal of Information Technology and Accounting), 3(1), 9-20. Retrieved from https://jurnal.uimedan.ac.id/index.php/JITA/article/view/326