ANALISIS PEMANFAATAN DATA MINING DALAM PENENTUAN VARIABEL UNTUK PREDIKSI INDEKS PRESTASI MAHASISWA MENGGUNAKAN METODE BACK PROPAGATION NEURAL NETWORK
Friendly
Friendly

Politeknik Negeri Medan
Keywords:
Data Mining, Prediction, Artificial Neural Network, Back Propagation
Abstract
The use of electronic academic data processing makes the administrative job easy. These academic data has also been used as the basis of decision making and when doing a research. The purpose of this study was to analyze existing information in available academic data to produce new information. One of common research using these academic data is a study on prediction of students' achievement index. Yet, with the various data used as the input variables for prediction of achievement.
The main thing to be achieved is to find out a model with data mining technique by using the back propagation neural network that can learn the data available and determine the variables that can be used in predicting students' achievement index. This model will determine the variables from the available data and test the determined data variables. The result of this study showed that the variables produced were different. Based on the data used and the result of the test done, it was found out that by using the determination of these variables, the percentage of prediction increased even though the data of students of Faculty of Engineering had less variables compared to the data of students of Faculty of Mathematics and Natural Science and Faculty of Law.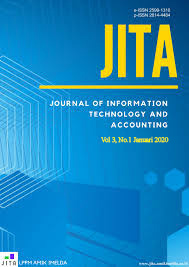 How to Cite
Friendly. (2020). ANALISIS PEMANFAATAN DATA MINING DALAM PENENTUAN VARIABEL UNTUK PREDIKSI INDEKS PRESTASI MAHASISWA MENGGUNAKAN METODE BACK PROPAGATION NEURAL NETWORK: Friendly. JITA (Journal of Information Technology and Accounting), 3(1), 21-41. Retrieved from https://jurnal.uimedan.ac.id/index.php/JITA/article/view/327