Sistem Pakar Diagnosis Kerusakan Pada Mesin Hoisting Crane
Mamed Rofendi Manalu

Manajemen Informatika, AMIK Imelda

Indra Swanto Ritonga

Manajemen Informatika, AMIK Imelda

Siddik Karo-Karo

Perekam Medis dan Informasi Kesehatan Imelda
Keywords:
Hoisting Crane Machine, Expert System, Damage Diagnosis
Abstract
Considering the dangers that may arise from damage to the hositing crane machine, damage can load which happens to fall so that it can cause damage not only to the load but also to the human soul associated with it. Because this is me who submitted an approved application for software that has been specifically designed to be able to diagnose damage to a hositing crane machine. Through several studies on one of the hoisting crane machinery companies namely PT. Engineer Budi. There is on the construction of an expert system to assist experts in carrying out their routine tasks in analyzing the damage to machines that lift cranes.
References
[1] Arief, M. Rudyanto. (2011), Pemrograman Web Dinamis Menggunakan PHP & MySQL, Andi, Yogyakarta.
[2] Febrian. Jack (2007)Kamus Komputer & Teknologi Informasi.Informatika. Informatika, Bandung
[3] Hanif Al Fatta.(2007) Analisis dan Perancangan Sistem Informasi, Andi, Yogyakarta
[4] Jogiyanto. (2007) Komponen sistem informasi, Andi, YogyakartaKamus Besar Bahasa Indonesia Jilid II
[5] Kristanto. Andri (2008) Perancangan Sistem Informasi, Andi,Yogyakarta
[6] Kusrini. dan Koniyo Andri.(2007)Tuntutan Praktis Membangun Sistem Informasi Akuntansi Dengan Visual Basic Dan Microsoft SQL Server. Andi,YogyakartaMADCOMS, (2011),Aplikasi Web Database dengan Dreamweaver dan PHP-MySQL, Andi, Yogyakarta.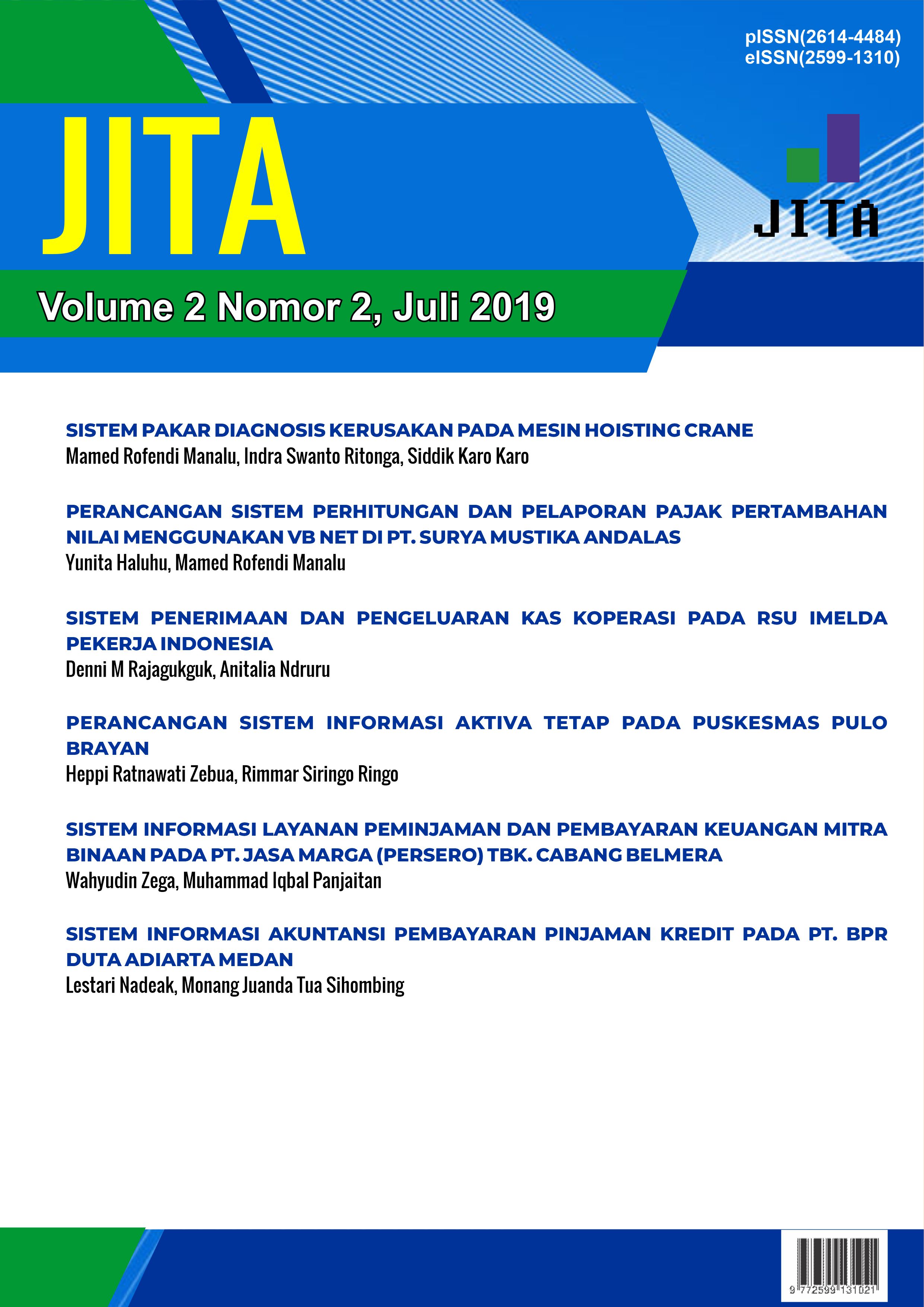 How to Cite
Mamed Rofendi Manalu, Indra Swanto Ritonga, & Siddik Karo-Karo. (2019). Sistem Pakar Diagnosis Kerusakan Pada Mesin Hoisting Crane. JITA (Journal of Information Technology and Accounting), 2(2), 1-9. Retrieved from https://jurnal.uimedan.ac.id/index.php/JITA/article/view/564