Sistem Informasi Perhotelan Berbasis Web (Studi Kasus Hotel Deli Indah)
Muhammad Iqbal Panjaitan

Manajemen Informatika, Universitas Imelda Medan

Angelia Putriana

Perekam dan Informasi Kesehatan, Universitas Imelda Medan
Keywords:
Hotels, Information Systems, Reservations
Abstract
Processing is the main activity in a company, processing is carried out to produce output that can be utilized by the company. Hotel Deli Indah in its work operations, namely the Front Office (FO) has difficulty in processing room reservations to making reports because it is still done manually and does not provide
information that can be accessed directly by the manager. Therefore we need a system that can perform data processing in an integrated and computerized manner, which is supported by the use of a web-based system so as to facilitate the presentation of hotel information and room reservations that can be accessed by visitors and hotel management. The system design uses the waterfall method which is carried out in five stages, namely Analysis, Design, Implementation, Testing and Maintenance. The tools used in the analysis of this system design consist of flow maps, context diagrams, data flow diagrams, data dictionaries, relation tables, and the software used is Macromedia Dreamweaver, PHP with MYSQL as the database media. With this web-based room
reservation information system, it will help and simplify the work in the room reservation process by the front office (FO) and optimize work effectiveness for the hotel management department.
References
[1] Jogiyanto, H.M. 2005. Desain Sistem Informasi, Jogjakarta: Andi Kristanto, Harianto, 2009. Konsep dan Perancangan Database. Yogyakarta: PT Andi Offset.
[2] George M.Scott , 2004, Prinsip-prinsip Sistem Informasi Manajemen, Yogyakarta.
[3] Foster, L., Dennis, 2000, An Introduction to Travel and Tourism, Jakarta:Raja Grafido Persada.
[4] Rumekso, 2002, Housekeeping Hotel, Yogyakarto: Andi.
[5] Agus Sambodo & Bagyono, 2005, Dasar-dasar Kantor Depan Hotel,Yogyakarta.
[6] Fathansyah, Ir, 2002, BASIS DATA, Informatika, Bandung.
[7] Betha, Sidik, Ir, 2002, Pemograman web dengan PHP, Informatika,Bandung.
[8] Madcoms dan Andi, 2004, APLIKASI PROGRAM PHP & MYSQL UNTUK MEMBUAT WEBSITE INTERAKTIF, Andi, Yogyakarta.
[9] Jogiyanto H M, 1999, Pengenalan Komputer, Andi, Yogyakarta.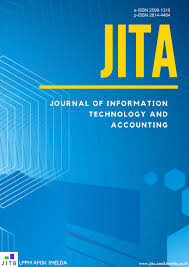 How to Cite
Muhammad Iqbal Panjaitan, & Angelia Putriana. (2021). Sistem Informasi Perhotelan Berbasis Web (Studi Kasus Hotel Deli Indah) . JITA (Journal of Information Technology and Accounting), 4(2), 12-21. Retrieved from https://jurnal.uimedan.ac.id/index.php/JITA/article/view/668