FAKTOR- FAKTOR YANG MEPENGARUHI LIKUIDITAS TERHADAP PROFITABILITAS PADA PERUSAHAAN MAKANAN DAN MINUMAN YANG TERDAFTAR DI BURSA EFEK INDONESIA
Mirwansyah Putra Ritonga

Universitas Imelda Medan
Keywords:
Liquidity to Profitability, ROI, Debt to Equity Ratio
Abstract
A company, both public and private, is required to maintain optimal performance. In doing so, good management is needed that can run effectively and efficiently. The company in its business activities always tries to achieve optimal profit, and with this the company can maintain its survival, the higher the
profit earned, the company will be able to survive, grow and develop and be able to face competition.
Profitability can be used as a benchmark to assess the valuation of a company that runs its business and can also be used as a yardstick in assessing the prospects for the return on capital to be invested by investors. Meanwhile, profitability for companies can be used to assess the company's ability to use
working capital effectively to produce the expected level of profit.
The purpose of this study was to determine whether there is an influence between DER (Debt to Equity Ratio) both on Return On Investment in Textile and Garment Companies listed on the Indonesia Stock Exchange. The approach taken in this research is an associative approach. The population in this study
were all textile and garment companies listed on the Indonesia Stock Exchange, which can assess 12 food and beverage companies. While the samples that met the criteria in sampling for this study were 6 Textile and Garment Companies and monitoring was carried out for four years, namely 2010, 2011, 2012, 2013.
The independent variable in this study consisted of DER (Debt to Equity Ratio), while for the variable the dependent is Investment. The data technique of this research is to use documentation techniques, while the data analysis technique is to use classical assumptions, multiple shaking, t-test, f-test, and the
coefficient of determination. Data processing in pene; This analysis uses the 18.00 SPSS (Statistics Package for Social Science) Software program for windows.
References
[1] Agnes Sawir. (2004). Analisis Kinerja Keuangan dan Perencanaan Keuangan Perusahaan. Jakarta: PT. Gramedia Pustaka Utama.
[2] I Made Dian S., dan Putu Vivi L. (2014). Pengaruh Perputaran Modal Kerja Terhadap Profitabilitas Perusahaan. Jurnal Manajemen Vol.3 No.7 tahun 2014
[3] Sugiyono. (2011). Metode Penelitian Bisnis (pendekatan kuantitatif, kualitatif, dan R&D).Bandung: CV Alfabeta.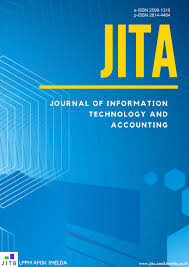 How to Cite
Mirwansyah Putra Ritonga. (2021). FAKTOR- FAKTOR YANG MEPENGARUHI LIKUIDITAS TERHADAP PROFITABILITAS PADA PERUSAHAAN MAKANAN DAN MINUMAN YANG TERDAFTAR DI BURSA EFEK INDONESIA. JITA (Journal of Information Technology and Accounting), 4(2), 32-35. Retrieved from https://jurnal.uimedan.ac.id/index.php/JITA/article/view/697