Analisa Dan Perancangan Sistem Informasi Retensi Rekam Medis Menggunakan VB.Net Pada Rumah Sakit Umum Sari Mutiara Lubuk Pakam
Ika Yusnita Sari

Elvika Rahmi

Universitas Imelda Medan
Keywords:
Retention, System, Medical record.
Abstract
The development of technology in the field of hospital information systems has a positive impact on the services in it. One example of the use of technological developments in the hospital sector is the existence of an information system that supports the retention process and transfer of
medical record documents, the document information system makes it easier for officers to sort without reopening documents for the patient's last visit, and the information system provides record document backup facilities. medical data in the form of digital files, this can save storage space, as
well as physical security for documents from all disturbances such as loss and damage due to human error, natural factors such as disasters, pests and other factors. With this retention application, officers do not need to sort out every form in the medical record document at the time of retention, and if the destroyed form is needed at any time, the form can be reprinted.
References
[1]. Laksono, R. et al. (2017) 'PEMANFAATAN TEKNOLOGI DIGITAL DALAM PROSES',1(1), pp. 47–60.
[2]. Topan, M. et al. (2015) 'Perancangan Sistem Informasi Manajemen Rumah Sakit Berbasis Web Studi Kasus : Rumah Sakit TNI AU Lanud Sam Ratulangi', 6(1), pp. 1–6.
[3]. Istiana, L. D. and Pujihastuti, A. (no date) 'TINJAUAN PELAKSANAAN RETENSI DOKUMEN REKAM MEDIS AKTIF KE IN AKTIF DI RUANG FILING RSUD DR .
MOEWARDI'.
[4]. Kamilia, N. et al. (2020) 'J-REMI : Jurnal Rekam Medik Dan Informasi Kesehatan J-REMI :Jurnal Rekam Medik Dan Informasi Kesehatan', 1(4), pp. 476–483
[5]. Wiguna, A.S. (2019) 'TINJAUAN SISTEM PENYIMPANAN DOKUMEN REKAM MEDIS', 4(2), pp. 648–654.
[6]. Linarwati. et al. (2016) Journal of Management " Studi Deskriptif Pelatihan Dan Pengembangan Sumberdaya Manusia Serta Penggunaan Metode Behavioral Event Interview Dalam Merekrut Karyawan Baru di Bank Meda Cabang Kudus, Vol.2 No.2 , Maret 2016.
[7]. Zellatifanny, C. M. and Mudjiyanto, B. (2018) 'Tipe Penelitian Deskripsi Dalam Ilmu Komunikasi', Diakom : Jurnal Media dan Komunikasi, 1(2), pp. 83–90. doi:
10.17933/diakom.v1i2.20.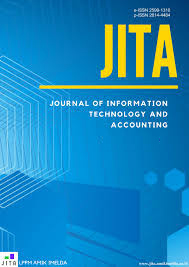 How to Cite
Ika Yusnita Sari, & Elvika Rahmi. (2022). Analisa Dan Perancangan Sistem Informasi Retensi Rekam Medis Menggunakan VB.Net Pada Rumah Sakit Umum Sari Mutiara Lubuk Pakam . JITA (Journal of Information Technology and Accounting), 5(1), 20-28. Retrieved from https://jurnal.uimedan.ac.id/index.php/JITA/article/view/749