IMPLEMENTASI INAPORNET TERHADAP PELAYANAN KAPAL DAN BARANG PADA PT. SAMUDERA ARKAN NUSANTARA
Talizomboi Laia

Program Studi Ketatalaksanaan Pelayaran Niaga, Akademi Maritim Belawan (AMB) Medan

Lisma Yenni Pandia

Program Studi Ketatalaksanaan Pelayaran Niaga, Akademi Maritim Belawan (AMB) Medan
Keywords:
Inapornet Implementation, Ship Service, PT. Samudera Arkan Nusantara
Abstract
Given the very important role of ports in the maritime world, it is time for the government to pay special attention to ports in Indonesia. The government is expected to improve the existing facilities at the port and improve the service system at the port so that activities at the port can run safely and smoothly. The port must have a system that has the ability to make ship and goods services at the port run effectively and efficiently. The system in question is a system to facilitate the process of providing goods and services and can be used by all officials and service users at the port
References
[1] Jonathan, Sarwono. 2016. MetodePenelitian Kuantitatif dan Kualitatif. Yogyakarta: Graha Ilmu.
[2] Nana Syaodih Sukmadinata (2016). Metode penelitian Pendidikan. Bandung: Remaja Rosdakarya.
[3] Neolaka, Amos. 2014. Metode Penelitian dan Statistik. Bandung: Remaja Rosdakarya
[4] Peraturan Menteri Perhubungan No. KM 21 Tahun 2007. Tentang Sistem dan Prosedur pelayanan Kapal, Barang dan Penumpang pada Pelabuhan Laut yang diselenggarakan oleh Unit Pelaksana Teknis (UPT) Kantor Pelabuhan.
[5] Peraturan Menteri Perhubungan Nomor PM 192 Tahun 2015. Tentang Penerapan Inaportnet untuk Pelayanan Kapal dan Barang di Pelabuhan.
[6] Satori, Djam'an dan Komariah, Aan.Metodologi Penelitian Kualitatif. 2014. Bandung:Alfabeta.
[7] Sugiyono. 2016. Metode Penelitian Kuantitatif, Kualitatif dan R&D. Bandung: PT Alfabet.
[8] Suyono, R.P. 2015. Shipping Pengangkutan Intermodal Ekspor Impor Melalui Laut. Edisi II. Jakarta: PPM.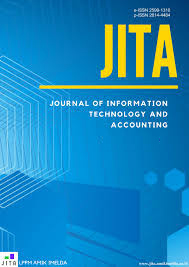 How to Cite
Talizomboi Laia, & Lisma Yenni Pandia. (2022). IMPLEMENTASI INAPORNET TERHADAP PELAYANAN KAPAL DAN BARANG PADA PT. SAMUDERA ARKAN NUSANTARA . JITA (Journal of Information Technology and Accounting), 5(1), 36-40. Retrieved from https://jurnal.uimedan.ac.id/index.php/JITA/article/view/768