SISTEM INFORMASI PENDATAAN PASIEN RAWAT INAP PADA RUMAH SAKIT IMELDA MEDAN MENGGUNAKAN VISUAL BASIC 2008
Siddik Karo-Karo

Universitas Imelda Medan

Marjones Hardy. H Sihombing

Universitas Imelda Medan
Keywords:
Information Systems, Data Processing, Inpatient, Visual Basic 2008
Abstract
Imelda Hospital Medan is one of the agencies engaged in the field of public health, namely:located at Jl. Bilal No.24, Pulo Brayan Darat I, Kec. Medan Timur., Medan City, North Sumatra. In this paper theauthor will make data processing information inpatient system with object-oriented methodology. Imelda Hospital Medan still uses the manual method. System recording, checking and Inpatient reports are made manually. In this method, errors often occur in recording, searching and recording browsing historical data takes a long time so it is not efficient in terms of time, effort and cost. Method of the research being conducted by the researcher is "forward engineering". Because learning starts from identify problems, collect the necessary data, develop the model to be used, test the model, development, evaluation, and validation. This research will design a computerized system with Visual Basic 2008 programming language for programming code generation. This research starts from the planning stage (plan) to the design stage (design), Microsoft Visual Basic 2008 was chosen because it has a comfortable interface design. His goal is to design an inpatient data processing information system that has the following advantages:data can generate information about patients, hospitalization reports quickly and accurately and generate archives patient data file form. With a computerized system,
Imelda Hospital Medan can improve effectiveness of its performance, and obtain the convenience obtained from the system to minimize errors, especially in patient data entry case.
References
[1]. Jogiyanto. 2013. Analisis & Desain Sistem Informasi : Pendekatan tertruktur teori dan praktik aplikasi bisnis.Andi Offset. Yogyakarta.
[2]. Sutanta Edhy. 2011, Sistem Informasi Manajemen.Andi:Yogjakarta
[3]. Sutabri, Tata. 2012. Analisis Sistem Informasi.Yogyakarta : CV. Andi Offset.
[4]. Azwar, Azrul. 1996. Pengantar Administrasi Kesehatan. Jakarta : Binarupa Aksara.
[5]. Solichin, Achmad. 2010. MySQL Dari Pemula Hingga Mahir. Edisi ke1.Achmatim.Net.Jakarta.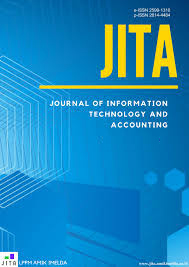 How to Cite
Siddik Karo-Karo, & Marjones Hardy. H Sihombing. (2022). SISTEM INFORMASI PENDATAAN PASIEN RAWAT INAP PADA RUMAH SAKIT IMELDA MEDAN MENGGUNAKAN VISUAL BASIC 2008 . JITA (Journal of Information Technology and Accounting), 5(1), 41-48. Retrieved from https://jurnal.uimedan.ac.id/index.php/JITA/article/view/770