PENERAPAN METODE VOGEL'S APPROXIMATION METHOD (VAM) DALAM OPTIMALISASI BIAYA TRANSPORTASI PENGIRIMAN BARANG BERBASIS SISTEM INFORMASI (STUDI KASUS: PT. COCACOLA AMATIL INDONESIA (CCAI) MEDAN)
Muhammad Iqbal Panjaitan

Universitas Imelda Medan

Satria Yuda Prayogi

Universitas Islam Sumatera Utara
Keywords:
Information Systems, PT. Coca-Cola Amatil Indonesia, Vogel's Approximation Method
Abstract
This study aims to describe and analyze the application of the distribution transportation model with the Vogel's Approximation Method and Modified Distribution in minimizing the cost of distributing goods to the Medan and surrounding areas.This research data was obtained through direct interviews (primary) with parties related to the marketing department, especially the distribution of goods and through documentation of company data related to distribution (secondary) as well as direct observation on the object of research. This research uses the Vogel Approximation Method as the initial solution, and Modified Distribution is the final solution in minimizing transportation and distribution costs.
References
[1]. Permatasari, Deasy. 2010, Optimasi Distribusi Gula Merah Pada UD Sari Bumi Raya Menggunakan Model Transportasi Dan Metode Least Cost, [Online]
[2]. Departemen Pendidikan Indonesia (2008). Kamus Besar Bahasa Indonesia. Jakarta:Balai Pustaka.
[3]. Oxford Advanced Learner's Dictionary. (2005).Oxford: Oxford University Press.
[4]. Mulyadi. 2009. Akuntansi Biaya. Yogyakarta : STIE YPKPN
[5]. Mulyadi. 2001. Sistem Akuntansi Edisi Tiga. Jakarta : Salemba Empat.
[6]. Jogiyanto. (2014). Analisis dan Desain Sistem Informasi, Sistem Informasi :Pendekatan Terstruktur Teori dan Praktik Aplikasi Bisnis. Yogyakarta:Andi Offset.
[7]. Aribowo, Agus Sasmito. 2008. Visualisasi Teori Optimalisasi Biaya Transportasi Untuk Pembelajaran Riset Operasi. Jurnal Informatika.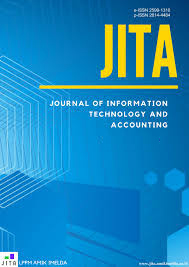 How to Cite
Muhammad Iqbal Panjaitan, & Satria Yuda Prayogi. (2022). PENERAPAN METODE VOGEL'S APPROXIMATION METHOD (VAM) DALAM OPTIMALISASI BIAYA TRANSPORTASI PENGIRIMAN BARANG BERBASIS SISTEM INFORMASI (STUDI KASUS: PT. COCACOLA AMATIL INDONESIA (CCAI) MEDAN). JITA (Journal of Information Technology and Accounting), 5(1), 69-75. Retrieved from https://jurnal.uimedan.ac.id/index.php/JITA/article/view/782