HUBUNGAN PENGETAHUAN IBU TENTANG IMUNISASI DASAR DENGAN KECEMASAN DI POSYANDU KELURAHAN PASAR BARU KECAMATAN SEI TUALANG RASO TAHUN 2019
Sumiatik

Universitas Haji Medan

Lolita Nugraeny

Universitas Haji Medan

Dharmawati

Universitas Haji Medan
Keywords:
Knowledge, Anxiety
Abstract
Immunization is a way to actively increase a person's immunity against an antigen, so that if one is exposed to a similar antigen, disease does not occur. Immunization is important to prevent dangerous diseases. The purpose of this study was to determine the relationship between mother's knowledge about basic immunization and anxiety at Posyandu, Pasar Baru Village, Sei Tualang Raso District in 2018. The research design used in this study is descriptive correlation which is a study of the relationship between two variables. all mothers who have toddlers in the Pasar Baru district, Kec. Sei Tualang Raso. With a population of 36 people. Data analysis using the C-Square test. Results of the research conducted on the majority of respondents with low knowledge as many as 15 people (42%). The frequency of basic immunization with anxiety was 21 people (58%). C-Square Test Results Show a (0.05) obtained X2 = 0.04 p (sig) 0.138 <0.05. Based on the results of this study, it can be concluded that there is a relationship between maternal knowledge about basic immunization with anxiety. So it is advisable for health workers to provide information to the public about basic immunization with anxiety levels.
References
Arikunto, S. (2010). Prosedur Penelitian Suatu Pendekatan Praktik. Jakarta : Rineka Cipta.

Depkes RI, (2013). Cakupan Imunisasi Yang Terdapat di Daerah Ponorogo. Diunduh pada 15 Desember 2018.

Feldman,R.(2012). Menemukan Masa Hidup : Salemba Humanika.

Hidayat, (2010). Imunisasi : Salemba Medika

Indah , Ani M. dan Susilowati. 2016. Hubungan Antara Tingkat Pengetahuan IbuTentang Imunisasi Polio dengan Tingkat Kecemasan Pasca Imunisasi Polio pada Anaknya di Posyandu Margasari Tasikmalaya Tahun 2007.Jurnal Kesehatan Surya Medika Yogyakarta.Available online: http://www.skripsistikes.wordpress.com diakses pada tanggal 14 November 2018

Lisnawati. (2011). Buku Ajar Cakupan Imunisasi.. Jakarta: EGC.

Stuart&Sundeen. (2008). Tingkat Kecemasan. Jakarta: Salemba Medika.

Rizani, A., Muhammad Hakimi ,Djauhar Ismail. 2012. Hubungan Pengetahuan, Sikap dan Perilaku Ibu dalam Pemberian Imunisasi Hepatitis B 0 - 7 Hari di Kota Banjarmasin. Jurnal Berita Kedokteran Masyarakat. Volume 25, Nomor 1, November 2018.

Ranuh I.G.N, Hariyono Suyitno, Hadinegoro, Soedjatmiko. 2008. Buku Imunisasi di Indonesia . Jakarta: Satgas Imunisasi IDAI.

Notoatmodjo, S. (2010). Metodologi Penelitian Kesehatan. Jakarta : PT Rineka Cipta.

Saebani. (2008). Metode Penelitian .Bandung : CV Pustaka Setia.

Santrock,John.W. (2011). Perkembangan Masa Hidup Jilid 2. Jakarta:Erlangga.

Tecyya, Umar. 2014. Macam-Macam Imunisasi . Jakarta: Rineka Cipta dan Depdiknas.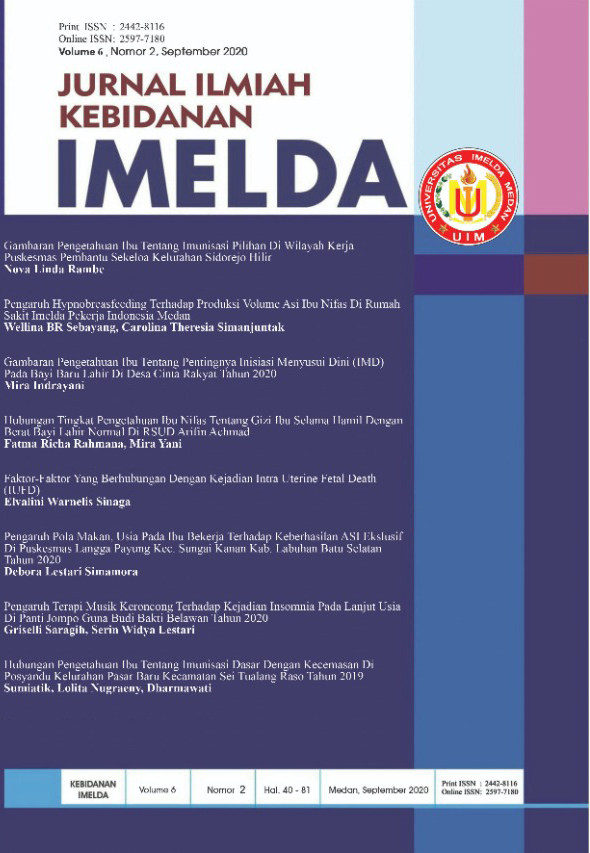 How to Cite
Sumiatik, Nugraeny, L., & Dharmawati. (2020). HUBUNGAN PENGETAHUAN IBU TENTANG IMUNISASI DASAR DENGAN KECEMASAN DI POSYANDU KELURAHAN PASAR BARU KECAMATAN SEI TUALANG RASO TAHUN 2019. Jurnal Ilmiah Kebidanan Imelda, 6(2), 77-81. Retrieved from https://jurnal.uimedan.ac.id/index.php/JURNALKEBIDANAN/article/view/447
Copyright (c) 2020 Jurnal Ilmiah Kebidanan Imelda
This work is licensed under a Creative Commons Attribution-ShareAlike 4.0 International License.