HUBUNGAN MOTIVASI BIDAN TENTANG P4K DENGAN PENERAPAN PROGRAM STIKER P4K PADA IBU HAMIL DI RUMAH SAKIT IMELDA MEDAN
Khairani

Universitas Imelda Medan
Keywords:
Motivation, Implementation, Sticker, PCPP
Abstract
Maternal Mortality Rate (MMR) and Infant Mortality Rate (IMR) are health indicators of a country. Data of the 2012 Demographic Health Survey of Indonesia (DHSI) indicates that the maternal mortality rate increased by 359 deaths per 100,000 live births. Such rate was higher than the data of 2015DHSI, i.e. 228 deaths per 100,000 live births. The 2012 DHSI indicates IMR of 32 deaths  ​​per 1,000 live births, slightly lower than the 2007 DHSI indicating 34 deaths per 1,000 live births. One of the efforts to reduce MMR and IMR is through the Delivery Planning and Complication Prevention Program (PCPP). Midwives' motivation about PCPP belonged to the category of moderate motivation (79.4%). The implementation of PCPP sticker program was mostly as planned (74.6%). There was a correlation between midwives' motivation about PCPP and the implementation of PCPP sticker for pregnant women in the Imelda Hospital in 2020 with p-value = 0.013
References
Anoraga, P. (2006). Psikologi Kerja. Jakarta: Salemba Medika
Departemen Kesehatan RI. (2009). Pedoman Program Perencanaan Persalinan dan Pencegahan Komplikasi dengan Stiker. Jakarta.
.Dinkes Prov. Sumatera Utara. (2015). Profil Kesehatan Daerah Istimewa Yogyakarta tahun 2012. Sumatera Utara Dharma,
Dharma, K.K. (2011).Metodologi Penelitian Keperawatan. Jakarta: Trans Info Media.
Dwijayanti, P. (2012). Analisis implementasi Program Perencanaan Persalinan dan Pencegahan Komplikasi (P4K) oleh Bidan Desa di Kabupaten Demak. Jurnal Kesehatan Masyarakat. FKM Universitas Diponegoro.
Notoatmodjo. S. (2010). Metodologi Penelitian Kesehatan. Jakarta: Rineka Cipta.
SDKI. (2012). Laporan Survey Demografi dan Kesehatan Indonesia. Depkes RI. Jakarta.
Sutrisno, E. 2010. Manajemen Sumberdaya Manusia. Jakarta: Kencana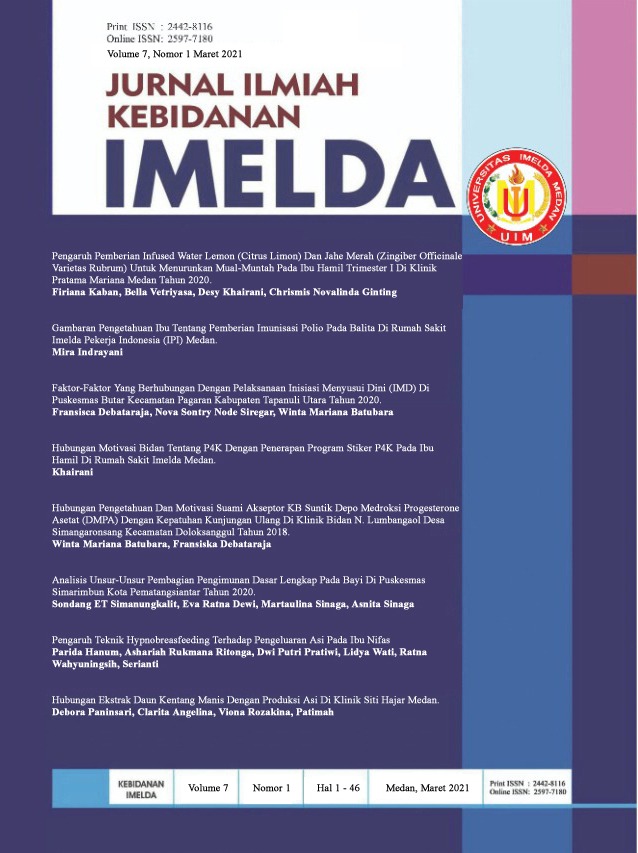 How to Cite
Khairani. (2021). HUBUNGAN MOTIVASI BIDAN TENTANG P4K DENGAN PENERAPAN PROGRAM STIKER P4K PADA IBU HAMIL DI RUMAH SAKIT IMELDA MEDAN. Jurnal Ilmiah Kebidanan Imelda, 7(1), 19-23. https://doi.org/10.52943/jikebi.v7i1.529
Copyright (c) 2021 Jurnal Ilmiah Kebidanan Imelda
This work is licensed under a Creative Commons Attribution-ShareAlike 4.0 International License.