HUBUNGAN PENGETAHUAN REMAJA PUTRI DENGAN PERAN ORANG TUA MENGENAI HOT HERBAL COMPRESS DI SMKK PRIMA INDONESIA
Siti Muslima W Udi

STIKES PRIMA INDONESIA

Anisa Az-Zahrah

STIKes Prima Indonesia
Abstract
Painful menstruation is a symptomatic phenomenon, including abdominal  cramps, backache and pain.The only traditional treatment Is Hot Herbal
Compress. Hot Herbal Compress is a tool and material used as a hot compress which containseffect as a pain reliever and provide relaxation 
that comes from the aroma of these natural ingredients.Indonesian Health 
Demographic Survey (2017), 76% of adolescent experienced menstrual pain       during  menstruation, 58% of  female  adolescents  who did not experience menstrual  pain  during  menstruation. This study aims  to  determine  therelationship  between  knowledge  of  adolescent with  the  role  of  parents  regarding  hot  herbal  compress  to  relieve painful  menstruation. This type of       analytic research with  cross sectional approach. The sampling technique used purposive sampling involving 40 adolescent at  SMKK Prima Indonesia  and  the  results  showed  that  most  of  the  knowledge  of adolescent about  hot  herbal  compresses  to  relieve  painful  menstruation was  less  (52.5%)  and  based  on  the  role  of  parents  regarding  hot herbal  compresses.  To  relieve painful menstruation most did not participate (57.5%). There is a relationship between the knowledge of adolescent knowledge and the role of parents regarding hot herbal compresses to relieve painful menstruation at SMKK Prima Indonesia in 2020 with a p value = 0.000
References
Boonruab J, Nimpitakpong N, Damjuti W. The Distinction of Hot Herbal Compress, Hot Compress, and Topical Diclofenac as Myofascial Pain Syndrome Treatment. J Evidence-Based Integr Med 2018;23:1–8. https://doi.org/10.1177/2156587217753451.
Mintarsih S, Sugihartiningsih. Kompres Jahe Berkhasiat Untuk Menurunkan Nyeri Haid Primer. Stikes PKU Muhammadiyah Surakarta 2018:142–7.
Nuraeni. Terhadap Penurunan Nyeri Pada Remaja Putri Smk 1 Tapango Kecamatan Tapango Kabupaten. J Ilm Bidan 2017;11.
Rahmadhayanti E, Afriyani R, Wulandari A. Pengaruh Kompres Hangat terhadap Penurunan Derajat Nyeri Haid pada Remaja Putri di SMA Karya Ibu Palembang. J Kesehat 2017;8:369. https://doi.org/10.26630/jk.v8i3.621.
R., Saokaew, S., & Chuthaputti A. No Title. Clin Eff Thai Herb Compress a Syst Rev Meta-Analysis Evidence-Based Complement Altern Med ECAM 2015Widaryanti R, Rizka H. Terapi Komplementer Pelayanan Kebidanan berdasarkan bukti Scientific dan Empiris. J Chem Inf Model 2019.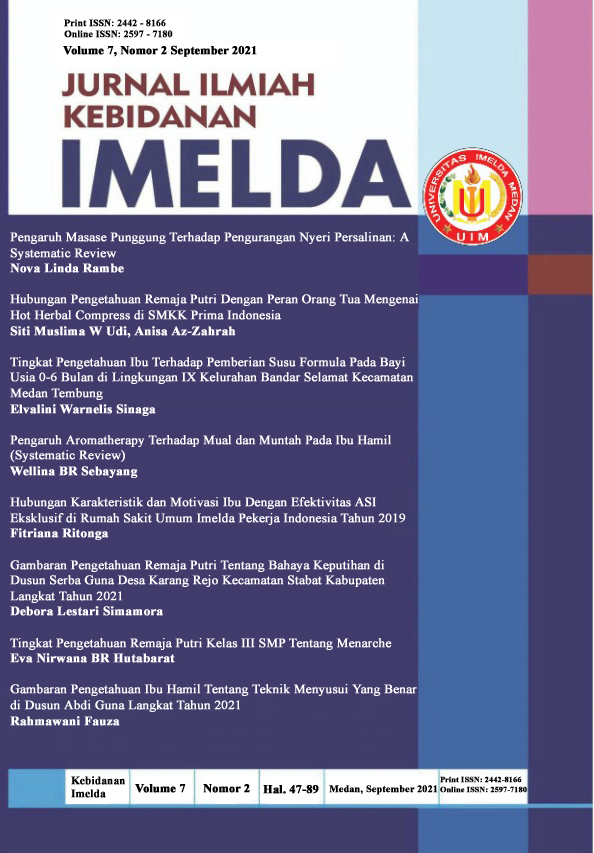 How to Cite
W Udi, S. M., & Anisa Az-Zahrah. (2021). HUBUNGAN PENGETAHUAN REMAJA PUTRI DENGAN PERAN ORANG TUA MENGENAI HOT HERBAL COMPRESS DI SMKK PRIMA INDONESIA . Jurnal Ilmiah Kebidanan Imelda, 7(2), 53-58. https://doi.org/10.52943/jikebi.v7i2.646