PENGARUH PURSED LIPS BREATHING TERHADAP POLA NAPAS PASIEN PENYAKIT PARU OBSTRUKSI KRONIK DI RUMAH SAKIT UMUM DELIA KABUPATEN LANGKAT TAHUN 2021
Leli Herawati Leli

STIKes Sehat Medan

Sri Wahyuni

STIKes Sehat Medan
Keywords:
Pursed Lips Breathing, Breathing Pattern, Cronic Obstructive Pulmoniveary
Abstract
Chronic Obstructive Pulmonary Disease (COPD) is a chronic lung disease characterized by limited air flow in the respiratory tract that is not fully reversible. This progressive disorder is caused by chronic inflammation due to gases that are toxic to the body. The main causes of COPD include cigarette smoke, air pollution from burning, and harmful gas particles. Several problems will arise resulting in respiratory failure which is defined as failure of ventilation and oxygenation failure caused by respiratory center disorders, chest wall muscle disorders and acute inflammation of lung tissue that causes shortness of breath. The general purpose of this study was to determine the Effect of Pursed Lips Breathing on the Breathing Pattern of Chronic Obstructive Pulmonary Disease Patients at Delia General Hospital, Kec. Done Kab. Langkat. The type of research used is a quasi-experimental (quasi-experimental) with a one group pretest-posttest design. This design also does not have a comparison group (control), but at least the first observation (pretest) has been carried out which allows testing the changes that occur after there is an experiment (program). In this study, parametric statistical tests were first carried out with the results meeting the assumption that the data were normally distributed, so that this study was analyzed using the paired t test using the degree of significance = 0.05. After the statistical test with the help of SPSS, the p value = 0.000 was obtained. The statistical test is said to be meaningful if the p value is below 0.05 < at the 95% confidence level. This study was analyzed using a paired t test using the degree of significance = 0.05. After the statistical test with the help of SPSS, the p value = 0.000 was obtained. Which means p value < (0.000 < 0.05), meaning H1 is accepted. Then it can be interpreted that there is a significant effect between Pursed Lips Breathing Exercise and breathing patterns in Chronic Obstructive Pulmonary Disease Patients. DF : degree of freedom, T : value T count, Sig,(2-tailed) : probability value/p value.
Downloads
Download data is not yet available.
References
Agustin, H., Yunus, F., 2008, Proses Metabolisme pada Penyakit Paru Obstruktif Kronik (PPOK), J Respire Indo, Vol 28 No 3, Jakarta.

American Lung Association, 2010, Chronic Obstructive Pulmonary Diseases COPD, Amerika.

American Thoracic Society, 2011, American Thoracic Society statement Occupational Contribution To The Burden of Airway Disease, In :Centers for Disease Control and Prevention.

Public Health Strategic Framework for COPD Prevention. Atlanta, GA: Centers for Disease Control and Prevention.

Bootman, J.L., Townsend, R.J., McGhan, W.F., 2005, Principles of Pharmacoeconomics, 3rd Edition, USA, Harvey Whitney Book Company.

Chakrabarti, B., Calverley, P, MA., Davies, P, DO., 2007, Tuberculosis and its incidence, special nature, and relationship with chronic obstructive pulmonary disease, International Journal of COPD , 2(3) 263–272.

Departemen Kesehatan Republik Indonesia, 2008, Pedoman Pengendalian Penyakit Paru Obstruktif Kronik (PPOK), Jakarta.

Sukartini, T., & Sriyono, S. (2017). Latihan Nafas Modifikasi Meniup Balon terhadap Pengembangan Paru pada Pasien Hemathoraks dan Pneumothoraks. 2(1).

Tarigan, A. P. S., & Juliandi, J. (2018). Pernafasan Pursed Lip Breathing Meningkatkan Saturasi Oksigen Penderita Penyakit Paru Obstruktif Kronis (PPOK) Derajat II. Jurnal Keperawatan Indonesia, 1(2).

Tunik, R. E. M., & Khoiriyati, A. (2017). Pengaruh Breathing Relaxtation dengan Teknik Ballon Blowing terhadap Saturasi Oksigen dan Perubahan Fisiologs Kecemasan Pasien dengan PPOK, http://eprints.ums.ac.id/40106/1/NASKAH%20PUBLIKASI.pdf, https://repository.poltekkespalembang.ac.id/items/show/1256 , http://journal.uin-alauddin.ac.id/index.php/ kesehatan/article/view/10180.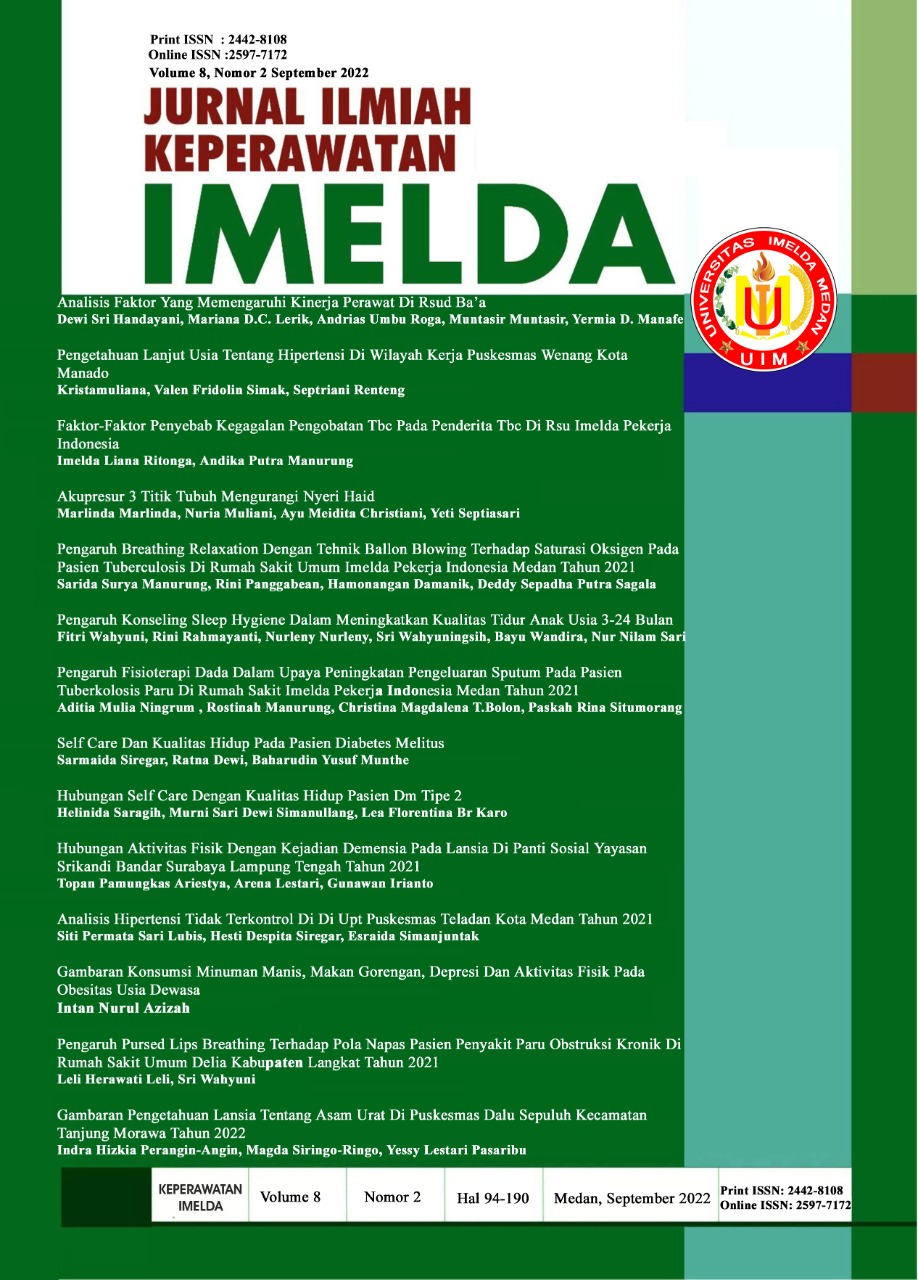 How to Cite
Leli, L. H., & Wahyuni, S. (2022). PENGARUH PURSED LIPS BREATHING TERHADAP POLA NAPAS PASIEN PENYAKIT PARU OBSTRUKSI KRONIK DI RUMAH SAKIT UMUM DELIA KABUPATEN LANGKAT TAHUN 2021. Jurnal Ilmiah Keperawatan IMELDA, 8(2), 181-185. https://doi.org/10.52943/jikeperawatan.v8i2.1094
Copyright (c) 2022 Jurnal Ilmiah Keperawatan IMELDA
This work is licensed under a Creative Commons Attribution-NonCommercial 4.0 International License.