EDUKASI PERILAKU CUCI TANGAN PAKAI SABUN (CPTS) SELAMA PTM TERBATAS PANDEMI COVID-19 MELALUI STANDING BANNER DI KABUPATEN TEGAL
Wisnu Widyantoro

Universitas Bhamada Slawi

Arif Rakhman

Universitas Bhamada Slawi

Yessy Widodo

Universitas Bhamada Slawi
Keywords:
Washing Hands with Soap, Health Education, Standing Banner, COVID-19
Abstract
Hygiene and healthy living in children can affect the child's health status. Washing hands with soap can help children to prevent transmission of Covid-19. Health education about washing hands with soap can increase self-awareness for proper washing hands, especially among children. This study aims to determine the effect of health education using Standing Banners on the behavior of washing hands with soap during limited offline learning in the Covid-19 pandemic at SDN Slawi Kulon 05. This is a quantitative research with a quasi-experimental design and uses the One Group Pre-test and Post-test approach. The population of this study are 5th and 6th grade students at SD N Slawi Kulon 5 which are 54 stundents. The results of the Wilcoxon Signed Ranks Test found that there were differences in the behavior of washing hands before and after carrying out Health Education using a standing banner, namely P-Value 0.000 <0.05, so it can be concluded that there is an influence of health education with standing banners on the behavior of washing hands with soap at SDN Slawi Kulon 05. Standing banners as a health education media can be used as a reminder for children about the steps for washing hands with soap properly , thus to minimize the risk of transmission of Covid-19.
Keywords: Washing Hands with Soap, Health education, Standing Banner, Covid-19
Downloads
Download data is not yet available.
References
Aryani, S. D. A. N. S. M. M. P. K. O. A. P., Dewi, A. A. I. S., Duarsa, D. P. P., Wirawan, I. M. A., Sari, K. A. K., Wati, D. K., . . . Aryani, P. (2021). SENI DAN STRATEGI MERANCANG MEDIA PROMOSI KESEHATAN ONLINE: BASWARA PRESS.
Balitbang Kemenkes, R. (2019). Laporan Provinsi Jawa Tengah Riskesdas 2018. Jakarta: Kemenkes RI.
Baye, K. (2020). COVID-19 prevention measures in Ethiopia: current realities and prospects (Vol. 141): Intl Food Policy Res Inst.
covid19.tegalkab.go.id. (2022). Trend Grafik Covid-19 Kasus Confirm 14 Hari Terakhir. dilihat 9 Pebruari 2022. https://covid19.tegalkab.go.id/index.php.
detik.edu. (2021). Sekolah di Kabupaten Tegal Mulai Gelar Belajar Tatap Muka. . dilihat 8 Pebruari 2022. https://www.detik.com/edu/sekolah/d-5679273/sekolah-di-kabupaten-tegal-mulai-gelar-belajar-tatap-muka.
Kementrian Kesehatan, R. (2018). Pedoman pembinaan perilaku hidup bersih dan sehat (PHBS). In: Jakarta.
Kusumawardani, L. H., & Saputri, A. A. (2020). Gambaran pengetahuan, sikap dan keterampilan perilaku hidup bersih sehat (phbs) pada anak usia sekolah. Jurnal Ilmiah Ilmu Keperawatan Indonesia, 10(02), 31-38.
Mahardika, A. G., & Saputra, R. (2021). Kedudukan Hukum Pemberlakuan Pembatasan Kegiatan Masyarakat Dalam Sistem Ketatanegaraan Indonesia. Legacy: Jurnal Hukum dan Perundang-Undangan, 1(1), 1-23.
PRADANA, K. A., PERISTIOWATI, Y., ELLINA, A. D., WIDIYANTO, A. & ATMOJO, J. T. 2021. Pengaruh Pendidikan kesehatan animasi lagu anak-anak terhadap pengetahuan cuci tangan pakai sabun (CTPS) anak usia sekolah pada masa pandemi covid-19 di Desa Gembol Ngawi. Avicenna: Journal of Health Research, 4.
Rabbi, S. E., & Dey, N. C. (2018). Exploring the gap between hand washing knowledge and practices in Bangladesh: a cross-sectional comparative study. BMC public health, 13(1), 1-7.
Saida, S., Esso, A., & Parawansah, P. (2020). Cegah Covid 19 Melalui Edukasi Perilaku Hidup Bersih Dan Sehat Di Kecamatan Puuwatu Kota Kendari. Journal of Community Engagement in Health, 3(2), 329-334.
setda.tegalkab.go.id. (2021). PPKM Diperpanjang, Akan Dibuka Bertahap Mulai 26 Juli 2021. dilhat tanggal 8 Pebruari 2022. http://setda.tegalkab.go.id/2021/07/21/ppkm-diperpanjang-akan-dibuka-bertahap-mulai-26-juli-2021/.
Tao, S., Cheng, Y., Lu, Y., Hu, Y., & Chen, D. (2018). Handwashing behaviour among Chinese adults: a cross-sectional study in five provinces. Public health, 127(7), 620-628.
Taswin, M., Astuti, R. D., Sumastri, H., Pastari, M., Astuti, V., Wahyuni, S., & Rulianti, M. R. (2022). EDUKASI KESEHATAN DAN PENERAPAN PROTOKOL KESEHATAN DALAM UPAYA MELAWAN COVID-19. SELAPARANG Jurnal Pengabdian Masyarakat Berkemajuan, 6(1), 475-480.
Yang, J., Park, E.-C., Lee, S. A., & Lee, S. G. (2019). Associations between hand hygiene education and self-reported hand-washing behaviors among Korean adults during MERS-CoV outbreak. Health EducationBehavior, 46(1), 157-164.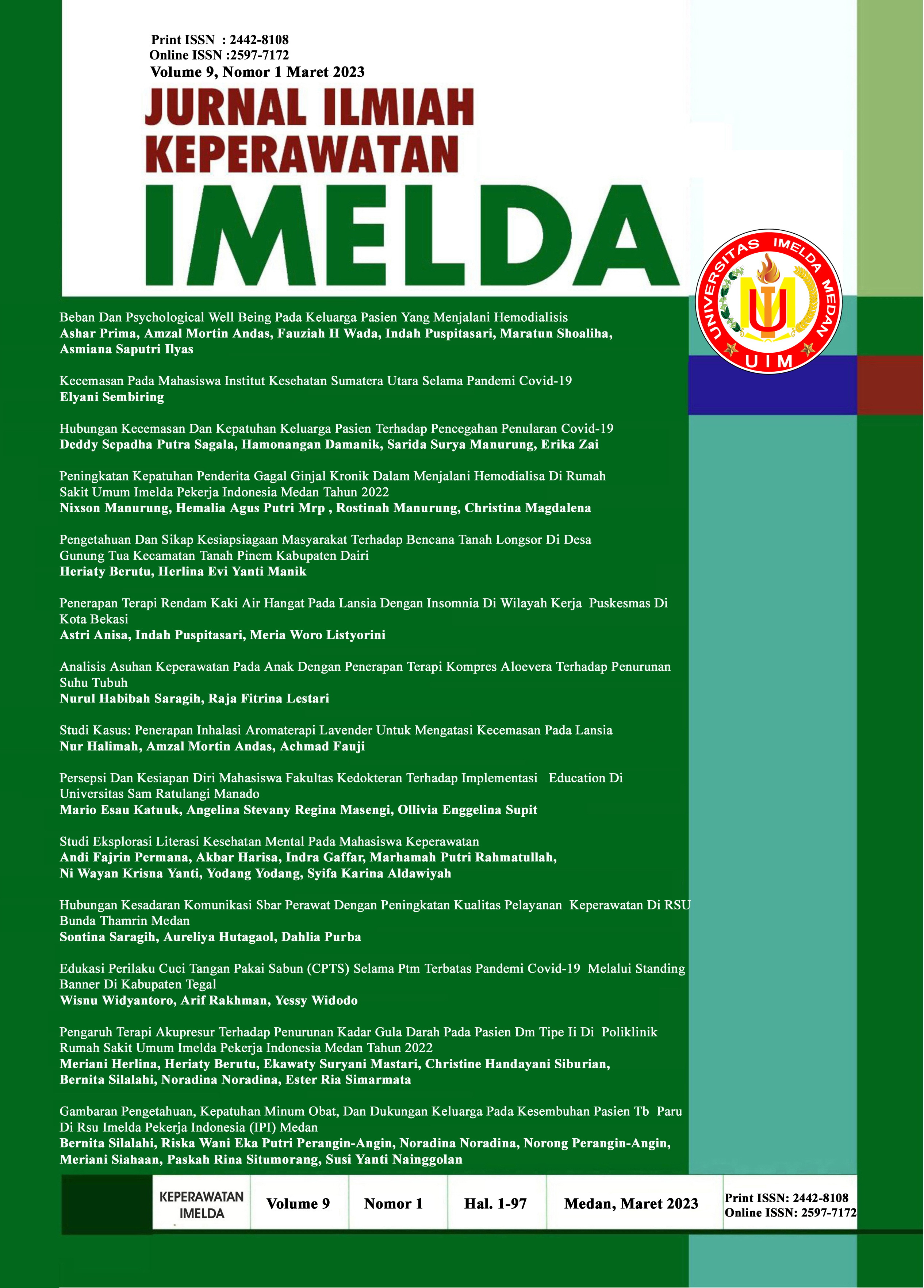 How to Cite
Widyantoro, W., Rakhman, A., & Widodo, Y. (2023). EDUKASI PERILAKU CUCI TANGAN PAKAI SABUN (CPTS) SELAMA PTM TERBATAS PANDEMI COVID-19 MELALUI STANDING BANNER DI KABUPATEN TEGAL. Jurnal Ilmiah Keperawatan IMELDA, 9(1), 77-81. https://doi.org/10.52943/jikeperawatan.v9i1.1184
Copyright (c) 2023 Jurnal Ilmiah Keperawatan IMELDA
This work is licensed under a Creative Commons Attribution-NonCommercial 4.0 International License.