PENINGKATAN KEPATUHAN PENDERITA GAGAL GINJAL KRONIK DALAM MENJALANI HEMODIALISA DI RUMAH SAKIT UMUM IMELDA PEKERJA INDONESIA MEDAN TAHUN 2022
Nixson Manurung

Universitas Imelda Medan

Hemalia Agus Putri Mrp

Universitas Imelda Medan

Rostinah Manurung

Universitas Imelda Medan

Christina Magdalena

Universitas Imelda Medan
Keywords:
Chronic Renal Failure, Hemodialysis, Compliance
Abstract
Chronic kidney failure (CKD) is a progressive and irreversible kidney function disorder in which the body is unable to maintain metabolism and fails to maintain fluid and electrolyte balance which results in an increase in urea. Chronic kidney failure has characteristics that are permanent and cannot be cured and require treatment such as kidney transplantation, hemodialysis and also outpatients for a long period of time. Hemodialysis is a therapy carried out to replace kidney function using a device that is specifically designed to treat symptoms and signs due to low GFR, the target of this therapy is to increase the life span of patients with chronic kidney failure and can improve the quality o life of patients. The purpose of this study was to determine the increased compliance of patients with chronic kidney failure in undergoing hemodialysis. This study used a qualitative descriptive research method, the participants used were 6 people with purposive sampling technique. The instrument used is a semi-structured interview. So it can be concluded that there is an increase in the compliance of patients with chronic kidney failure who undergo hemodialysis. 6 participants are obedient and 1 participant is not compliant in undergoing hemodialysis.
Downloads
Download data is not yet available.
References
Ahyar, H., & Juliana Sukmana, D. (2020). Buku Metode Penelitian Kualitatif & Kuantitatif SERI BUKU HASIL PENELITIAN View project Seri Buku Ajar View project. https://www.researchgate.net/publication/340021548
Al-Khattabi, Ghanim. Hamid. (2020). FACTORS AFFECTING NON-ADHERENCE TO TREATMENT OF HEMODIALYSIS PATIENTS IN MAKKAH CITY, KINGDOM OF SAUDI ARABIA. International Journal of Modern Trends in Social Sciences, 3(14), 21–38. https://doi.org/10.35631/ijmtss.314002
Asnaniar, W. O. S. (2019). Hubungan Self Care Management Diabetes dengan Kualitas Hidup Pasien Diabetes Mellitus Tipe. Jurnal Penelitian Kesehatan Suara Forikes, 10(4).
CDC. (2021). 322964-A Chronic Kidney Disease in the United States, 2021. https://www.cdc.gov/kidneydisease/publications-resources/CKD-national-facts.html
Chan, Y. M., Zalilah, M. S., & Hii, S. Z. (2012). Determinants of compliance behaviours among patients undergoing hemodialysis in malaysia. PLoS ONE, 7(8). https://doi.org/10.1371/journal.pone.0041362
Hawkins, J., Wellsted, D., Corps, C., Fluck, R., Gair, R., Hall, N., Busby, A., Rider, B., Farrington, K., Sharma, S., & Van Der Veer, S. N. (2022). Measuring patients' experience with renal services in the UK: development and validation of the Kidney PREM. Nephrology Dialysis Transplantation, 37(8), 1507–1519. https://doi.org/10.1093/ndt/gfac030
Helmy, N. H., Hussein, A., Kamal, M., Minshawy, O. El, & Wahsh, E. A. (2022). Hemodialysis patients' satisfaction with dialysis care: a cross-sectional prospective study conducted in a non-profitable care facility, Minia Egypt. BMC Nephrology, 23(1). https://doi.org/10.1186/s12882-022-03010-3
Ibrahim, S., Hossam, M., & Belal, D. (2015). Study of Non-Compliance among Chronic Hemodialysis Patients and its Impact on Patients' Outcomes. In Saudi J Kidney Dis Transpl (Vol. 26, Issue 2). http://www.sjkdt.org
Kemenkes 2022. (n.d.).
Kustimah, K., Siswadi, A. G. P., Djunaidi, A., & Iskandarsyah, A. (2019). Factors Affecting Non-Adherence to Treatment in End Stage Renal Disease (ESRD) Patients Undergoing Hemodialysis in Indonesia. The Open Psychology Journal, 12(1), 141–146. https://doi.org/10.2174/1874350101912010141
Mayuda, A., Chasani, S., & Saktini, F. (2017). HUBUNGAN ANTARA LAMA HEMODIALISIS DENGAN KUALITAS HIDUP PASIEN PENYAKIT GINJAL KRONIK (STUDI DI RSUP DR.KARIADI SEMARANG). Shofa Chasani, Fanti Saktini JKD, 6(2), 167–176.
Najafi, A., Keihani, S., Bagheri, N., Jolfaei, A. G., & Meybodi, A. M. (2016). Association between anxiety and depression with dialysis adequacy in patients on maintenance hemodialysis. Iranian Journal of Psychiatry and Behavioral Sciences, 10(2). https://doi.org/10.17795/ijpbs-4962
Naryati, N., & Nugrahandari, M. E. (n.d.). FAKTOR-FAKTOR YANG BERHUBUNGAN DENGAN KEPATUHAN DIET PADA PASIEN GAGAL GINJAL KRONIK MELALUI TERAPI HEMODIALISA Associated Factors with Dietary Adherence in Patients with Chronic Kidney Disease through Hemodialysis Therapy.
Nuairi, A. Al, Bermamet, H., Abdulla, H., Simsekler, M. C. E., Anwar, S., & Lentine, K. L. (2022). Identifying Patient Satisfaction Determinants in Hemodialysis Settings: A Systematic Review. In Risk Management and Healthcare Policy (Vol. 15, pp. 1843–1857). Dove Medical Press Ltd. https://doi.org/10.2147/RMHP.S372094
Ozen, N., Fatma, •, Cinar, I., Dilek Askin, •, Dilek, •, & Turker, • Turker. (2019). Nonadherence in Hemodialysis Patients and Related Factors: A Multicenter Study.
Sanabria-Arenas, M., Marín, J. T., Certuche-Quintana, M. C., & Sánchez-Pedraza, R. (2017). Validation of an instrument for measuring satisfaction of patients undergoing hemodialysis. BMC Health Services Research, 17(1). https://doi.org/10.1186/s12913-017-2251-y
Saran, R., Bragg-Gresham, J. L., Rayner, H. C., Goodkin, D. A., Keen, M. L., Van Dijk, P. C., Kurokawa, K., Piera, L., Saito, A., Fukuhara, S., Young, E. W., Held, P. J., & Port, F. K. (2003). Nonadherence in hemodialysis: Associations with mortality, hospitalization, and practice patterns in the DOPPS. Kidney International, 64(1), 254–262. https://doi.org/10.1046/j.1523-1755.2003.00064.x
Simbolon, N., Keperawatan, S., Santa, S., Medan, E., & Bunga, J. (2019). Hubungan Pengetahuan Dengan Kepatuhan Pasien PGK Menjalani Hemodialisa di Unit Rawat Hemodialisa Rumah Sakit Santa Elisabeth Medan. Journal of Midwifery and Nursing, 1(2).
Theofilou, P. (2011). Noncompliance with Medical Regimen in Haemodialysis Treatment: A Case Study. Case Reports in Nephrology, 2011, 1–4. https://doi.org/10.1155/2011/476038 This official government booklet tells you. (n.d.)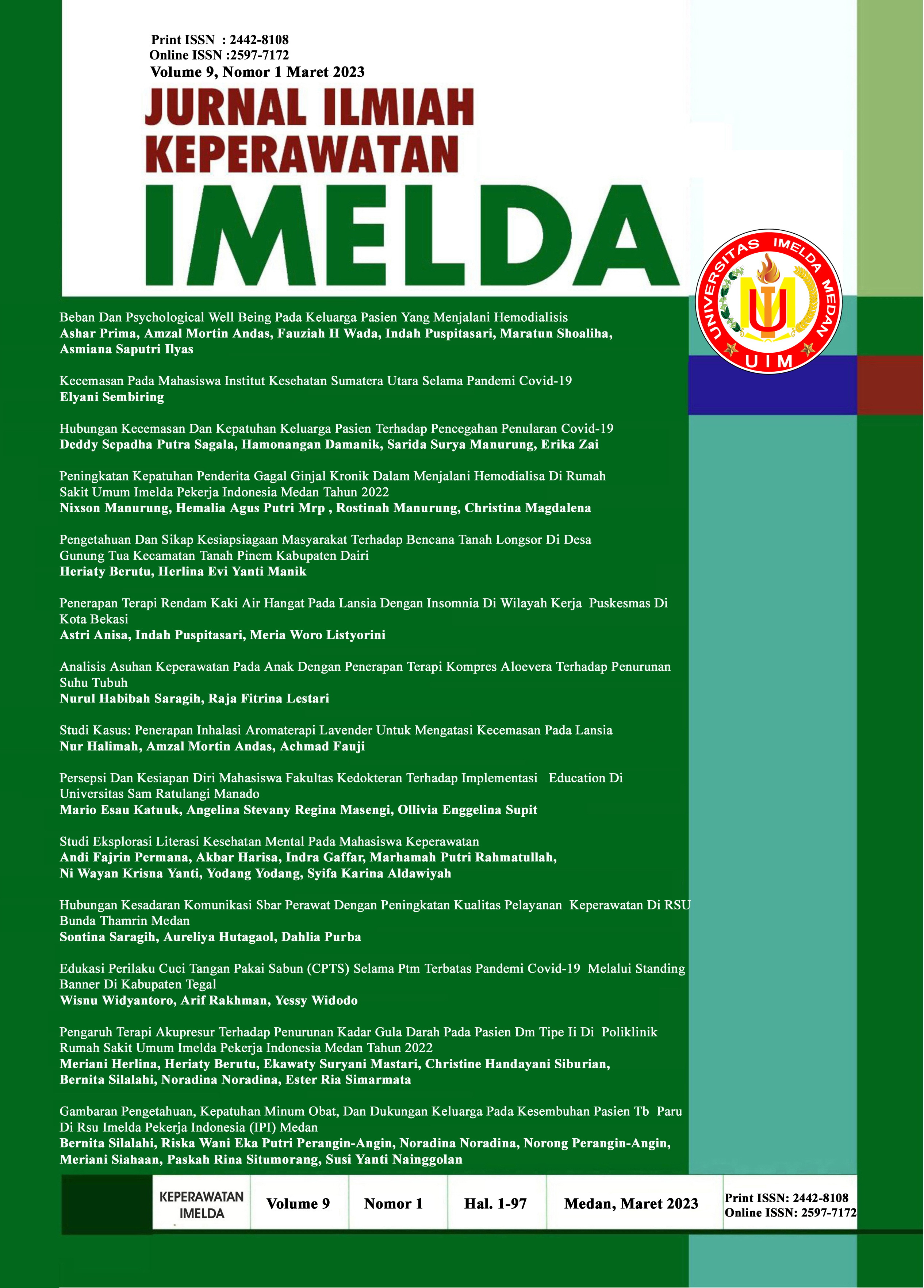 How to Cite
Manurung, N., Putri Mrp , H. A., Manurung, R., & Magdalena, C. (2023). PENINGKATAN KEPATUHAN PENDERITA GAGAL GINJAL KRONIK DALAM MENJALANI HEMODIALISA DI RUMAH SAKIT UMUM IMELDA PEKERJA INDONESIA MEDAN TAHUN 2022. Jurnal Ilmiah Keperawatan IMELDA, 9(1), 20-27. https://doi.org/10.52943/jikeperawatan.v9i1.1232
Copyright (c) 2023 Jurnal Ilmiah Keperawatan IMELDA
This work is licensed under a Creative Commons Attribution-NonCommercial 4.0 International License.