PENGETAHUAN DAN SIKAP KESIAPSIAGAAN MASYARAKAT TERHADAP BENCANA TANAH LONGSOR DI DESA GUNUNG TUA KECAMATAN TANAH PINEM KABUPATEN DAIRI
Heriaty Berutu

Poltekkes kemenkes Medan

Herlina Evi Yanti Manik

Politeknik Kesehatan Kemenkes Medan
Keywords:
Knowledge, Attitudes, and Community Preparedness
Abstract
Residents and settlements in Gunung Tua District, Tanah Pinem, Dairi Regency have a high risk of landslides. If an area has a high vulnerability to landslides, it is necessary for the community to have knowledge and attitudes in order to increase community preparedness in dealing with landslide disasters. The purpose of this study is to analyze disaster knowledge and preparedness attitudes as well as preparedness for land slide disasters. The method used in this research is quantitative. The sample in this study is the community of 90 respondents taken from each village. Data collection techniques using questionnaires / questionnaires and documentation studies. The data analysis technique is a percentage analysis technique. Based on the results of the study, it was found that of the 90 respondents, the majority of respondents had sufficient knowledge, 59 respondents (65.6%), and a minority with less knowledge, namely 6 respondents (6.7%). The preparedness attitude of the majority of respondents has sufficient attitude as many as 66 respondents (73.3%), and the minority attitude is lacking, namely 6 respondents (6.7%). This research is useful for the community, local government, and educational practitioners and scientific practitioners in the field of natural landslide disasters to be developed and perfected in further research related to knowledge and attitudes towards preparedness for landslide disasters.
Downloads
Download data is not yet available.
References
Anggraini, M., Yaslina, Y., Kartika, K., & Maidani, S. (2018). Hubungan Dukungan Sosial Dan Ketersedian Informasi Terhadap Perilaku Kesiapsiagaan Menghadapi Erupsi Gunung Erupsi Gunung Merapi Pada Siswa SMP N 2 Tanjung Baru Kab. Tanah Datar. Prosiding Seminar Kesehatan Perintis,1(2), 99–108. https://jurnal.upertis.ac.id/index.php/PSKP/article/view/369
Badan Nasional Penanggulangan Bencana (BNPB). (2020, December 29). Sebanyak 2.925 Bencana Alam Terjadi Pada 2020 di Tanah Air, Bencana Hidrometeorologi Mendominasi. Badan Nasional Penanggulangan Bencana.
Carter, C. R. (2011). A Call For Theory: The Maturation Of The Supply Chain Management Discipline. Journal of Supply Chain Management, 47(2), 3–7. https://doi.org/10.1111/j.1745-493X.2011.03218.x
Donsu, J. D. (2016). Metodologi Penelitian Keperawatan. Yogyakarta : Pustaka Baru.
Fitriadi, M. W., Kumalawati, R., & Arisanty, D. (2017). Tingkat Kesiapsiagaan Masyarakat Terhadap Bencana Tanah Longsor di Desa Jaro Kecamatan Jaro Kabupaten Tabalong. JPG (Jurnal Pendidikan Geografi ), 4(4), 32–41. https://doi.org/10.20527/jpg.v4i4.3811
Fitriani, S. (2015). Promosi Kesehatan. Yogyakarta: Graha Ilmu.
Murdiyanto, & Gutomo, T. (2015). Bencana Alam Banjir dan Tanah Longsor dan Upaya Masyarakat dalam Penanggulangan. Jurnal PKS, 14(4), 437–452.
Notoatmodjo, S. (2016). Pengantar Pendidikan Kesehatan dan Ilmu Perilaku Kesehatan. Jakarta : Rineka Cipta.
Nursalam. (2013). Metodologi Penelitian Ilmu Keperawatan: Pendekatan Praktis. Jakarta : Salemba Medika.
Rahmadani, S., & Syarif, E. (2020). Studi Tingkat Pengetahuan Kebencanaan Terhadap Sikap Kesiapsiagaan Masyarakat Dalam Menghadapi Bencana Tanah Longsor Di Kecamatan Parangloe Kabupaten Gowa Tahun 2019. Jurnal Environmental Science, 2(2). https://doi.org/10.35580/jes.v2i2.13198
Rakhman, N. A., & Kuswardani, I. (2012). Pemberdayaan Kearifan Lokal Sebagai Modal. Prosiding Seminar Nasional Aplikasi Sains & Teknologi (SNSAT), 10–19.
Romdhonah, D. L., Sucipto, A., & Nekada, C. D. Y. (2019). Pengaruh Edukasi Managemen Bencana Gempa Bumi terhadap Kesiapsiagaan Siswa dalam Menghadapi Gempa Bumi. Jurnal Ilkes (Jurnal Ilmu Kesehatan), 10(1). https://doi.org/10.35966/ilkes.v10i1.106
Sudjana, N. (2013). Penilaian Hasil Proses Belajar Mengajar. Jakarta: Sinar Baru.
Susumaningrum, L. A., & Pristiwandono, Y. (2017). Survey Of Flood Disaster Preparedness Among School-Age Children At Kemiri Village, Panti District, Jember. Nurseline Journal, 2(1), 17–22. https://doi.org/10.19184/nlj.v2i1.5174
Suwaryo, P. A. W., & Yuwono, P. (2017). Faktor-Faktor Yang Mempengaruhi Tingkat Pengetahuan Masyarakat Dalam Mitigasi Bencana Alam Tanah Longsor. Proceeding the 6th University Research Colloquium, Humaniora, 305–314. https://journal.unimma.ac.id/index.php/urecol/article/view/1549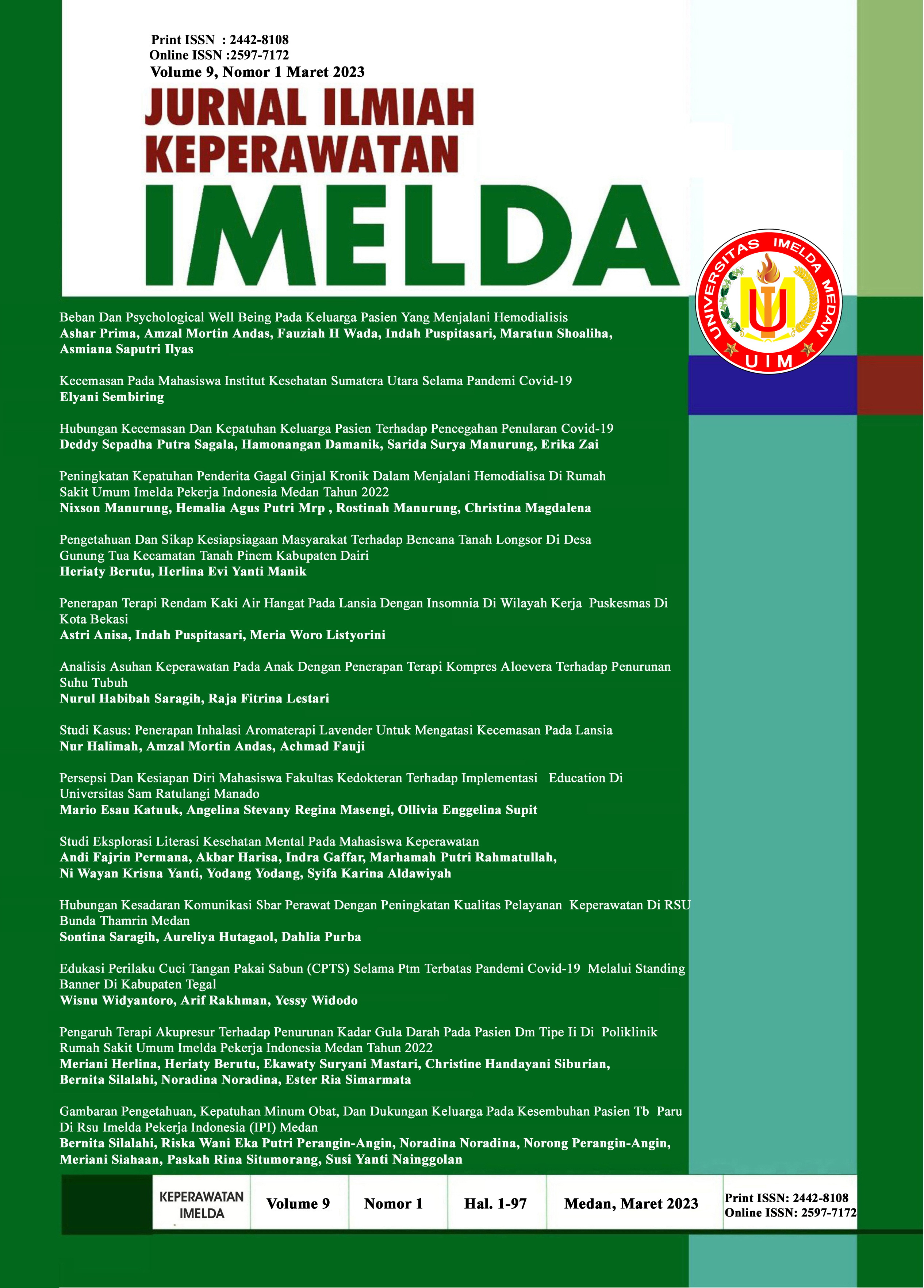 How to Cite
Berutu, H., & Manik, H. E. Y. (2023). PENGETAHUAN DAN SIKAP KESIAPSIAGAAN MASYARAKAT TERHADAP BENCANA TANAH LONGSOR DI DESA GUNUNG TUA KECAMATAN TANAH PINEM KABUPATEN DAIRI. Jurnal Ilmiah Keperawatan IMELDA, 9(1), 28-34. https://doi.org/10.52943/jikeperawatan.v9i1.1236
Copyright (c) 2023 Jurnal Ilmiah Keperawatan IMELDA
This work is licensed under a Creative Commons Attribution-NonCommercial 4.0 International License.