KECEMASAN PADA MAHASISWA INSTITUT KESEHATAN SUMATERA UTARA SELAMA PANDEMI COVID-19
Elyani Sembiring

Institut Kesehatan Sumatera Utara
Keywords:
Pandemic, COVID-19, Anxiety
Abstract
The COVID-19 (Coronavirus Disease 2019) pandemic caused by the SARS CoV-2 (Severe Acute Respiratory Syndrome Coronavirus-2) virus has become an event that threatens public health in general and attracts worldwide attention. With the aim of knowing the anxiety of North Sumatran Health Institute students during the covid-19 pandemic. The type of research used in this study was quantitative descriptive with a Cross Sectional approach. Online survey to find out the Anxiety of North Sumatra Health Institute Students During the Covid-19 Pandemic Period. The measuring instrument used for data collection used in this study was Generalized Anxiety Disorder (GAD-7). The population in this study amounted to 233 people with using a total sampling technique. The results showed that from 233 respondents, 109 respondents (46.8%) had normal anxiety, 82 respondents (35.2%) experienced mild anxiety, 37 respondents (15.9%) experienced moderate anxiety, and 5 respondents (2.1 %) with severe anxiety/panic. The conclusion of this study is that the majority of students feel normal anxiety during the covid-19 pandemic. It is expected that respondents can do positive activities that can relax the mind so that anxiety can be reduced. 
Downloads
Download data is not yet available.
References
Akhtarul Islam, M., Barna, S. D., Raihan, H., Nafiul Alam Khan, M., & Tanvir Hossain, M. (2020). Depression and anxiety among university students during the COVID-19 pandemic in Bangladesh: A web-based cross-sectional survey. PLoS ONE, 15(8 August), 1–12. https://doi.org/10.1371/journal.pone.0238162
Christianto, L. P., Kristiani, R., Franztius, D. N., Santoso, S. D., & Ardani, A. (2021). Kecemasan Mahasiswa Di Masa Pandemi Covid-19. Jurnal Selaras, 3(1), 67–82.
Fauziyah, N. F., & Aretha, K. N. (2021). Hubungan Kecemasan, Depresi Dan Stres Dengan Kualitas Tidur Mahasiswa Fakultas Kedokteran Selama Pandemi Covid-19. Herb-Medicine Journal, 4(2), 42. https://doi.org/10.30595/hmj.v4i2.10064
Güner, R., Hasanoğlu, İ., & Aktaş, F. (2020). Covid-19: Prevention and control measures in community. Turkish Journal of Medical Sciences, 50(SI-1), 571–577. https://doi.org/10.3906/sag-2004-146
Hasanah, A., Sri Lestari, A., & Dkk. (2020). Analisis Aktivitas Belajar Daring Mahasiswa pada Pandemi COVID-19. Karya Tulis Ilmiah (KTI) Masa Work From Home (WFH) Covid-19 UIN Sunan Gunung Djati Bandung Tahun 2020, 4–8. http://digilib.uinsgd.ac.id/id/eprint/30565
Kusumastuti, D. (2020). Kecemasan dan Prestasi Akademik pada Mahasiswa. Analitika, 12(1), 22–33. https://doi.org/10.31289/analitika.v12i1.3110
Otálora, M. M. C. (2020). Yuliana. Parque de Los Afectos. Jóvenes Que Cuentan, 2(February), 124–137. https://doi.org/10.2307/j.ctvzxxb18.12
Putri, T. H., & Priyono, D. (2021). Kecemasan pada Mahasiswa Selama Pandemi COVID-19. Jurnal Keperawatan Jiwa (JKJ): Persatuan Perawat Nasional Indonesia, 9(4), 771–778. 103.97.100.145/index.php/JKJ/article/view/8464
Walean, C. J. S., Pali, C., & Sinolungan, J. S. V. (2021). Gambaran Tingkat Kecemasan pada Mahasiswa di Masa Pandemi COVID-19. Jurnal Biomedik (Jbm), 13(2), 132. https://doi.org/10.35790/jbm.13.2.2021.31765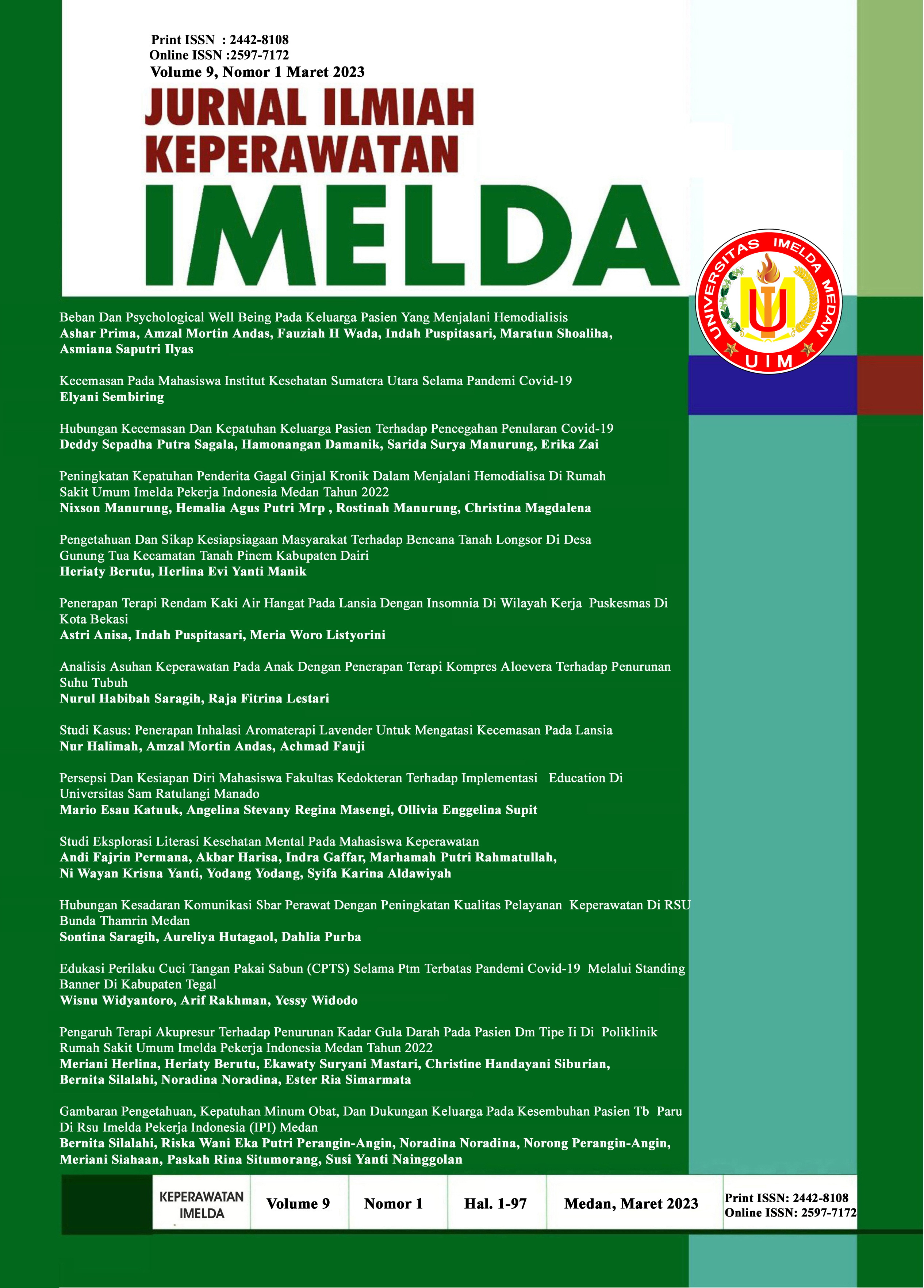 How to Cite
Sembiring, E. (2023). KECEMASAN PADA MAHASISWA INSTITUT KESEHATAN SUMATERA UTARA SELAMA PANDEMI COVID-19. Jurnal Ilmiah Keperawatan IMELDA, 9(1), 10-13. https://doi.org/10.52943/jikeperawatan.v9i1.1257
Copyright (c) 2023 Jurnal Ilmiah Keperawatan IMELDA
This work is licensed under a Creative Commons Attribution-NonCommercial 4.0 International License.