GAMBARAN FAKTOR-FAKTOR YANG MEMPENGARUHI PENGETAHUAN IBU TENTANG GIZI BURUK PADA BALITA USIA 2-5 TAHUN DI DUSUN SISWO MULYO TIMUR DESA KWALA BEGUMIT KECAMATAN STABAT KABUPATEN LANGKAT
Yafrinal Siregar

Dosen Prodi D-III Keperawatan STIKes Imelda
Keywords:
Malnutrition, Mother, Children, Nutrition.
Abstract
Malnutrition (malnutrition) is a pathological condition due to lack or excess relative or absolute one or more substances gizi.Malnutrisi also a general term for a medical condition caused by granting or not eating right or insufficient, or the knowledge of families who have adequate on the main cause being the beginning of the disease malnutrition. In 2007, the number of Indonesian toddler nutrition deficiency that is 4 million, 700 thousand of them experienced malnutrition. The purpose of this study to determine the extent of knowledge about the mother of malnutrition in East Mulyo Siswo Hamlet Village Kwala Begumit Stabat District of Langkat. Design research is descriptive with many samples of 30 people. Data collection took place from April to June 2012. Based on the knowledge of good majority of respondents aged 26-30 years knowledgeable as many as 12 people (40.0%). Based on the age of majority are knowledgeable enough in the age group 21-25 years as many as 10 people (33.3%) and minorities are knowledgeable about the age group 26-30 years by one person (3.3%). Respondents are knowledgeable enough in high school education group were 9 people (30.0%). Respondents worked as a farmer for 14 persons (46.7%), and minorities working as self-employed as many as 7 people (23.3%). Respondents were knowledgeable enough in the group that received resources from health professionals as many as 10 people (33.3%). of the results shows that the mother's knowledge about malnutrition is still  relatively less .For it is expected, especially for mothers who have children in order to rely more actively seek information through magazines, books, TV, and radio in order to obtain important information about nutrition bad, so she knows about giving good nutrition to children, so avoid malnutrition.
Downloads
Download data is not yet available.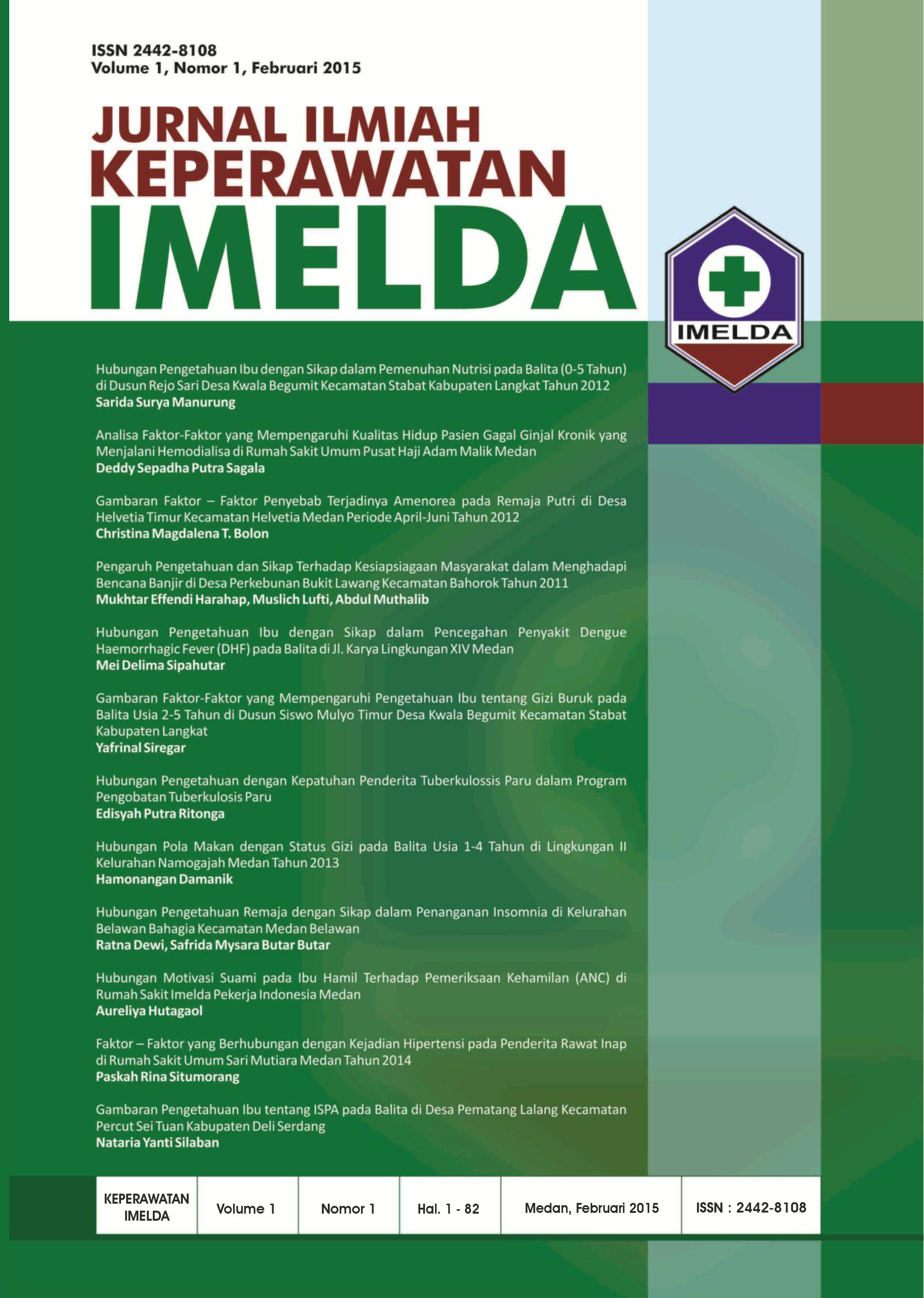 How to Cite
Siregar, Y. (2019). GAMBARAN FAKTOR-FAKTOR YANG MEMPENGARUHI PENGETAHUAN IBU TENTANG GIZI BURUK PADA BALITA USIA 2-5 TAHUN DI DUSUN SISWO MULYO TIMUR DESA KWALA BEGUMIT KECAMATAN STABAT KABUPATEN LANGKAT. Jurnal Ilmiah Keperawatan Imelda, 1(1), 42-47. Retrieved from http://jurnal.uimedan.ac.id/index.php/JURNALKEPERAWATAN/article/view/221