TINGKAT PENGETAHUAN IBU NIFAS TENTANG MANFAAT SENAM NIFAS DI LINGKUNGAN IX DESA CINTA RAKYAT KECAMATAN PERCUT SEI TUAN KABUPATEN DELI SERDANG
Aureliya Hutagaol

Universitas Imelda Medan
Keywords:
Knowledge Level of Postpartum Mother, Postpartum Gymnastics
Abstract
ABSTRACT
Puerperal gymnastics is gymnastics performed by mothers after giving birth until their body condition is restored. The puerperal gymnastics is carried out after the mother's condition has completely recovered and there are no complaints or symptoms due to a previous pregnancy. Puerperal gymnastics can be done by all mothers who have given birth spontaneously without any complications or conditions above, puerperal gymnastics is still running but needs to be adjusted to the conditions and complications that occur. The purpose of this study was to determine the level of puerperal mother's knowledge about the benefits of puerperal gymnastics based on understanding, methods / techniques and the benefits of puerperal gymnastics. This type of research is observational descriptive using primary data. This research was conducted in the IX environment of Cinta Rakyat Village, Percut Sei District, Deli Serdang District, the period January - March 2020. The population of this study was all post-partum mothers in the IX environment of Cinta Rakyat Village, totaling 30 people. Sampling was done using total sampling techniques, where the entire population was sampled as many as 30 people. Retrieval of this data using a questionnaire (statement) with a total of 20 questions. Based on the results of the study it can be concluded that based on the results of the questionnaire (statement) the majority of respondents who answered correctly were statement number 11 on how to do abdominal exercises as many as 26 respondents (86.7%) and based on knowledge obtained the majority of postpartum mothers who lack knowledge as many as 17 respondents ( 56.7%). Health workers are expected to further improve the quality of health services and conduct counseling about the benefits of puerperal exercise for postpartum mothers.
Downloads
Download data is not yet available.
References
DAFTAR PUSTAKA

Anik, 2011, Senam Hamil, Senam Nifas, dan Terapi Musik, penerbit Trans Info Media : Jakarta

Brayshaw, 2008, Senam Hamil Dan Nifas, Penerbit Buku Kedokteran, EGC : Jakarta

Derek Lliewellyn, 2005, Setiap Wanita : Jakarta

Depkes, 2007. http://www.jurnalskripsi.net/pengetahuan-ibu-nifas-tentang-senam-nifas-di-camar-1- rsud-arifin-achmad-pekanbaru-tahun-2009/2004/1849/. di akses oleh Nasriah, pada tanggal 05-Juni-2012 Pukul 12.02 Wib

Hidayat, 2007, Metode Penelitian Kebidanan Dan Teknik Analisis Data, Penerbit Salemba Medika : Jakarta

Larson, 2002 http://repository.usu.ac.id/bitstream/ 123456789/20158/5/ Chapter%20I. pdf. Di akses oleh Nasriah, pada 05-juni-2012 Pukul 12.38 Wib

Machfoedz, 2009, Metodologi Penelitian Bidang Kesehatan, Keperawatan, Kebidanan, Kedokteran, Fitmaya : Jakarta

Marmi, 2012, Asuhan Kebidanan Pada Masa Nifas "Puerperium Care", Penerbit Pelajar : Yogyakarta

Maryunani, Dkk, 2009, Asuhan Pada Ibu Nifas Dalam Masa Nifas (PP), Penerbit Trans Info Media : Jakarta

Notoadmojo, 2003, Ilmu Kesehatan Masyarakat Prinsip-Prinsip Dasar, Rineka Cipta : Jakarta

Notoadmojo, 2005, Metodologi Penelitian Kesehatan, Yayasan BinaPustaka :Jakarta

Saleha, 2009, Asuhan Kebidanan Pada Ibu Nifas, Salemba Medika : Jakarta

Suherni, 2007, Perawatan Masa Nifas, Penerbit Fitramaya : Yogyakarta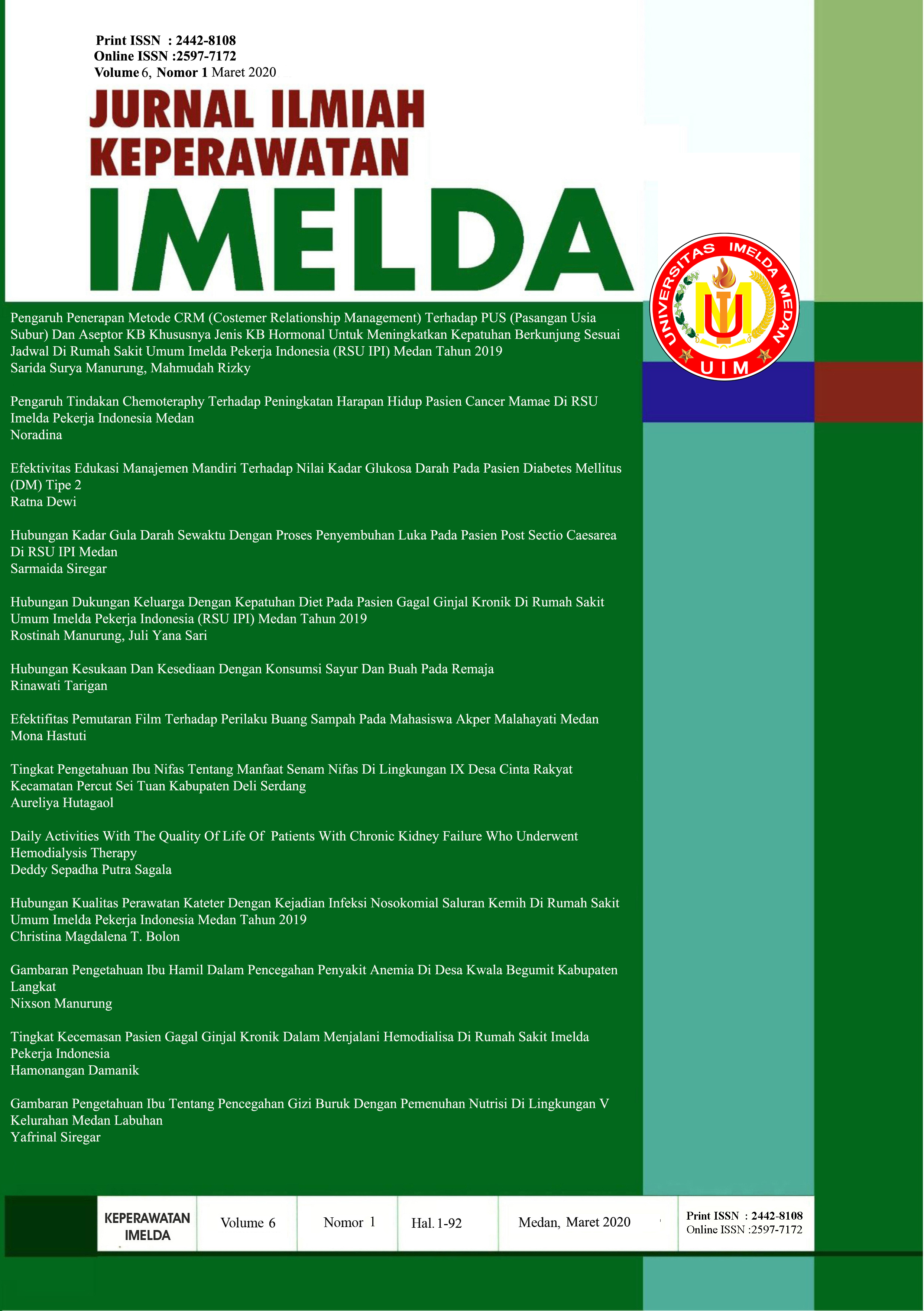 How to Cite
Hutagaol, A. (2020). TINGKAT PENGETAHUAN IBU NIFAS TENTANG MANFAAT SENAM NIFAS DI LINGKUNGAN IX DESA CINTA RAKYAT KECAMATAN PERCUT SEI TUAN KABUPATEN DELI SERDANG. Jurnal Ilmiah Keperawatan IMELDA, 6(1), 51-58. https://doi.org/10.52943/jikeperawatan.v6i1.371
Copyright (c) 2020 Jurnal Ilmiah Keperawatan Imelda
This work is licensed under a Creative Commons Attribution-NonCommercial 4.0 International License.