PENGARUH SENAM JANTUNG TERHADAP PENURUNAN TEKANAN DARAH PADA LANSIA PENDERITA HIPERTENSI DI UPT PUSKESMAS HELVETIA MEDAN 2020
Refor Arniati Baeha

Universitas Prima Indonesia

Baskara Lumban Tobing

Universitas Prima Indonesia

Berkat Jaya Waruwu Waruwu

Universitas Prima Indonesia

Christopher Abdi Putra Zebua

Universitas Prima Indonesia

Tiarnida Nababan

Universitas Prima Indonesia
Keywords:
Hypertension, Heart Gymnastics, the Elderly
Abstract
ABSTRACT
Hypertension or often knownn ass highh bloodd pressuree iss aa conditionn where there is pressure on blood dvessels that increase gradually (World Health Organization, 2018). Highh bloodd pressuree iss also aa problem that occurs in blood vessels and can cause disruption of oxygen supply. The general objective ofxt tthisx studyx wasx tox determinex thex effect of heart exercises on reducing bloodx pressurex inx elderlyx people withx xhypertension at the UPT Puskesmas Helvetia Medan 2020. Thex studyx designx usedx wasx  xa one-groupx xpre-post testx design.x Thex results ofx thex Wilocoxon Signed Rank Test xpre-testx andx postxtest showed thex resultsx ofx diastolic blood pressure, namely a Z value of 3,961 withx a x p-valuex ofx 0,000.x xFrom thex p-value test value smaller thanx x0.05 (0,000 <0.05). So wex can interpret thatx Hox xis rejectedx so therex  isx ax differencex betweenx prextest andx postxtest diastole pressure. Conclusion: Thex Effect ofx Heart Gymnastics onv Decreasing xBlood Pressurex inx Elderlyx Patients withx Hypertensionx inx UPT Puskesmas Helvetia Medan in 2020. For patients with hypertension, itx isx expectedx xthat thisx researchx canx bex a motivation forx the elderly who have a history of hypertension to make heart gymnastics a physical exercise that can be done routinely to prevent hypertension, especially in UPT Puskesmas Helvetia Medan 2020
Downloads
Download data is not yet available.
References
REFERENSI

Amiruddin Eso, dkk. 2018. Pengaruh Senam Jantung Sehat terhadap Tekanan Darah Penderita Hipertensi di Wilayah Kerja Puskesmas Lepo-Lepo. Volume 6 Nomor 1. EISSN: 2443-0218. Fakultas Kedokteran Universitas Halu Oleo.

Azizah., 2011, Keperawatan lanjut usia, Graha Ilmu, Yogyakarta.

Jiwantoro. (2017) Riset Keperawatan. Analisis dan statistic menggunakan SPSS. Jakarta: Mitra Wacana Media, 2017

Kementrian Kesehatan RI. Profil Kesehatan Indonesia Tahun 2012. Jakarta : EGC.

Marssy, Rad. 2007. Manfaat Olahraga untuk Kesehatan Pembuluh Darah. http://tutorial-kesehatan.co.id/manfaat-olahraga-untuk-kesehatan-pembuluh-darah.html. diakses 17 februari 2016
Notoatmodjo. 2017. Metodologi Penelitian Kesehatan. Jakarta : Rineka Cipta
Nugroho, W. (2008). Keperawatan gerontik dan geriatr edisi 3. Jakarta : EGC

Putu Dyah Astri,. dkk. 2013, Pengaruh Senam Lansia Terhadap Tekanan Darah Lansia Dengan Hipertensi Pada Kelompok Senam Lansia Di Banjar Kaja Sesetan Denpansar Selatan ISSN: 2303-1298 Vol. 1 No.1 Edisi Januari- Juni 2013.

Riset Kesehatan Dasar (Riskesdas) (2018). Badan Penelitian dan Pengembangan Kesehatan Kementerian RI tahun 2018. http://www.depkes.go.id/resources/download/infoterkini/materi_rakorpop_20 18/Hasil%20Riskesdas%202018.pdf – Diakses Agustus 2018.

Rikesdas,. 2013, Kementrian Kesehatan RI, Badan Penelitian dan Pengembangan Kesehatan Kementrian Kesehatan RI, Jakarta

Siti Santy Sianipar, dkk. 2018 Pengaruh Senam Jantung Terhadap Tekanan Darah Penderita Hipertensi Di Puskesmas Kayon Kota Palangka Raya Dinamika Kesehatan Vol 9 No.2 Desember 2018

Tolok Hermawan dan Fahrun Nur Rosyid (2017). Pengaruh Senam Hipertensi Lansia Terhadap Penurunan Tekanan Darah Lansia Dengan Hipertensi di Panti Werdha Dhara Bakti Kelurahan Pajang Surakarta, Jurnal Kesehatan, ISSN 1979-7621Vol. 10 No. 1 Juni 2017.

Wahyuningsih Safitri dan Hutari Puji Astuti (2017), Pengaruh Senam Hipertensi Terhadap Penurunan Tekanan Darah Di Puskesmas Rejo, Jurnal Kesmasdaska, Juli 2017.

Wahyu P,. dkk,. 2017, Pengaruh Senam LansiaTerhadap Tekanan Darah Pada Lansia Penderita Hipertensi di Posyandu Lansia Dusun Banaran 8 Playen Gunungkidul, Skripsi, Mahasiswa PPN-PSIK Stikes Aisyiyah Yogyakarta

World Health Organization. (2018). Diambil kembali daro Global Health Estimates 2016 Death Cause, Age, Sex, by Country and by Region, 2000-2016.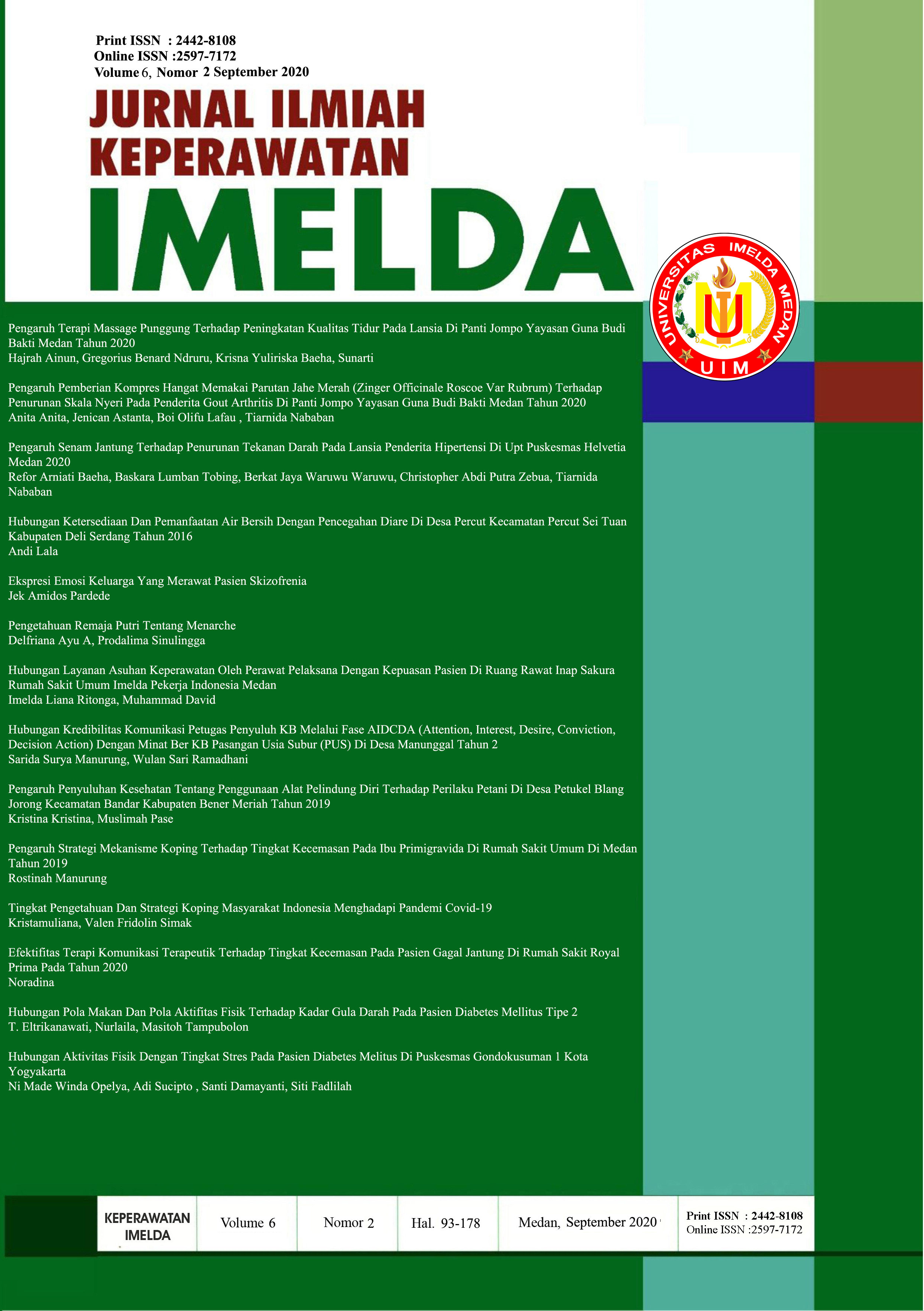 How to Cite
Baeha, R. A., Tobing, B. L., Waruwu, B. J. W., Zebua, C. A. P., & Nababan, T. (2020). PENGARUH SENAM JANTUNG TERHADAP PENURUNAN TEKANAN DARAH PADA LANSIA PENDERITA HIPERTENSI DI UPT PUSKESMAS HELVETIA MEDAN 2020. Jurnal Ilmiah Keperawatan Imelda, 6(2), 105-110. https://doi.org/10.2411/jikeperawatan.v6i2.393
Copyright (c) 2020 Jurnal Ilmiah Keperawatan Imelda
This work is licensed under a Creative Commons Attribution-NonCommercial 4.0 International License.