PENGALAMAN PENDERITA LUKA DIABETES DENGAN POLA PERAWATAN HOME VISIT DI KLINIK IIN WOUND CARE CIBITUNG, BEKASI
Oktavia Budianti

Sekolah Tinggi Ilmu Kesehatan Bani Saleh

Asih Minarningtyas

Sekolah Tinggi Ilmu Kesehatan Bani Saleh

Indah Puspitasari

Sekolah Tinggi Ilmu Kesehatan Bani Saleh
Abstract
Background : Diabetes Mellitus that is not controlled and handled can be a serious problem. The increase in the number of patients with diabetes mellitus will exacerbate the increased risk of developing diabetic wounds. One of the efforts of diabetic wound patients to optimize their recovery is by using health care services at home visits. Objective: The research was to explore in depth the experiences of diabetic wound patients who received Home Visit care patterns. Methods: This research design uses a qualitative method with a phenomenological study. Data collection was carried out by in-depth interviews on 6 diabetic wound patients who underwent wound care at home visits. Patients were selected by purposive sampling. Results: the study found five themes, namely the reasons for choosing to do treatment at a home visit, experiences while receiving care at a home visit, obstacles experienced during a home visit, efforts to overcome obstacles, and expectations for future home visit care. Suggestion: For further researchers, it is hoped that it can be used as basic data for further research and can take advantage of the categories generated in this research.
Downloads
Download data is not yet available.
References
Alwiyah, S. (2017). Tingkat Kepuasan Pasien Luka Diabetes MelitusTerhadap Perawatan Luka dengan Teknik Lembab Di Asri Wound Care Centre Medan. 1–52.
Amelia, R. (2018). Hubungan Perilaku Perawatan Kaki dengan Terjadinya Komplikasi Luka Kaki Diabetes pada Pasien Diabetes Melitus Tipe 2 di Puskesmas Tuntungan Kota Medan. Talenta Conference Series: Tropical Medicine (TM), 1(1), 124–131. https://doi.org/10.32734/tm.v1i1.56
Basri, M. H. (2019). Pengalaman Pasien DM TIPE 2 dalam Melakukan Perawatan Ulkusdiabetik Secara Mandiri. Jurnal Endurance, 4(1), 58. https://doi.org/10.22216/jen.v4i1.3066
Beckman, J. (2016). Global E&P. In Offshore (Vol. 76).
Chairani, R., Nurhaeni, H., Widagdo, W., Saprudin, A., Rachmawati, M., Lindawati, L., & Solihah, L. (2012). Efektivitas Home Visit Terhadap Perubahan Pengetahuan, Sikap, Dan Keterampilan Klien Tbc Di Wilayah Puskesmas Kecamatan Pasar Minggu Jakarta Selatan. Buletin Penelitian Sistem Kesehatan, 14(3 Jul). https://doi.org/10.22435/bpsk.v14i3
Dick, B., & Ferguson, B. J. (2015). Health for the world's adolescents: A second chance in the second decade. Journal of Adolescent Health, 56(1), 3–6. https://doi.org/10.1016/j.jadohealth.2014.10.260
Hasanuddin, I., & Roesmono, B. (2021). Upaya Peningkatan Pengetahuan Perawat Dalam Proses Perawatan Luka Diabetes Mellitus. 01(1), 14–18.
Juwariyah, T., & Priyanto, A. (2018). Hubungan Tingkat Pengetahuan dengan Perilaku Pencegahan Kekambuhan Luka Diabetik. Jurnal Ners Dan Kebidanan (Journal of Ners and Midwifery), 5(3), 233–240. https://doi.org/10.26699/jnk.v5i3.art.p233-240
Kemenkes RI. (2018). Hari Diabetes Sedunia Tahun 2018. Pusat Data Dan Informasi Kementrian Kesehatan RI, 1–8.
Kesehatan, K. (2019). No TitleΕΛΕΝΗ. Αγαη, 8(5), 55.
Kusyanti, E. K. (2016). Home Care Dalam Perawatan Ulkus Diabetikum Di Kota Semarang. Indonesian Nursing Journal of Education and Clinic (Injec), 1(1), 34. https://doi.org/10.24990/injec.v1i1.109
M, A. A. M., Arman, & Ahri, R. A. (2018). Faktor Yang Mempengaruhi Minat Masyarakat Dalam Pemanfaatan Home Care Di Puskesmas Layang. Jurnal Kesehatan, 1(3), 297–303. Retrieved from http://jurnal.fkmumi.ac.id/index.php/woh/article/view/woh1318
Puspitasari, I., Mulyono, S., & Kusumawati, D. N. (2019). The Effect of Interactive Education with 3-Dimensional Puzzles on the Injury-Prevention Behaviours of School-Age Children. Comprehensive Child and Adolescent Nursing, 42(sup1), 173–178. https://doi.org/10.1080/24694193.2019.1578438
Salman Al, Z. D., Emmi, R., & Afif. (2020). Jurnal Pionir LPPM Universitas Asahan Vol. 6 No. 1 Januari 2020 169. 6(1), 169–174.
St. Clair, M. C., Kram, J. J. F., & Sundberg, G. (2019). Incorporating Home Visits in a Primary Care Residency Clinic: The Patient and Physician Experience. Journal of Patient-Centered Research and Reviews, 6(3), 203–209. https://doi.org/10.17294/2330-0698.1701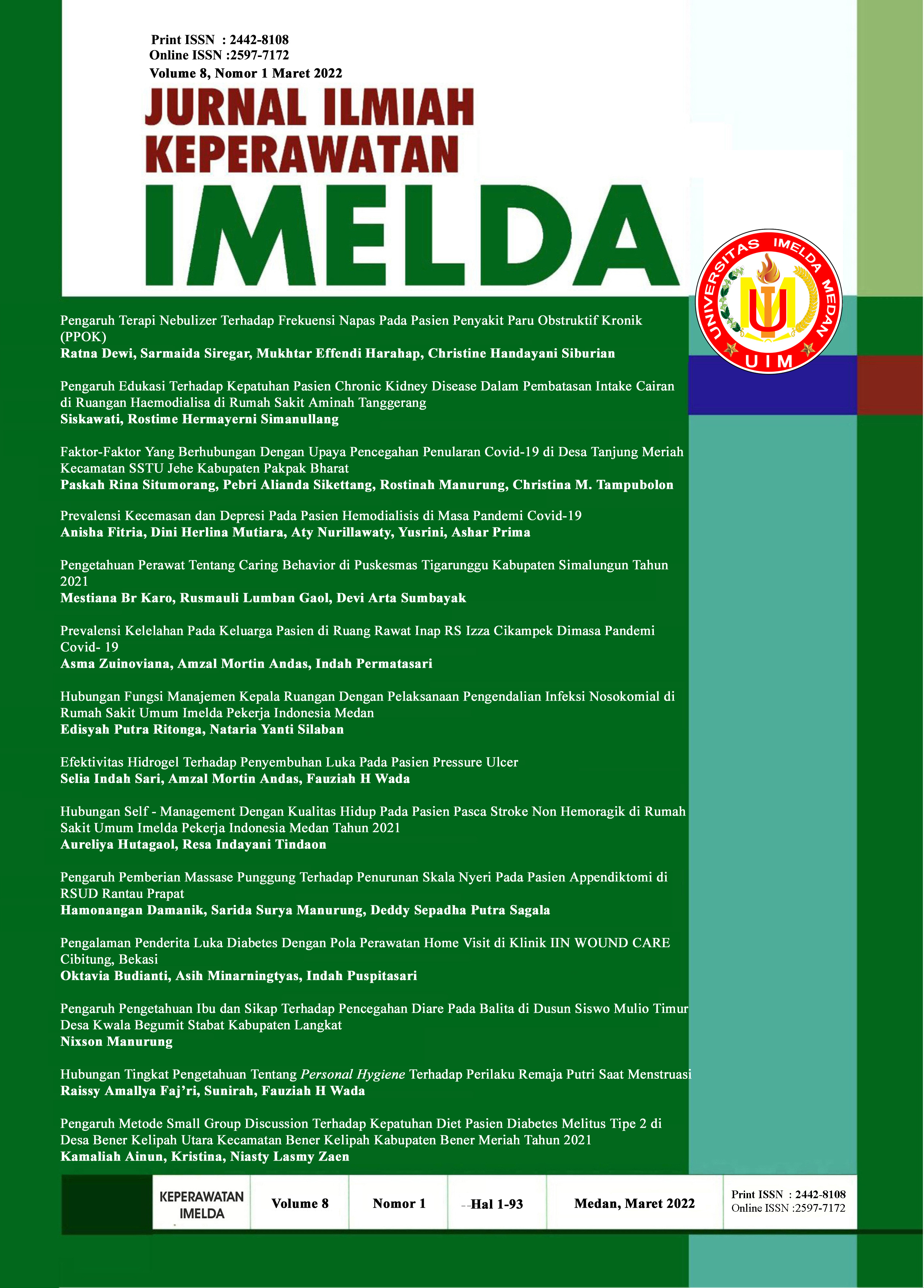 How to Cite
Oktavia Budianti, Asih Minarningtyas, & Indah Puspitasari. (2022). PENGALAMAN PENDERITA LUKA DIABETES DENGAN POLA PERAWATAN HOME VISIT DI KLINIK IIN WOUND CARE CIBITUNG, BEKASI. Jurnal Ilmiah Keperawatan IMELDA, 8(1), 69-73. https://doi.org/10.52943/jikeperawatan.v8i1.692
Copyright (c) 2022 Jurnal Ilmiah Keperawatan IMELDA
This work is licensed under a Creative Commons Attribution-NonCommercial 4.0 International License.