PENGETAHUAN LANJUT USIA TENTANG HIPERTENSI DI WILAYAH KERJA PUSKESMAS WENANG KOTA MANADO
Kristamuliana

Universitas Sam Ratulangi

Valen Fridolin Simak

Universitas Sam Ratulangi

Septriani Renteng

Universitas Sam Ratulangi
Keywords:
Elderly, Hypertension, Knowledge
Abstract
Increased blood pressure is a condition that is often experienced by the elderly. This condition can be caused by age related factors and risk factors. One of the risk factors for increasing blood pressure in the elderly is a lack of knowledge about blood pressure. The purpose of this study was to determine the description of  knowledge of Elderly about hypertension in the Wenang Health Center Work Area, Manado City. The research design used is descriptive research with survey method, and the number of samples are 76 elderlies. The sampling technique used was institutional based accidental sampling, in which researchers took samples that happened to meet at institutions (Puskesmas and Posyandu). The instrument used is HK-LS (Hypertension Knowledge Level Scale). The results showed that the elderly in the working area of ​​the Wenang Health Center Manado City had knowledge of hypertension at a good level of 28.9% and at a low level of 71.1%. This is because the level of education is mostly at a low level of 63.2% and also patients with hypertension grade I and II who are believed to have good experience on all matters related to hypertension only 32.9%. The conclusion of this study is that the knowledge of the elderly at the Manado City Health Center regarding hypertension is mostly still at the low level of knowledge.
Downloads
Download data is not yet available.
References
Alam, N., Soni, G. P., Jain, K. K., Verma, S., & Panda, P. S. (2015). Prevalence and determinants of hypertension in elderly population of Raipur city , Chhattisgarh. 3(3), 568–573. https://doi.org/10.5455/2320-6012.ijrms20150307
Allender, J. A., Rector, C., & Warner, K. D. (2014). Community & Public Health Nursing: Promoting the Public's Health. Wolters Kluwer, Lippincott Williams & Wilkins.
Barometer.co.id. (2021). Lansia di atas 10%, Populasi Penduduk Sulut Menua.
BPS. (2017). Jumlah Penduduk Kota Manado Menurut Kelompok Umur 2011-2016. BPS. https://manadokota.bps.go.id/statictable/2017/08/18/198/jumlah-penduduk-kota-manado-menurut-kelompok-umur-2011-2016.html
Girsang, A. P. L., Ramadani, K. D., Nugroho, S. W., Sulistyowati, N. P., Putrianti, R., & Wilson, H. (2021). Statistik Penduduk Lanjut Usia 2021. Badan Pusat Statistik.
Ina, A. S., Yulifah, R., & Susmini. (2018). Nursing News Volume 3, Nomor 3, 2018. 3, 758–765.
Kementerian Kesehatan Republik Indonesia. (2018). Laporan Nasional RISKESDAS 2018. Kementrian Kesehatan RI, 1–582. https://dinkes.kalbarprov.go.id/wp-content/uploads/2019/03/Laporan-Riskesdas-2018-Nasional.pdf
Miller, A. C. (2012). Nursing for Wellness in Older Adult (Sixth Edit). Lippincott Williams & Wilkins.
Mubarak, W. I. (2007). Promosi Kesehatan Sebuah Pengantar Proses Belajar Mengajar Dalam Pendidikan. Graha Ilmu.
Riskesdas Sulawesi Utara. (2018). Laporan Provinsi sulawesi utara Riskesdas 2018. In Dinas Kesehatan Sulawesi utara. https://ejournal2.litbang.kemkes.go.id/index.php/lpb/article/view/3756
United Nations Department of Economic and Social Affairs Population Division. (2019). World Population Ageing 2019: Highlights. the United Nations.
Webb, R. C., & Inscho, E. W. (2007). Age-Related Changes in the Cardiovascular System. Hypertension in the Elderly, January, 11–21. https://doi.org/10.1007/978-1-59259-911-0_2
WHO. (2021). World Health Statistics 2021: Monitorin Health for the SGDs (Vol. 4, Issue 1). World Health Organization.
Williams, P. (2012). Basic Geriatric Nursing (6th ed.). Elsevier.
Yang, Z. Q., Zhao, Q., Jiang, P., Zheng, S. B., & Xu, B. (2017). Prevalence and control of hypertension among a Community of Elderly Population in Changning District of Shanghai: A cross-sectional study. BMC Geriatrics, 17(1), 1–9. https://doi.org/10.1186/s12877-017-0686-y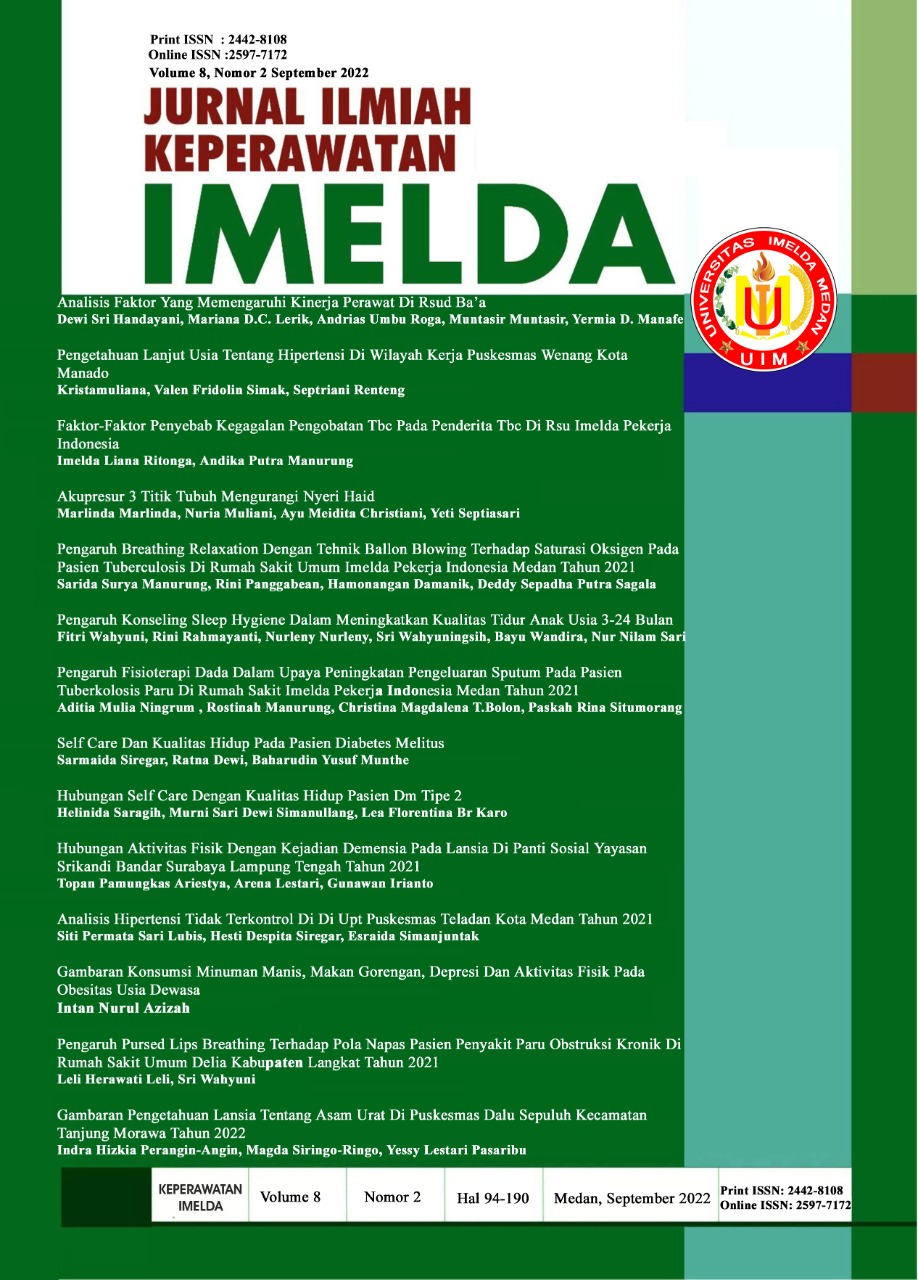 How to Cite
Kristamuliana, Simak, V. F., & Renteng, S. (2022). PENGETAHUAN LANJUT USIA TENTANG HIPERTENSI DI WILAYAH KERJA PUSKESMAS WENANG KOTA MANADO. Jurnal Ilmiah Keperawatan IMELDA, 8(2), 102-106. https://doi.org/10.52943/jikeperawatan.v8i2.1083
Copyright (c) 2022 Jurnal Ilmiah Keperawatan IMELDA
This work is licensed under a Creative Commons Attribution-NonCommercial 4.0 International License.