HUBUNGAN PENGETAHUAN REMAJA DENGAN SIKAP DALAM PENANGANAN INSOMNIA DI KELURAHAN BELAWAN BAHAGIA KECAMATAN MEDAN BELAWAN
Ratna Dewi

Staf Pengajar Prodi D-III Keperawatan STIKes Imelda Medan

Safrida Mysara Butar Butar

Mahasiswa APIKES Imelda
Keywords:
Knowledge, Youth, Attitude, Insomnia.
Abstract
Insomnia is a condition in which a person has difficulty to sleep , especially sleep at night . Insomnia is a common health problem in all environments , both in the developed and developing countries . Insomniacs were not limited to a particular age range . All ages prone to insomnia , either in infants , children , adolescents , adults , and the elderly It is influenced by several factors, one of which terms  Psychic problem that causes of insomnia that people experience depression and anxiety because no sleep makes people become anxious and anxiety continues to disrupt  sleep that makes it even more anxious . Another factor is the lack of knowledge and understanding of the rights and reproductive health . The purpose of this study was  to determine the relationship Knowledge Teen With Attitude In Insomnia Treatment Lingkungan IX Kelurahan Belawan Bahagia . The research in this study using descriptive correlative study with cross sectional design . The inclusion criteria for the sample in this study were all teenagers in this case there was adolescents aged 11-14 years, age 15-17 years , and 18-21 years of age . Prior to the study , researchers asked permit the study of nursing institutions and permit the study of head headman Happy Belawan . The results of the 84 respondents found that the level of knowledge is still quite numbering 38 people ( 45 % ) and the attitude of the respondents also still quite 39 people ( 46 % ) , whereas the results of the statistical test using chi-square test analysis SPSS wearing p < 0.05 or 0.000 < 0.05 states that there is a correlation knowledge teen with attitude in the handling of insomnia in Lingkungan IX Kelurahan Belawan Bahagia.
Downloads
Download data is not yet available.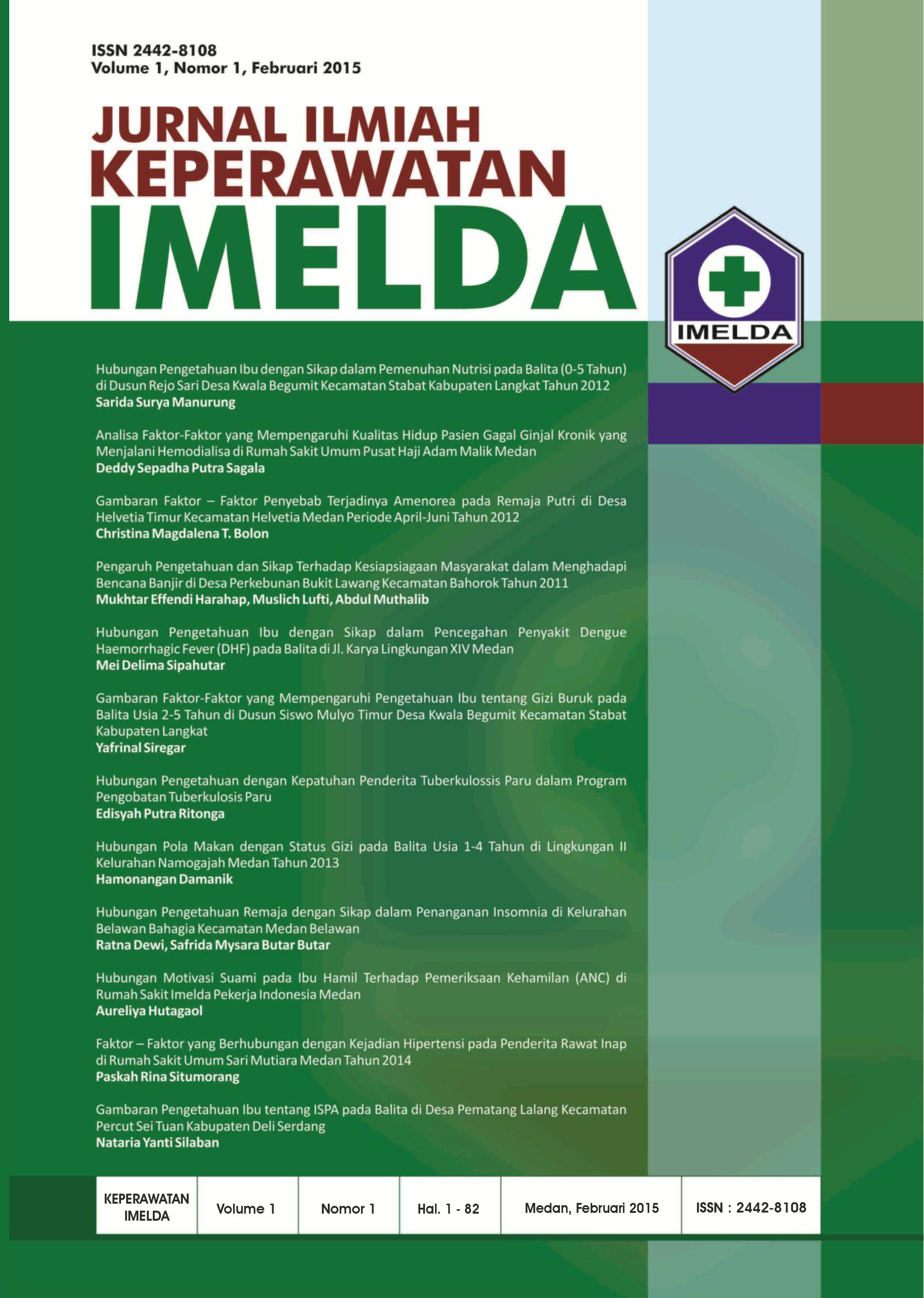 How to Cite
Dewi, R., & Mysara Butar Butar, S. (2019). HUBUNGAN PENGETAHUAN REMAJA DENGAN SIKAP DALAM PENANGANAN INSOMNIA DI KELURAHAN BELAWAN BAHAGIA KECAMATAN MEDAN BELAWAN. Jurnal Ilmiah Keperawatan Imelda, 1(1), 62-66. Retrieved from http://jurnal.uimedan.ac.id/index.php/JURNALKEPERAWATAN/article/view/224