HUBUNGAN POLA MAKAN DAN POLA AKTIFITAS FISIK TERHADAP KADAR GULA DARAH PADA PASIEN DIABETES MELLITUS TIPE 2
T. Eltrikanawati

Institut Kesehatan Mitra Bunda

Nurlaila

Institut Kesehatan Mitra Bunda

Masitoh Tampubolon

Institut Kesehatan Mitra Bunda
Keywords:
Diet, Physical Activity Pattern, Blood Sugar Levels, Type 2 Diabetes Mellitus
Abstract
Diabetes mellitus (DM) is a metabolic disease that is characterized by an increase in blood glucose levels (hyperglycemia) that occur due to abnormalities in insulin secretion, insulin action or both. The number of people with diabetes mellitus in Indonesia is 425 million people, in Batam The number of patients is 3,008 with the highest prevalence in Tiban Baru Health Center, namely 439 patients (14.6%). The purpose of this study was to analyze the relationship between dietary patterns and physical activity patterns on blood sugar levels in patients with type 2 diabetes mellitus. This study was an analytical study with cross sectional design and Pusposive Sampling sampling technique with Mann-Whitney test. Data collection used questionnaires and observation sheets to 58 respondents. The test results show p value 0,000 (⍺ = 0,05) for each variable. The conclusion of this study there is a significant relationship between diet and physical activity patterns on blood sugar levels when in type 2 diabetes mellitus patients.
Downloads
Download data is not yet available.
References
American Diabetes Association. (2019). Standards of Medical Care in Diabetes. In American Diabetes Association: Vol. (5)2 (Issue 2, pp. 285–299).
Cholifah, N., Azizah, N., & Indanah. (2016). Hubungan antara Pola Makan dan Aktivitas Fisik dengan Kadar GDS pada Pasien Diabetes Mellitus (DM) Tipe II di Puskesman Mayong II Jepara Tahun 2015. Jikk, 7(2), 01–79.
Dolongseda, F., Massie, G., & Bataha, Y. (2017). Hubungan Pola Aktivitas Fisik Dan Pola Makan Dengan Kadar Gula Darah Pada Pasien Diabetes Melitus Tipe Ii Di Poli Penyakit Dalam Rumah Sakit Pancaran Kasih Gmim Manado. Jurnal Keperawatan UNSRAT, 5(1), 105542.
Firmansyah, M. R. (2014). Hubungan Pola Makan Dan Aktivitas Fisik Dengan Kadar Gula Darah Penderita Diabetes Melitus Tipe Ii Di Puskesmas 7 Ulu Kota Palembang. Seminar Workshop Nasional, 2012, 218–222.
IDF. (2019). Diabetes Atlas. International Diabetes Federation.
Kemenkes RI. (2019). Profil Kesehatan Indonesia 2018 [Indonesia Health Profile 2018].
Lewis.S, Bucher.L Heitkemper Margaret Mariann Harding, Dottie J.K, R. (2016). Medical Surgical Nursing 10th edition. Elsevier.
Marewa, L. W. (2015). Kencing Manis (Diabetes Mellitus) di Sulawesi. Yayasan Pustaka Obor Indonesia.
Qurratuaeni. (2009). Faktor-Faktor Yang Berhubungan Dengan Terkendalinya Kadar Gula Darah Pada Pasien Diabetes Mellitus Di Rumah Sakit Umum Pusat (Rsup) Fatmawati Jakarta Tahun 2009. Uin Syarif Hidayatullah, 31–35.
Suiraoka. (2012). Penyakit Degeneratif : mengenal, mencegah dan mengurangi faktor risiko 9 penyakit degeneratif. Nuha Medika.
Sulistyoningsih, H. (2011). Gizi untuk Kesehatan Ibu dan Anak. Graha Ilmu.
WHO. (2016). World Health Statistics 2016.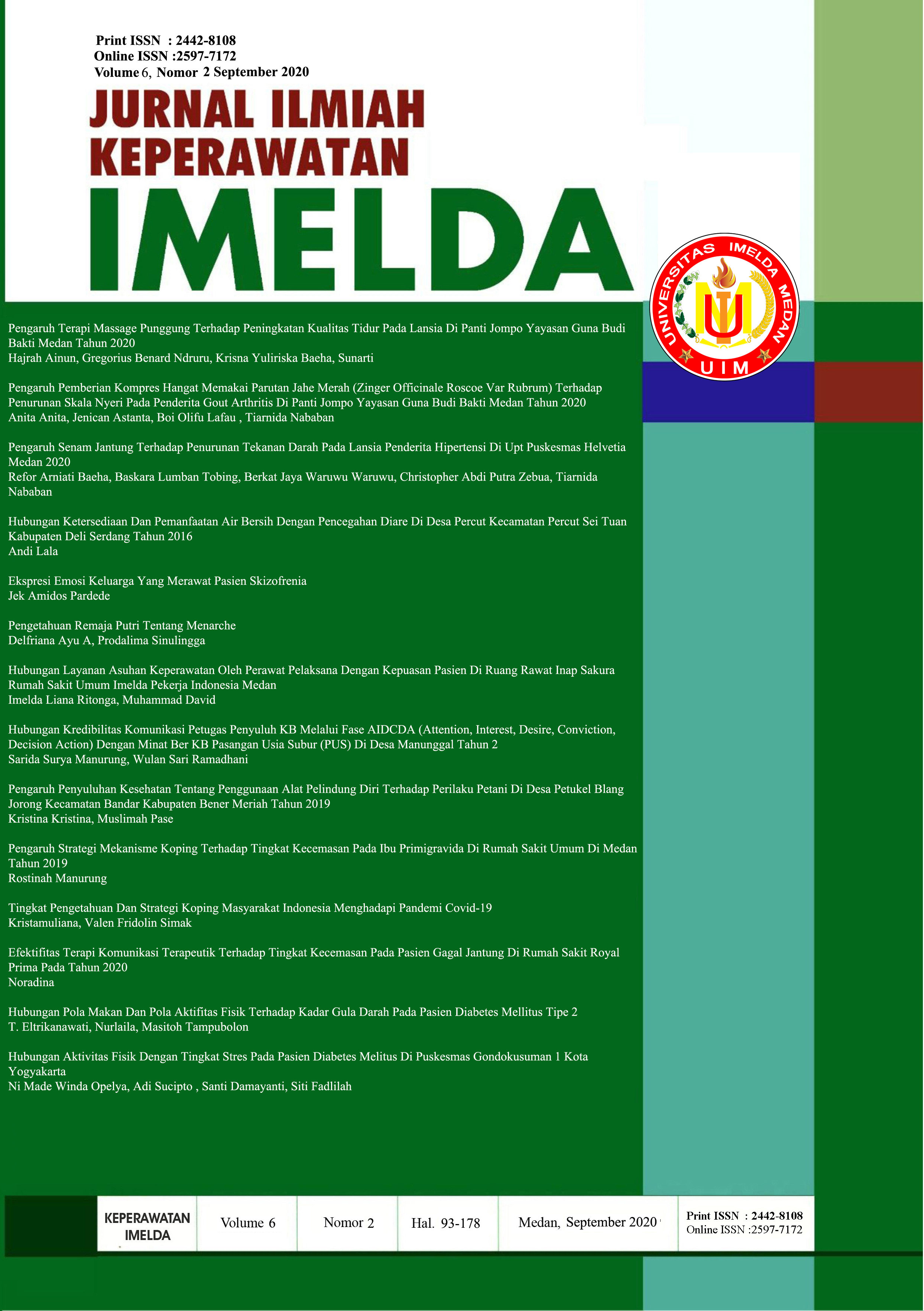 How to Cite
T. Eltrikanawati, Nurlaila, & Tampubolon, M. (2020). HUBUNGAN POLA MAKAN DAN POLA AKTIFITAS FISIK TERHADAP KADAR GULA DARAH PADA PASIEN DIABETES MELLITUS TIPE 2. Jurnal Ilmiah Keperawatan Imelda, 6(2), 171-177. https://doi.org/10.2411/jikeperawatan.v6i2.411
Copyright (c) 2020 Jurnal Ilmiah Keperawatan Imelda
This work is licensed under a Creative Commons Attribution-NonCommercial 4.0 International License.