HUBUNGAN AKTIVITAS FISIK DENGAN TINGKAT STRES PADA PASIEN DIABETES MELITUS DI PUSKESMAS GONDOKUSUMAN 1 KOTA YOGYAKARTA
Ni Made Winda Opelya

Universitas Respati Yogyakarta

Adi Sucipto

Universitas Respati Yogyakarta

Santi Damayanti

Universitas Respati Yogyakarta

Siti Fadlilah

Universitas Respati Yogyakarta
Keywords:
Phsycal Activity, Stress Level, DM
Abstract
ABSTRACT
Stress is a condition that is mostly felt by patients with diabetes mellitus. It is important to control stress level in patients with DM appropriately. One of them is managing daily physical activity in DM patients, through physical activity by releasing energy from skeletal muscle so that it can control high blood sugar which can cause stress in DM patients.To know the relationship of physical activity with stress level of DM patients 1, Yogyakarta City. This research is a kinf of  quantitative research with analitic survey method and retrospective design. The sampling technique used was accidental sampling with 34 respondents from 13th until 27th on Mei and used google form on whatsapp application for data resume. The research instrument used was questionnaire of IPAQ and DASS. Analysis of research data used chi square. Most respondent in the category of lack physical activity that is 18 (52,9%.) respondent. The majority of respondent experienced stress, and have category of moderate stress that is 12 (35,3%) respondent. Statistic test result using chi square with ρ value=0,002 (<0,05). There is relationship between physical activity with stress level of DM patients in Puskesmas Gondokusuman 1, Yogyakarta City.
Downloads
Download data is not yet available.
References
Abbasi Yap Cheng Hoon 4 SP (2018). Diabetes Knowledge, Attitude, Practice Among Type 2 Diabetes Mellitus Malaysia. Sectional Study.

American Diabetes Asociation (2018). Updates to the Standards of Medical Care in Diabetes

Asfiana, N. W (2015). Hubungan Tingkat Penghasilan Dengan Tingkat Stres Kepala Keluarga Penduduk Dukuh Klile. Fakultas Kedokteran Universitas Muhammadiyah Surakarta 2015.

Black, J. M., & Hawks, J. H (2005). Medical surgical nursing: Clinical Managemen for positive outcomes. (7th). Elsevier Damayanti, S. (2015). Manajemen Diabetes Mellitus. Yogyakarta: Nuha Medika.

Dolongseda, Masi, & Bataha, 2017. (2017). Hubungan Pola Aktivitas Fisik Dan Pola Makan Dengan Kadar Gula Darah Pada Pasien Diabetes Melitus Tipe Ii Di Poli Penyakit Dalam Rumah Sakit Pancaran Kasih Gmim Manado. Jurnal Keperawatan, 5(1).

Donald, M., Dower, J., Coll, J.R (2013). Mental health issues decrease diabetes-specific quality of life and complications: fi ndings from Australia's living with diabetes cohort study.

Gautam, Y., Sharma (2009). A Cross Sectional Study of QOL of diabetic patient at tertiary care hospital in Delhi. Indian Journal of Community Medicine.
(n.d.).Gibney. (2009). Gizi Kesehatan Masyarakat. Jakarta: EGC.

Guyton (2008). Buku Ajar Fisiologi Kedokteran. Jakarta: EGC.

Haskell, W. L., Lee, I. M., Pate, R. R., Powell (2007). Physical activity and public health: Updated recommendation for adults from the American College of Sports Medicine and the American Heart Association.

Herdianti (2017). Kualitas hidup mempengaruhi kesehatan fisik. 2(February), 74–80. Program Studi Kesehatan Masyarakat STIKES Harapan Ibu Jambi

Hilliard, Marisa E. et al (2009). Predictors Of Diabetes-Related Quality Of Life After Transitioning To The Insulin Pump. Pediatric Psychology34

Izzati, W., & Nirmala (2015). Kadar Gula Darah Pada Pasien Diabetes Mellitus Di Wilayah Kerja Puskesmas Perkotaan Rasimah Ahmad Bukit Tinggi Tahun 2015. Keperawatan.

Kementerian Kesehatan RI Badan Penelitian dan Pengembangan (2013). Hasil Utama Riset Kesehatan Dasar. Kementrian Kesehatan RI Kementerian Kesehatan RI Badan Penelitian dan Pengembangan (2013). Hasil Utama Riset Kesehatan Dasar. Kementrian Kesehatan RI.

Kementerian Kesehatan RI Badan Penelitian dan Pengembangan (2018). Hasil Utama Riset Kesehatan Dasar. Kementrian Kesehatan RI Kementerian Kesehatan RI Badan Penelitian dan Pengembangan (2018). Hasil Utama Riset Kesehatan Dasar. Kementrian Kesehatan RI.

Murante, A.M (2018). The diabetes self-management educational programs and their integration in the usual care:. Health Policy, 122 (8), 866–877.

Kurnianto DP (2015). Menjaga Kesehatan di Usia Lanjut. Prodi Ilmu Keolahtagaan PPS UNY, 11(2) : 19-29. (n.d.). No Title.

Kusnanto, K., Sundari, P. M., Asmoro, C. P., & Arifin, H (2019). Hubungan Tingkat Pengetahuan Dan Diabetes Self-Management Dengan Tingkat Stres Pasien Diabetes Melitus. Jurnal Keperawatan Indonesia.

Lazarus, F. (2010). Stress Appraisal and Coping. In Springer Publishing Company New York.

Nevid, Jeffrey S (2005). Psikologi Abnormal edisi kelimaJilid 1. Jakarta: Erlangga.

Ningtyas, D. W., Wahyudi, dr. P., & Prasetyowati, I (2013). Analisis Kualitas Hidup Pasien Diabetes Melitus Tipe 2 di RSUD Bangil Kabupaten Pasuruan. Artikel Ilmiah Hasil Penelitian Mahasiswa.

Notoatmodjo (2007). Promosi Kesehatan & Ilmu Perilaku. Jakarta: Rineka Cipta.

Priscilla LeMone, Karen M.Burke, & G. B (2012). Buku Ajar Keperawatan Medikal Bedah. Jakarta: EGC

Retnowati, N., & Satyabakti, P (2014). Hidup Penderita Diabetes Melitus Di Puskesmas Tanah. 3, 57–68.

Sadad, P. (2017). Hubungan aktivitas fisik dengan kejadian diabetes melitus tipe ii di rsud kota yogyakarta, daerah istimewa yogyakarta. Universitas Respati Yogyakarta.

Sarafino & Smith. (2012). Health Phsycology. United States Of America.

Smeltzer S.C, Bare B.G, Hinkle J.L, C. K. . (2010). Medical Surgical Nursing (12th ed.). Philadelphia : Lippincott Williams & Wilkins.

Tamara, E., & Nauli, F. A. (2014). Hubungan atara dukungan keluarga dan kualitas Hidup Pasien Diabetes Mellitus Tipe Ii Di Rsud Arifin Achmad Provinsi Riau.

Taylor, C., Lillis, C., Lemone, P., & Lynn, P (2010).Fundamental of nursing: The Art and Scienceof Nursing Care (7th). Philadelphia: LippincottWilliams & Wilkins. (n.d.).

Wiastuti, S. M., Rondhianto, R., & Widayati, N (2017). Pengaruh DSME Pada Pasien Diabetes Melitus (DM) Tipe 2 Di Wilayah Kerja Puskesmas Patrang Kabupaten Jember. Pustaka Kesehatan, 5(2), 268–275

Widodo, C., Tamtomo, D., & Prabandari, A. N (2016). Hubungan Aktifitas Fisik, Kepatuhan Mengkonsumsi Obat Anti Diabetik Dengan Kadar Gula Darah Jurnal Sistem Kesehatan, 2(2), 63–69.

Yusra, A. (2011). Hubungan antara dukungan keluarga dengan kualitas hidup pasien diabetes mellitus tipe 2 di poliklinik penyakit dalam rumah sakit umum pusat fatmawati Jakarta. Tesis, 1–137.

Yusuf, 2015. (2015). Keperawatan Kesehatan Jiwa. In Buku Ajar Keperawatan Kesehatan Jiwa.

Zainuddin, M., Utomo, W., & Herlina. (2015). Hubungan Stres dengan Kualitas Hidup Penderita Diabetes Mellitus Tipe 2. Jurnal Online Mahasiswa Program Studi Ilmu Keperawatan Universitas Riau, 2(1), 890–898.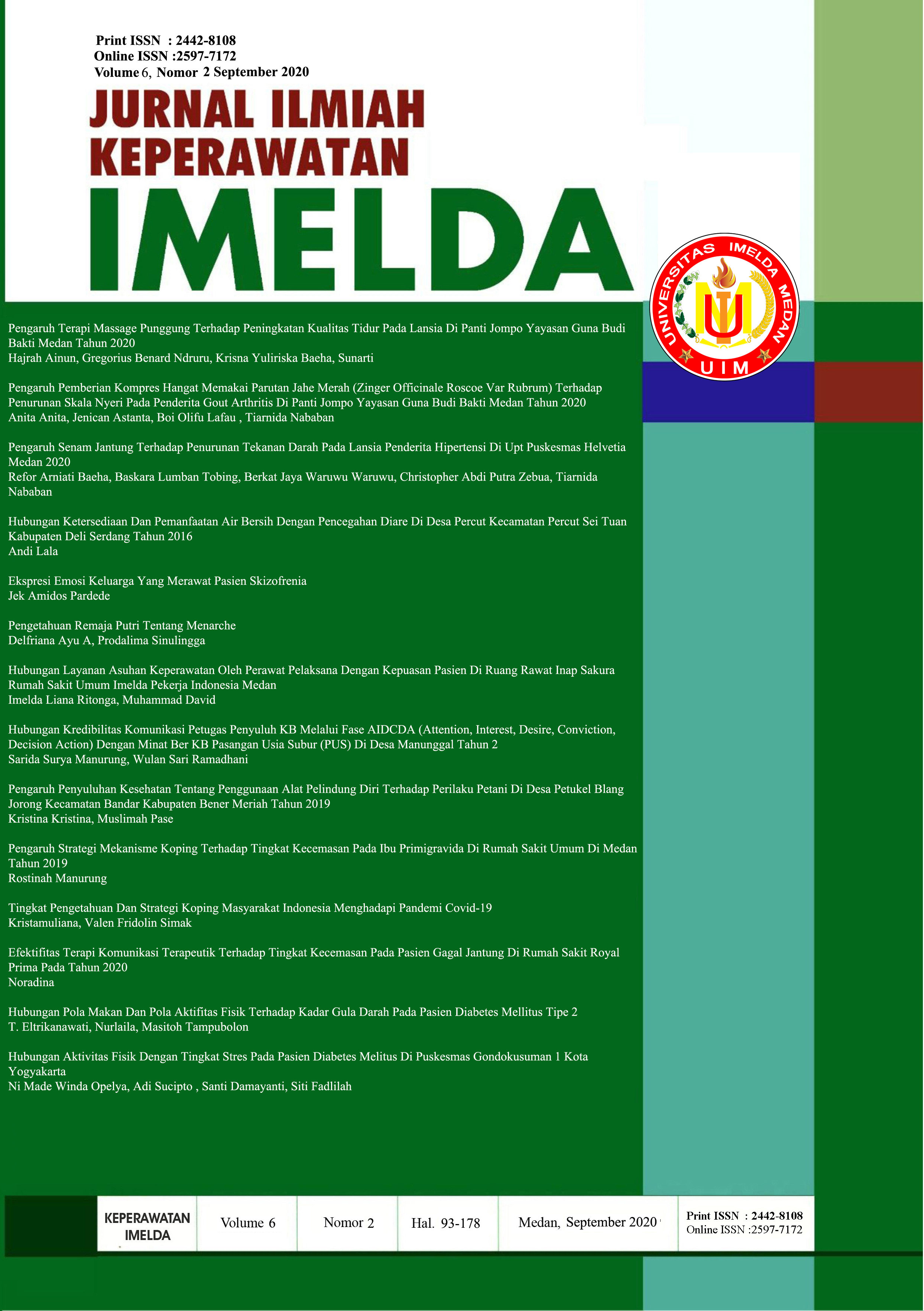 How to Cite
Opelya, N. M. W., Sucipto, A., Damayanti, S., & Fadlilah, S. (2020). HUBUNGAN AKTIVITAS FISIK DENGAN TINGKAT STRES PADA PASIEN DIABETES MELITUS DI PUSKESMAS GONDOKUSUMAN 1 KOTA YOGYAKARTA. Jurnal Ilmiah Keperawatan Imelda, 6(2), 178-187. https://doi.org/10.2411/jikeperawatan.v6i2.422
Copyright (c) 2020 Jurnal Ilmiah Keperawatan Imelda
This work is licensed under a Creative Commons Attribution-NonCommercial 4.0 International License.