PELATIHAN PPGD PADA KINERJA PERAWAT DI IGD DAN ICU RSUD AHMAD YANI METRO
Heru Supriyatno

F.Kes UMPRI

Pira Prahmawati

Universitas Muhammadiyah Pringsewu

Pilipus Benitius A.S

Rumah Sakit Ahmad Yani Metro
Keywords:
PPGD Training Nurse's perfomance IGD
Abstract
One of nurses in the hospital is handling emergency cases. The minimum ability of emergency nurse services in Indonesia based on the Ministry of Helath's work guidelines is to open and clear the airway, clean pulmonary ventilation and oxygenation (breathing), provide cardiopulmonary resuscitation, provide bleeding and bandage a splint. Not all emergency services have valid certificates. Not all emergency services have valid certificate, whereas in the IGD Key Performance Indicator (KPI) standard, all emergency service providers must have a valid certificate (ATLS/BTLS/ACLS/PPGD). This makes the quality of the health personnel who work, especially emergency nurses, less maintained, so that not all customers are satisfied, even though in the IGD KPI standard 100% of customers must be satisfied with the services provided. The nurse's performance can be seen from the indicators of patient mortality and the ability to handle life saving cases from patients. The purposes of this study was to expalin the relationship between PPGD training and the performance of nurses in the IGD and ICU at RSUD Ahmad Yani Metro. The research design used is the cross sectiona approach and the results of the Chi Square test obtained a P – Value of 0.004, meaning that there is the relations between PPGD training program and the nurse's performance with an OR value of 13.571.
Downloads
Download data is not yet available.
References
[1] Hasanah, L "Hubungan Pendidikan dan Pelatihan dengan Kinerja perawat dalam Pelayanan Kesehatan" Tesis Stikes Aisyah. 2015.

[2] Departemen Kesehatan Republik Indonesia, "Kepeutusan Menteri Kesehatan Republik Indonesia No.81/Menkes/sk/I/2004 tentang Pedoman Penyusunan Perencanaan Sumber". Jakarta: Pemerintah,"2004.

[3] Dessler, Gary. Zhang, et al., "Manajemen Sumber Daya Manusia" Salemba, 2015.

[4] Tim IGD RSSA., "Standar Pelayanan dan Sistem Kendali Mutu Instalasi Gawat Darurat," Instalasi Gawat Darurat Rumah Sakit Umum RSSA Malang, 2012.

[5] Elizar., " Pengaruh Pelatihan Penanganan Pasien Gawat Darurat terhadap Kinerja Perawat di Unit Gawat Darurat (UGD) dan Intensif Care Unit (ICU) Rumah Sakit Umum Daerah Nagan Raya," Skripsi. Repository.utu.ac.id. 2013.

[6] BPPSDM., " Pelatihan Penanggulangan Penderita Gawat Darurat Bencana" Diakses pada November 2019. http://bppsdmk.kemkes.go.id/web/berita/330-202/pelatihan-penanggulangan-penderita-gawat-darurat-bencana-ppgd-b-nasional-x-tahun-2014. 2014.

[7] RSUD Ahmad Yani Metro " Data Survey Pendahuluan RSUD Ahmad Yani," Metro Lampung. 2019.

[8] Julianti.," Hubungan Pelatihan Terhadap Kinerja Perawat Pelaksana di Rumah Sakit Pertamedika Pangkalan Brandan," Jurnal Kesehatan Surya Nusantara Langkat. 2015.

[9] Notoadmojo S.,"Metodologi Penelitian Kesehatan," Rineka cipta. 2012.

[10] American Heart Association (AHA).," Health Care Research: Coronary Heart Disease,". 2015.

[11] Nursalam.," Manajemen Keperawatan," Jakarta. Salemba Medika. 2015.

[12] Ali Zaidin.," Dasar – dasar Keperawatan Profesional," Jakarta. Widya Medika. 2012.

[13] Hasibuan.," Manajemen Sumber Daya Manusia," Jakarta; Bumi Aksara. 2010.

[14] Ambar dkk.," Manajemen Sumber Daya Manusia," Yogyakarta; Graha Ilmu. 2009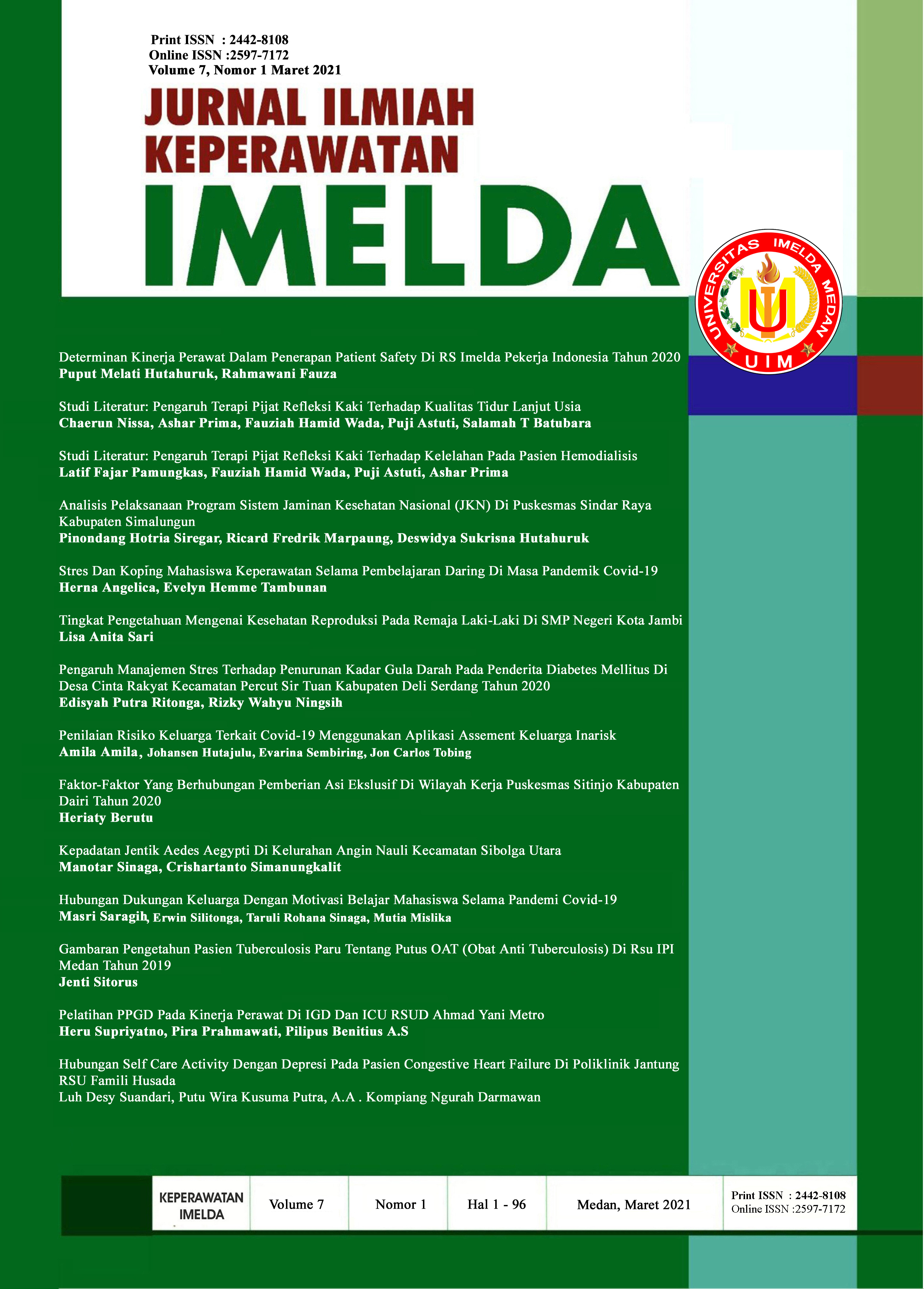 How to Cite
Heru Supriyatno, Prahmawati, P., & Benitius A.S, P. (2021). PELATIHAN PPGD PADA KINERJA PERAWAT DI IGD DAN ICU RSUD AHMAD YANI METRO . Jurnal Ilmiah Keperawatan Imelda, 7(1), 84-89. https://doi.org/10.52943/jikeperawatan.v7i1.523
Copyright (c) 2021 Jurnal Ilmiah Keperawatan Imelda
This work is licensed under a Creative Commons Attribution-NonCommercial 4.0 International License.