PENGARUH KELENGKAPAN PENGISIAN MEDICAL DISCHARGE SUMMARY PASIEN RAWAT INAP TERHADAP IMPLEMENTASI SNARS EDISI 1 ELEMEN PENILAIAN MIRM 15 DI RUMAH SAKIT AMC CILEUNYI
Dina Sonia

Politeknik Piksi Ganesha Bandung

Ayulia Maulinabila

Politeknik Piksi Ganesha Bandung
Keywords:
Discharge Summary, Completeness and Implementation of SNARS 1st Edition
Abstract
This research aims to determine the effect of fillings completeness of inpatient medical discharge summary on implementation SNARS 1st  edition MIRM 15 valuation element at Rumah Sakit AMC Cileunyi.The research method used quantitative method with descriptive approach, The data collecting that by distributing quessioneir, observation, interview and compeleted with literature study which has a close relevance to the problem. The sampling technique used is sampling technique saturated.From the research of this research, the problem that arise among others: 1) The high number of incomplete replenishment of inpatien medical discharge summary. 2) The absence of standard procedure operational (SPO) for discharge summary, and 3) Unfulfilled SNARS accreditation standard 1st edition MIRM 15 valuation element related discharge summary The advice given to fix the problem is 1) Make a review team every room that aims to coordinate and control the incomplete doctor registers. It is expected that the doctor may improve the completeness of the filling of medical records. 2) Socializing the new design in accordance with the provisions of the SNARS edition 1 MIRM 15 valuation element and reinforcing the filling instructions by making the SPO filling discharge summary.
Downloads
Download data is not yet available.
References
Budi, Savitri Citra. (2011). Manajemn Unit Kerja Rekam Medis. Quantum Sinergi Medis : Bantul.

Direktorat Jenderal Pelayanan Medik. (2006). Pedoman Penyelenggaraan dan Prosedur Rekam Medis di Indonesia. Direktorat Jenderal Bina Pelayanan Medik : Jakarta.

Haryanto, Slamet. (2017). Pengaruh Kelengkapan Formulir Catatan Perkembangan Pasien Terintegrasi Rawat Inap Teradap Mutu Rekam Medis di Rumah Sakit Al-Islam Bandung. Politeknik Piksi Ganesha Bandung : Bandung.

Hatta, Gemala R. (2013). Pedoman Manajemen Informasi Kesehatan di Sarana Pelayanan Kesehatan. Universitas Indonesia (UI-Press) : Jakarta.
Huffman, Edna K. (1999) . Health Information Management . PhysicianRecord Compay : Berwyn, Illinois.

Notoadmojo, Soekidjo. (2010). Metode Penelitian Kesehatan. Renika Cipta : Jakarta.

Permenkes RI No. 269/MENKES/PER/III/2008 Tentang Rekam Medis. Jakarta: Kemenkes RI.

Permenkes RI No. 340/MENKES/PER/III/2010 Tentang Klasifikasi Rumah Sakit. Jakarta: Kemenkes RI.

Priyatno, Dewi. (2012). Cara Kilat Belajar Analisis Data dengan SPSS 20. ANDI Yogyakarta : Yogyakarta.

S. Rano Indradi. (2017). Rekam Medis. Universitas Terbuka : Banten.

Standar Nasional Akreditasi Rumah Sakit Edisi 1 Tahun 2018. Jakarta.

Sugiyono. (2013). Metode Penelitian Kuantitatif, Kualitatif dan R & D. Alfabeta : Bandung.

Sugiyono. (2015). Metode Penelitian Kuantitatif, Kualitatif dan R & D. Alfabeta : Bandung.

Undang-Undang No. 34 Tahun 2017 Tentang Akreditasi Rumah Sakit. Jakarta: Kemenkes RI.

Undang-Undang No. 36 Tahun 2009 Tentang Kesehatan. Jakarta: Kemenkes RI.

Undang-Undang No. 44 Tahun 2009 Tentang Rumah Sakit. Jakarta: Kemenkes RI.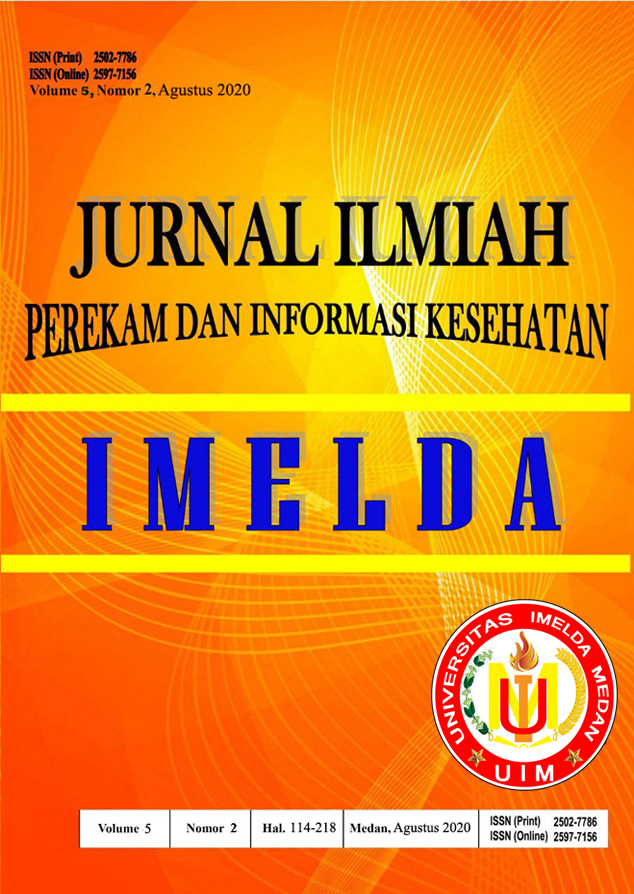 How to Cite
Sonia, D., & Maulinabila, A. (2020). PENGARUH KELENGKAPAN PENGISIAN MEDICAL DISCHARGE SUMMARY PASIEN RAWAT INAP TERHADAP IMPLEMENTASI SNARS EDISI 1 ELEMEN PENILAIAN MIRM 15 DI RUMAH SAKIT AMC CILEUNYI. Jurnal Ilmiah Perekam Dan Informasi Kesehatan Imelda (JIPIKI), 5(2), 132-140. https://doi.org/10.2411/jipiki.v5i2.401
Copyright (c) 2020 Jurnal Ilmiah Perekam dan Informasi Kesehatan Imelda
This work is licensed under a Creative Commons Attribution-ShareAlike 4.0 International License.