GAMBARAN KOMPETENSI MAHASISWA PRODI PIK ANGKATAN 2018 DALAM MEMBERIKAN PELAYANAN PENERIMAAN RAWAT INAP DI LABORATORIUM STIKES HUSADA BORNEO
Ermas Estiyana

STIKes Husada Borneo

Alis Lusiana Prayogi Putri

STIKES Husada Borneo
Keywords:
Competencies, Students, Inpatient, Laboratory
Abstract
A medical and health information recorder must have knowledges, skills, and behaviours which are the competencies of the profession. One of the medical recorder competencies is "registering for all the visits in health care facilities (registration for outpatient and inpatient)". This reasearch aims to investigate the overview of students competencies of PIK Department batch 2018 in providing services for inpatient registration in STIKes Husada Borneo Laboratory. This research used descriptive qualitative method and was conducted on 56 students of STIKes Husada Borneo batch 2018. The sampling technique in this research was proporsiv sampling. Based on the results  of  the    research,  by  using  questionnaires  and  checklists,  shows  that  the students' knowledge of the competence and procedures for inpatient registration are; 3,5% good, 35,7% enough, and 60,7% less good, then the students' attitude toward patients are good (98.2%) and less good (1.78%),and the students' skills in inpatient registration are competent for 67.8% and not competent yet for 32.1%. So it can be concluded that the students' competencies of PIK Department batch 2018 in providing services for inpatient registration in terms of knowledges, behaviours, and skills are not competent yet.
Downloads
Download data is not yet available.
References
Azwar, Saifuddin. (2013). Sikap Manusia: Teori dan Pengukurannya. Yogyakarta: Pustaka Pelajar

Budi, Savitri Citra (2011). Manajemen unit kerja rekam medis. Yogyakarta: Quantum Sinergis Media.

Erpan, Erik (2016). Gambaran Keterampilan Pemasangan Infus pada Perawat Vokasional dan Perawat Profesional RS PKU Muhammadiyah di Wilayah Yogyakarta. Karya Tulis Ilmian Proram Studi Ilmu Keperawatan, Universitas Muhammadiyah Yogyakarta.

Kholili, Ulil (2011). Pengenalan ilmu rekam medis pada masyarakat serta kewajiban tenaga kesehatan di rumah sakit. Jurnal Kesehatan Komunitas, Vol. 1: 66

Menkes RI. (2007). Keputusan Menteri Kesehatan RI Nomor 377/MENKES/SK/III/2007 tentang Standar Profesi Perekam Medis dan Informasi Kesehatan.

Minardo,J, Siyamti, D. Susilo,T (2018). Perilaku Santun Mahasiswa Perawat Dalam Kegiatan Belajar Praktik Keperawatan Di Rumah Sakit Umum Ambarawa. Vol.7 No.1., 32- 42

Ranupandojo, H dan Saud, H (2005). Manajemen Personalia. Edisi Ke-4 Penyunt. Yogyakarta:BPFE

Ritonga, Ega Fitriyani (2016). Tinjauan Kompetensi Petugas Rekam Medis Terhadap Mutu Pelayanan Kesehatan Di RSU. Imelda Pekerja Indonesia. Medan: Akademi Perekam Medik dan Informasi Kesehatan (APIKES) Imelda Medan.

Wawan, A dan Dewi M. (2011). Teori dan Pengukuran Pengetahuan, Sikap, dan Perilaku Manusia. Yogyakarta: Nuha Medika.

Yunita, BE., Arundina,A., Armyanti,I., Liana, DF. (2015). Gambaran Tingkat Pengetahuan Mahasiswa Tentang Tatalaksana Anak dengn Gizi Buruk. Vol.1 No.1. 2-17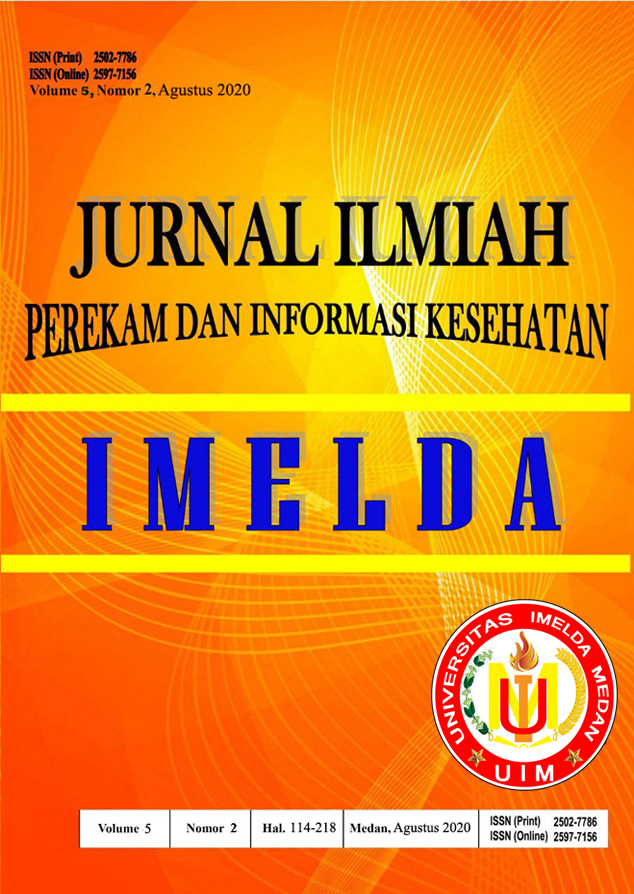 How to Cite
Estiyana, E., & Putri, A. L. P. (2020). GAMBARAN KOMPETENSI MAHASISWA PRODI PIK ANGKATAN 2018 DALAM MEMBERIKAN PELAYANAN PENERIMAAN RAWAT INAP DI LABORATORIUM STIKES HUSADA BORNEO. Jurnal Ilmiah Perekam Dan Informasi Kesehatan Imelda (JIPIKI), 5(2), 207-212. https://doi.org/10.2411/jipiki.v5i2.404
Copyright (c) 2020 Jurnal Ilmiah Perekam dan Informasi Kesehatan Imelda
This work is licensed under a Creative Commons Attribution-ShareAlike 4.0 International License.