HUBUNGAN KECEMASAN DAN KEPATUHAN KELUARGA PASIEN TERHADAP PENCEGAHAN PENULARAN COVID-19
Deddy Sepadha Putra Sagala

Universitas Imelda Medan

Hamonangan Damanik

Universitas Imelda Medan

Sarida Surya Manurung

Universitas Imelda Medan

Erika Zai

Universitas Imelda Medan
Keywords:
COVID-1, Anxiety, Compliance
Abstract
CoronaVirus (COVID-19) is a pandemic case since March 11, 2020. COVID-19 is a disease caused by CoronaVirus.CoronaVirus (CoV) is part of a family of viruses that cause illness ranging from the flu to more severe diseases such as Middle East Respiratory Syndrome (MERS-CoV) and Severe Acute Respiratory Syndrome (SARS-CoV). Globally confirmed on May 29, 2020 is 5,657,529 people and deaths are 356,254 in 216 countries. This study aims to determine the relationship between anxiety and patient family compliance with the transmission of Covid-19. This research is a quantitative research using a correlational design with the type of research design (cross sectional). The population in this study is the sum of the entire family of patients who visited the General Hospital Imelda Workers Indonesia Medan from July-August and the sample of this study was 97 respondents using purposive sampling method. Anxiety data collection used the Hamillion Rating Scale For Anxiety (HARS) questionnaire while for complaince data collecction used the 2022 Central Bureau Of Statistics questionnaire and analysis with Spearmen's test. The results showed that the relationship between anxiety and patient's family adherence to Covid-19 transmission was obtained with p value 0.002 <0.005 there was a relationship. Based on the results of this study, the more anxious, the more obedient in implementing health protocols.
Downloads
Download data is not yet available.
References
Akbar, S. N. A., Rusmana, A., & Hakim, M. Z. (2020). Burnout Pada Keluarga Pasien Di Ruang Pediatric Intensive Care Unit (Picu) Rsud Ulin Banjarmasin. Jurnal Ilmiah Rehabilitasi Sosial (Rehsos), 2(2), 91–105. https://doi.org/10.31595/rehsos.v2i2.308
Arianto, D., & Sutrisno, A. (2021). Kajian Antisipasi Pelayanan Kapal dan Barang di Pelabuhan Pada Masa Pandemi Covid–19. Jurnal Penelitian Transportasi Laut, 22(2), 97–110. https://doi.org/10.25104/transla.v22i2.1682
Handayani, D., Hadi, D. R., Isbaniah, F., Burhan, E., & Agustin, H. (2020). Corona Virus Disease 2019. Jurnal Respirologi Indonesia, 40(2), 119–129. https://doi.org/10.36497/jri.v40i2.101
Kang, S. G., Song, S. W., Kim, S. H., Kang, Y. J., Kim, Y. R., & Eun, Y. (2020). Fatigue and Mental Status of Caregivers of Severely Chronically Ill Patients. Pain Research and Management, 2020. https://doi.org/10.1155/2020/6372857
Karo, M. B. (2012). Perilaku Hidup Bersih dan Sehat ( PHBS ) Strategi Pencegahan Penyebaran Virus Covid-19. 1–4.
Kemenkes. (2020). Keputusan Menteri Kesehatan Republik Indonesia Nomor HK.01.07/MenKes/413/2020 Tentang Pedoman Pencegahan dan Pengendalian Corona Virus Disease 2019 (Covid-19). MenKes/413/2020, 2019, 207.
Limanseto, H. (2022). Berisikan Lini Masa Kebijakan dan Dinamika Penanganan Pandemi, Pemerintah Luncurkan Buku Vaksinasi Covid-19. Ekon.Go.Id. https://www.ekon.go.id/publikasi/detail/4437/berisikan-lini-masa-kebijakan-dan-dinamika-penanganan-pandemi-pemerintah-luncurkan-buku-vaksinasi-covid-19
No, V., & Mona, N. (2020). Konsep Isolasi Dalam Jaringan Sosial Untuk Meminimalisasi Efek Contagious (Kasus Penyebaran Virus Corona Di Indonesia). Jurnal Sosial Humaniora Terapan, 2(2), 117–125. https://doi.org/10.7454/jsht.v2i2.86
Patimah, I., W, S. Y., Alfiansyah, R., Taobah, H., Ratnasari, D., & Nugraha, A. (2021). Patimah, I., Alfiansyah, R., Taobah, H., Ratnasari, D., & Nugraha, A. (2021). Hubungan Tingkat Pengetahuan dengan Perilaku Pencegahan Penularan Covid-19 pada Masyarakat. Jurnal Kesehatan, 12(1), 52-60..pdf. 12(1), 52–60.
Peng, Y., Pei, C., Zheng, Y., Wang, J., Zhang, K., Zheng, Z., & Zhu, P. (2020). A cross-sectional survey of knowledge , attitude and practice associated with COVID-19 among undergraduate students in China.
Pinasti, F. D. A. (2020). Analisis Dampak Pandemi Corona Virus Terhadap Tingkat Kesadaran Masyarakat dalam Penerapan Protokol Kesehatan. Wellness And Healthy Magazine, 2(2), 237–249. https://doi.org/10.30604/well.022.82000107
Puspita, I. M., Rozifa, A. W., & Nadhiroh, A. M. (2021). Gambaran kecemasan dan kepatuhan remaja putri terhadap kebiasaan baru di masa Pandemi Covid-19 di surabaya. JOMIS (Journal of Midwifery Science), 5(1), 52–61. https://doi.org/10.36341/jomis.v5i1.1492
Ruskandi, J. H. (2021). Kecemasan Remaja pada Masa Pandemi Covid-19. Jurnal Penelitian Perawat Profesional, 3(3), 483–492. https://doi.org/10.37287/jppp.v3i3.530
Sari, R. P., & Utami, U. (2021). HUBUNGAN KECEMASAN dan KEPATUHAN dalam PELAKSANAAN PROTOKOL KESEHATAN di POSYANDU MALANGJIWAN COLOMADU. Jurnal Stethoscope, 1(2), 114–122. https://doi.org/10.54877/stethoscope.v1i2.811
Wakhudin, Fauzan, Juliandi, Firmansyah, Ridwan, Astadi, & Dkk. (2020). Covid-19 Dalam Ragam Tinjauan Perspektif (D. H. Santoso & A. Santosa (eds.); 1st ed). MBridge Press.
Wayan. (2006). Manajemen keperawatan. 117.
Wonok, J. M., Wowor, R., & Tucunan, A. A. T. (2020). Gambaran perilaku masyarakat tentang Pencegahan Covid-19 di desa tumani kecamatan maesaan kabupaten minahasa selatan. Jurnal KESMAS, 9(7), 147–156.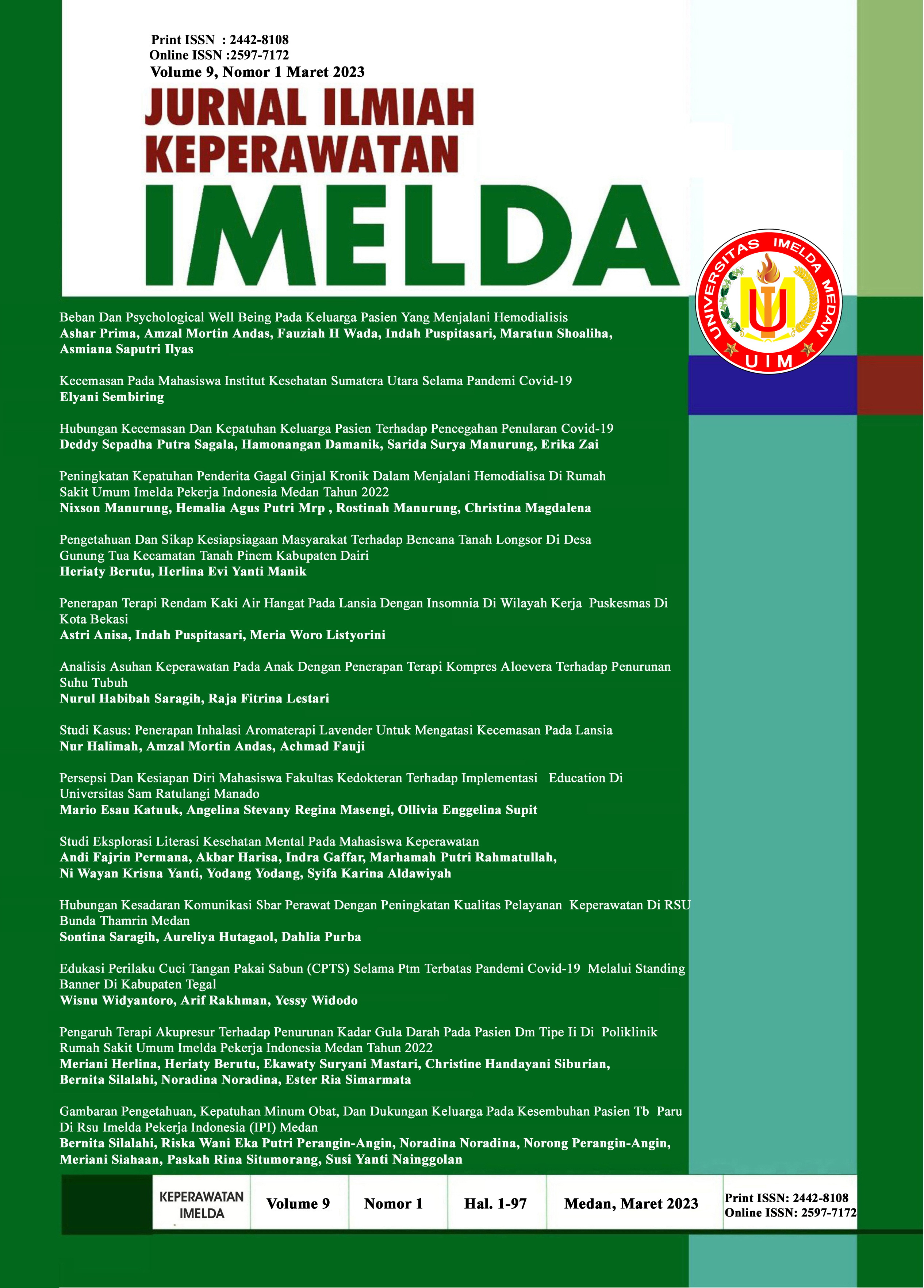 How to Cite
Sepadha Putra Sagala, D., Damanik, H., Manurung, S. S., & Zai, E. (2023). HUBUNGAN KECEMASAN DAN KEPATUHAN KELUARGA PASIEN TERHADAP PENCEGAHAN PENULARAN COVID-19. Jurnal Ilmiah Keperawatan IMELDA, 9(1), 14-19. https://doi.org/10.52943/jikeperawatan.v9i1.1240
Copyright (c) 2023 Jurnal Ilmiah Keperawatan IMELDA
This work is licensed under a Creative Commons Attribution-NonCommercial 4.0 International License.