PENGARUH BREATHING RELAXATION DENGAN TEHNIK BALLON BLOWING TERHADAP SATURASI OKSIGEN PADA PASIEN TUBERCULOSIS DI RUMAH SAKIT UMUM IMELDA PEKERJA INDONESIA MEDAN TAHUN 2021
Sarida Surya Manurung

Dosen Prodi S1/D-III Keperawatan STIKes Imelda

Rini Panggabean

Universitas Imelda Medan

Hamonangan Damanik

Universitas Imelda Medan

Deddy Sepadha Putra Sagala

Universitas Imelda Medan
Keywords:
Ballon Blowing, Oxygen Saturation, Tuberculosis
Abstract
Pulmonary Tuberculosis is a direct infectious disease caused by Tuberculosis bacteria (Mycobacterium tuberculosis), which are aerobic bacteria that can live mainly in the lungs. Physiological and psychological changes statistically are symptoms that are often experienced by tuberculosis patients which can reduce the patient's quality of life. Breathing relaxation with balloon blowing technique is a form of breathing exercise that can improve lung function. The purpose of this study was to determine the effect of breathing relaxation with the balloon blowing technique on oxygen saturation in tuberculosis patients at the Imelda General Hospital for Indonesian Workers in 2021. The population in this study was 137 people. The sampling technique in this study was accidental sampling using inclusion and exclusion criteria, thus the number of samples was 30 people. The design of this study was pre-experimental with pre-post-test one design. Data were analyzed univariately and bivariately using the Wilcoxon test. The results showed that there was a significant change in oxygen saturation before and after the intervention was given for 6 days. The results of statistical analysis showed p value = 0.01 <0.05 on the oxygen saturation variable. breathing relaxation using the balloon blowing technique can increase oxygen saturation in tuberculosis patients at IPI Medan Hospital. It is recommended for respondents to maintain oxygen saturation by doing breathing relaxation using the balloon blowing technique.
Downloads
Download data is not yet available.
References
Boyle, K. L., Olinick, J. and Lewis, C. (2017). The Value Of Blowing Up A Ballon. North American Journal of Sports Physical Therapy, 5(3), 179–188.

Guyton & Hall. (2016). Textbook of Medical Physiology. Elsevier.

Nursalam. (2017). Metode Penelitian Ilmu Keperawatan Pendekatan Praktis (4th ed.). Salemba Medika.

Price, Sylvia A & Wilson, L. M. (2016). Patofisiologi Konsep Klinis ProsesProses Penyakit. Buku Kedokteran EGC.

Renuka K., et al. (2019). Effectiveness of Balloon Therapy on Respiratory Status of Patients with Lower Respiratory Tract Disorders. International Journal of Science and Research (IJSR).

RI, D. (2016). Profil Kesehatan Provinsi Sumatera Utara Tahun 2015. Dinas Kesehatan Provinsi Sumatera Utara.

RI, K. (2017). Profil Kesehatan Indonesia Tahun 2016. Kemenkes RI.

RI, K. K. (2017). INFODATIN : Pusat Data dan Informasi Kementerian Kesehatan RI. Kementrian Kesehatan Republik Indonesia.

WHO. (2017). Monitoring Health For The SDGs. WHO.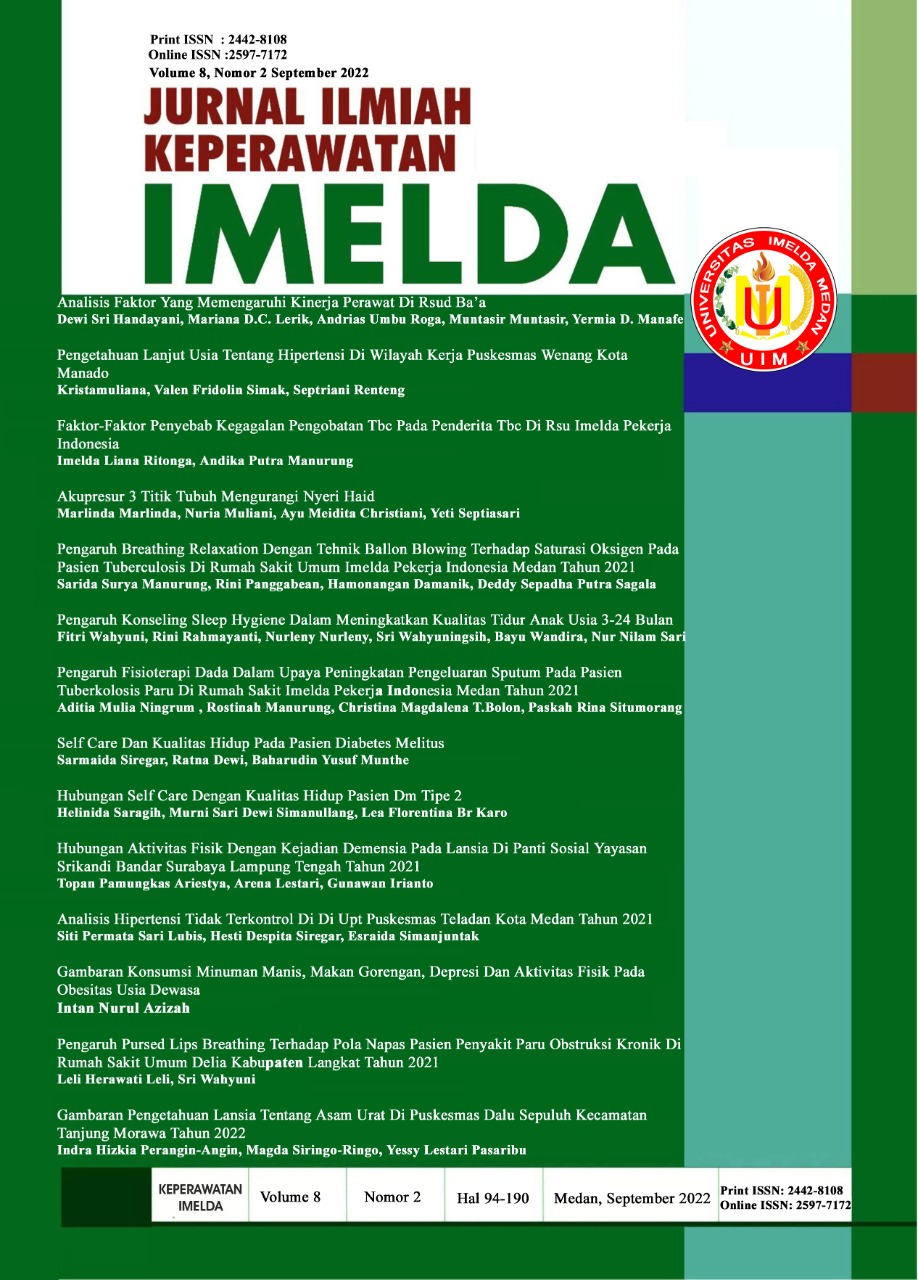 How to Cite
Surya Manurung, S., Panggabean, R., Damanik, H., & Sagala, D. S. P. (2022). PENGARUH BREATHING RELAXATION DENGAN TEHNIK BALLON BLOWING TERHADAP SATURASI OKSIGEN PADA PASIEN TUBERCULOSIS DI RUMAH SAKIT UMUM IMELDA PEKERJA INDONESIA MEDAN TAHUN 2021. Jurnal Ilmiah Keperawatan IMELDA, 8(2), 120-124. https://doi.org/10.52943/jikeperawatan.v8i2.1095
Copyright (c) 2022 Jurnal Ilmiah Keperawatan IMELDA
This work is licensed under a Creative Commons Attribution-NonCommercial 4.0 International License.