PENGARUH TINDAKAN CHEMOTERAPHY TERHADAP PENINGKATAN HARAPAN HIDUP PASIEN CANCER MAMAE DI RSU IMELDA MEDAN PEKERJA INDONESIA
Noradina Noradina

Universitas Imelda Medan
Keywords:
Ca. Mammae, Post Mastectomy, Quality of Life
Abstract
ABSTRACT
Carcinoma mammae (ca mammae) is a malignant tumor that grows in breast tissue, which is thought to affect the quality of life of sufferers. Strong psychiatric effects due to ca mammae can have a negative impact on the lives of sufferers, especially in post mastectomy sufferers. Handling ca mammae is not just saving lives or a mammae, but also an effort to achieve the best quality of life. For this reason, a study on the Quality of Life of Ca Mammae Post Mastectomy Patients in CISC and BCS in 2010. The purpose of this study was to determine the quality of life in post-mastectomy patients with cammary conditions associated with psychological conditions, social life and family responses. This research method is purely descriptive with cross sectional design. The research instrument was in the form of a questionnaire containing 37 questions. The subjects of the study were post-mastectomy patients with breast cancer in the CISC (Cancer Information and Support Center) Jakarta and BCS (Bandung Cancer Society) cancer communities. The sampling technique was purposive sampling. shows that the mastectomy does not cause changes in the quality of life in patients with ca mammae assessed in terms of psychological conditions, social life, and family responses. The conclusion of this study is that the mastectomy does not cause changes in the quality of life in patients with ca mammary.
Downloads
Download data is not yet available.
References
Cythia dan Deananda , (2009), Pengertian cancer mamae , Jakarta: Rineka Cipta
Hawari , ( 2004 ), Penyebab cancer mamae , Yogyakarta: Buku Biru
Dinkes RI, (2009 ), Buku Ajar Cemotherapy , Jakarta: CV. Trans Info Media
Notoadmojo , (2003 ), Harapan Hidup Pasien Cancer Mamae , Jakarta: BKKN
Social sty Relsen, , (2006 ), Kanker Payudara , Yogyakarta: Fitramaya
Notoatmodjo, (2006), Metodologi Penelitian Kesehatan, Jakarta: Rineka Cipta,
Notoatmodjo, (2010 ), Kesehatan Masyarakat Ilmu Dan Seni. Jakarta: Rineka Cipta
Baradero dan dkk, (2008), Asuhan Keperawatan klien gangguan sistem reproduksi dan seksualitas , Jakarta: Salembah Medika
Corwin , Elizabeth J, (2009), Buku Saku Patofisiologi , Jakarta : EGC
Dianandra R, (2007), Mengenal Seluk Beluk Kanker , Yogyakarta : Katahati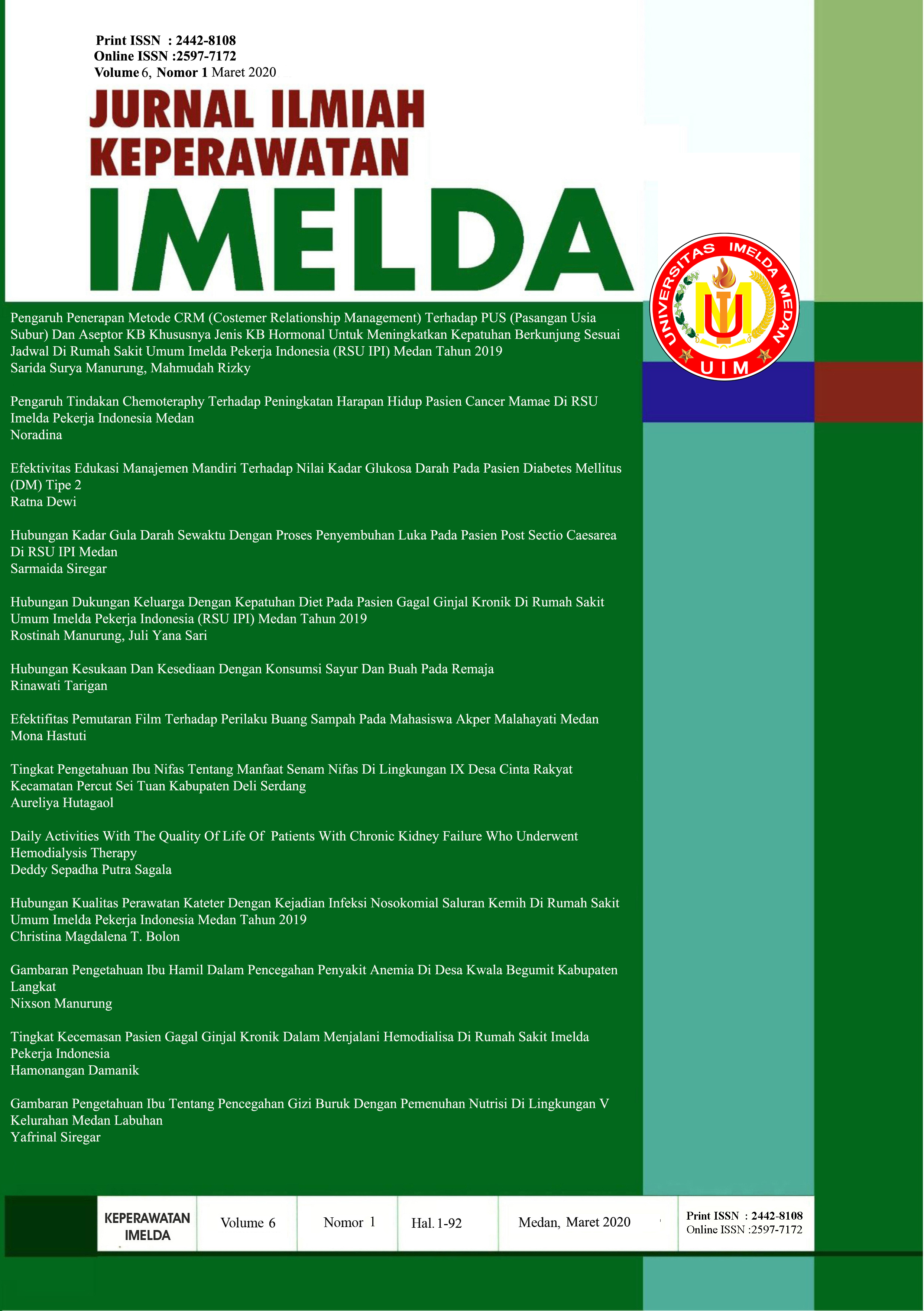 How to Cite
Noradina, N. (2020). PENGARUH TINDAKAN CHEMOTERAPHY TERHADAP PENINGKATAN HARAPAN HIDUP PASIEN CANCER MAMAE DI RSU IMELDA MEDAN PEKERJA INDONESIA. Jurnal Ilmiah Keperawatan IMELDA, 6(1), 9-15. https://doi.org/10.52943/jikeperawatan.v6i1.344
Copyright (c) 2020 Jurnal Ilmiah Keperawatan Imelda
This work is licensed under a Creative Commons Attribution-NonCommercial 4.0 International License.