PENGARUH AROMATHERAPY TERHADAP MUAL DAN MUNTAH PADA IBU HAMIL (SYSTEMATIC RIVEW)
Wellina BR Sebayang

Universitas Imelda Medan
Keywords:
Nausea and Vomiting, Pregnancy, Aromatherapy
Abstract
Pregnancy is natural process from conceotion to the onset of labor. In pregnancy physiological changes occur in the entire organ system, due to hormonal changes that occur during pregnancy. 50-90% of pregnant women experience nausea in the first trimester. This study uses a systematic review method with the aim to see the effect of aromatherapy on nausea and vomiting in pregnant women.this systematic review reviews 10 journals published through google scoolar's website.the results of this journal review found 7 aromatherapy that can reduce nausea and vomiting in pregnant women, namely : aromatherapy ginger , lemon ,orange , lavender, steeping peppermint leaves, essential oils of peppermint and ginger oil.
References
Aromatherapy, L., Reducing, T., In, V., & Women, P. (2019). Aromaterapi lavender terhadap pengurangan mual muntah pada ibu hamil. 1(2), 48–55.

Banun, S., Istiqomah, T., & Yani, D. P. (2017). Pengaruh efektifitas pemberian seduhan daun peppermint pada ibu hamil terhadap penurunan frekuensi emesis gravidarum. Jurnal Maternity and Neonatal, 1(2), 103–107.

Dhilon, D. A. (2018). Pengaruh Pemberian Terapi Aroma Jeruk Terhadap Intensitas Rasa Mual dan Muntah pada Ibu Hamil di Wilayah Kerja Puskesmas Harapan Raya. Jurnal Doppler Universitas Pahlawan Tuanku Tambusai, 2(1), 58–65.

Holmes. (2011). Buku Ajar Ilmu Kebidanan. Terj. Eka Anisa Mardella, Pamilih eko Karyuni. egc.

Journal, P. H., Jahe, R. A., Aromaterapi, L. I., Mabrum, K., Jahe, R. A., Inhalasi, L., & Mabrum, K. (2019). Tehnik Mengatasi Mual Dan Muntah Pada Ibu Hamil Trimesrer Satu ( Systematic Review ) Techniques To Overcome Quality and Vomiting in Pregnant Mother Trimester One ( Systematic Review ). 6(1).

Kurnia, H. (2019). Pengaruh Pemberian Aromatherapi Jahe Terhadap Mual Muntah Pada Ibu Hamil Trimester I. Jurnal Riset Kesehatan Poltekkes Depkes Bandung, 11(1), 44. https://doi.org/10.34011/juriskesbdg.v11i1.617.

Santi, D. R. (2013). Pengaruh aromaterapi blended peppermint dangGinger Oil terhadap Rasa Mual pada Ibu Hamil Trimester Satu di Puskesmas Rengel Kabupaten Tuban ( The Effect of Peppermint and Ginger Blended Aromatherapy Oils on Nausea at the First Trimester Gravida in Puskesm. Jurnal Said Med, 5 No. 2, 2011–2014.

Vitrianingsih, S. K. (2019). EFEKTIVITAS AROMA TERAPI LEMON UNTUK MENANGANI EMESIS ARTIKEL Riwayat Artikel. Jurnal Keperawatan, 11(4).

Zuraida, & Desia, S. E. (2018). Perbedaan Efektivitas Pemberian Essensial Oil Peppermint dan Aroma Terapi Lavender terhadap Intensitas Mual dan Muntah pada Ibu Hamil Trimester I di Puskesmas Baso Kabupaten Agam Tahun 2017. Jur, 12(4), 142–151.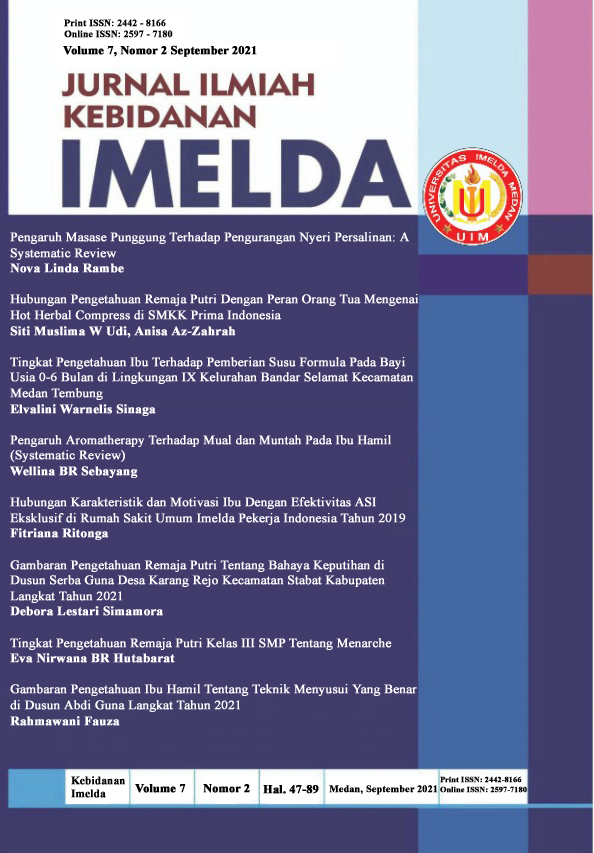 How to Cite
BR Sebayang, W. (2021). PENGARUH AROMATHERAPY TERHADAP MUAL DAN MUNTAH PADA IBU HAMIL (SYSTEMATIC RIVEW). Jurnal Ilmiah Kebidanan Imelda, 7(2), 65-68. https://doi.org/10.52943/jikebi.v7i2.619