ANALISIS FAKTOR YANG MEMENGARUHI SUAMI DALAM MEMILIH KONTRASEPSI VASEKTOMI DI KECAMATAN MEDAN MARELAN TAHUN 2015
Sarida Surya Manurung

Dosen Prodi S1/D-III Keperawatan STIKes Imelda
Keywords:
: Contraception; Factor Analysis; Husband; Vasectomy.
Abstract
Indonesia is a country that has a lot of population, which until now could not be overcome. Facts show that in 2007 gender equality in the implementation of family planning among men and women have a higher gap. Based on the results of the achievement of an active family planning participants of Women and Family Planning (PPKB) of Medan in 2011 the use of contraceptives vasectomy 884 participants (0.38%), condoms are 11,089 participants (5.03%), while the husband who did not use contraception EFA as many as 146,721 husband. Data is based on achievement of the Medan District Participants KB Marelan EFA by 2012 the number of 23,514 Contraception vasectomy amounted to 64 participants (0.44%), condoms totaling 800 participants (5.52%). The purpose of this study to classify the factors that influence the husband in choosing a contraceptive vasectomy is a factor 1, factor 2, and so on .. This type of quantitative research using a survey of analytical methods through research explanatory. The population in this study were all male couples of childbearing age use contraception vasectomy in Medan District Marelan totaling 64 people and made the whole sample. Data obtained through interviews using questionnaires, and analyzed by factor analysis. The results showed that the number of children, education, knowledge, social culture, access to services, quality of service, support his wife and family support affect the husband chose vasectomy as a contraceptive in Medan District Marelan. Needed attention to the factors influencing their husbands in choosing vasectomy as a contraceptive in Medan District Marelan so you can increase the coverage KB men. Factors social demography, need and motivation the cause of her husband in choosing vasectomy as a contraceptive in Medan District Marelan to be distributed and provided explanations to the public so as to improve the coverage KB men in this district.
Downloads
Download data is not yet available.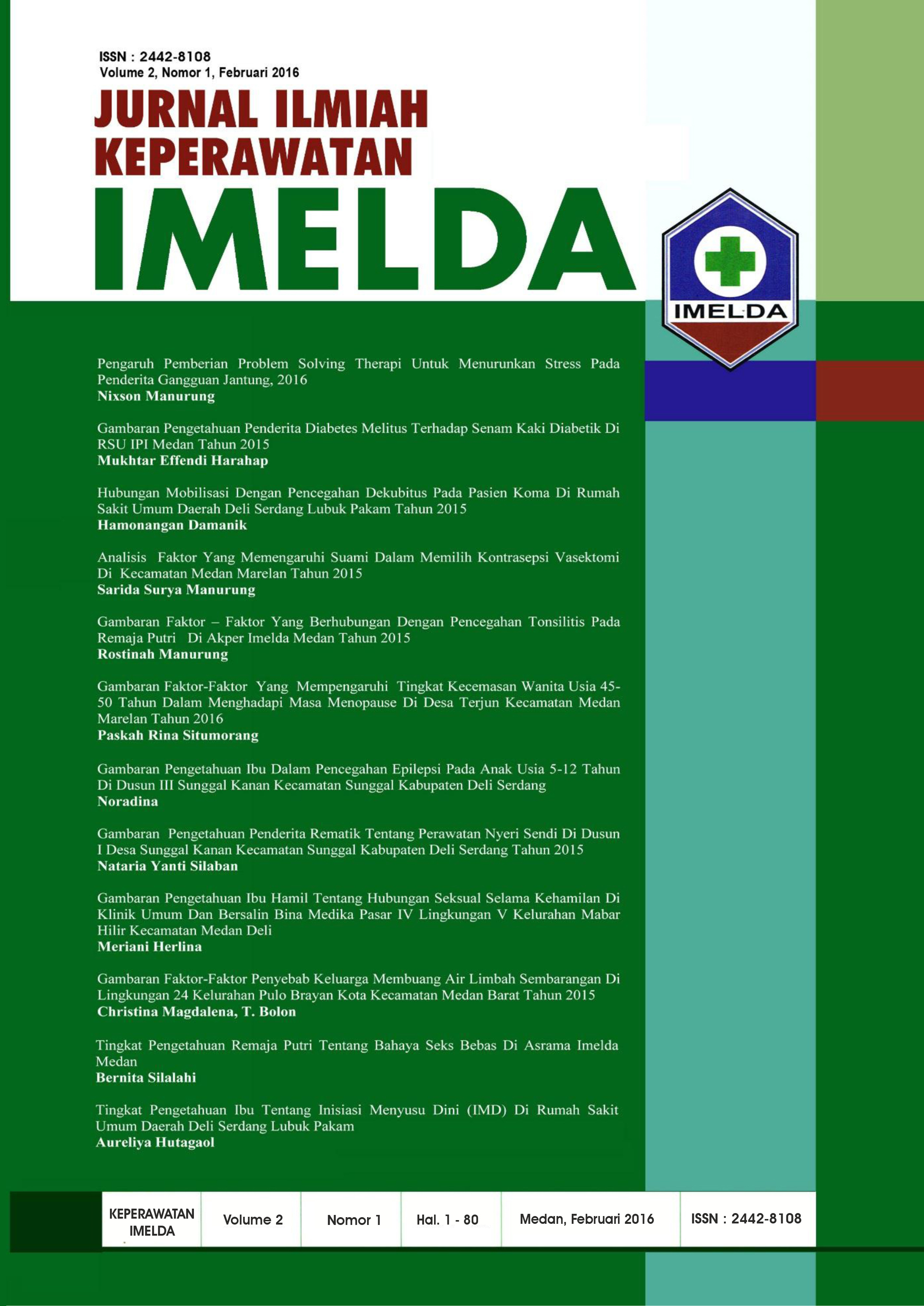 How to Cite
Surya Manurung, S. (2019). ANALISIS FAKTOR YANG MEMENGARUHI SUAMI DALAM MEMILIH KONTRASEPSI VASEKTOMI DI KECAMATAN MEDAN MARELAN TAHUN 2015. Jurnal Ilmiah Keperawatan Imelda, 2(1), 19-27. https://doi.org/10.2411/jikeperawatan.v2i1.231
Copyright (c) 2016 Jurnal Ilmiah Keperawatan Imelda
This work is licensed under a Creative Commons Attribution-NonCommercial 4.0 International License.