MUTU PELAYANAN PETUGAS REKAM MEDIS TERHADAP TINGKAT KEPUASAN PASIEN BPJS RAWAT JALAN DI RUMAH SAKIT UMUM IPI MEDAN TAHUN 2019
Johanna Christy

Dosen STIKes Imelda Medan
Keywords:
Service Quality, Health BPJS, Patient Satisfaction
Abstract
Quality of service is the overall characteristics of the service that shows its ability to satisfy the needs of consumers, and the Health BPJS is a legal entity formed to carry out a health insurance program, and patient satisfaction is the level of patient feelings that arise as a result of the performance of health services obtained after the patient compares it with what he hoped for. The purpose of this study was to determine the quality of medical record officer services to the level of satisfaction of outpatient BPJS patients in General Hospital. IPI Medan 2018. This research uses Analytical research design. The independent variable is BPJS Health service quality and the dependent variable is patient satisfaction. Samples taken using the Slovin Formula found 33 patients in the Outpatient Installation at the General Hospital. IPI. Medan in 2018. The research instrument used a questionnaire. The results showed that 28 respondents (84.8%) stated that the quality of BPJS Health services was good, and 32% of respondents (97.0%) expressed satisfaction with BPJS Health services. Chi Square statistical test results state there is a relationship between the quality of BPJS Health services with patient satisfaction Outpatient Installation at the General Hospital. IPI. Medan Year 2018 (pValue = 0,000). The implication of the results of the study shows that the quality of BPJS Health services has an important role in influencing patient satisfaction.
Downloads
Download data is not yet available.
References
Bustami, 2011, Penjaminan Mutu Pelayanan Kesehatan & Aksebtabilitasnya. Jakarta : Erlangga
Departemen Kesehatan RI. 2018. Undang-Undang Republik Indonesia Nomor 36 Tahun 2009, Tentang Kesehatan. Diakses : 28 Juli 2019 pukul 17.35 WIB http://depkes.go.id.

Hatta, GR. 2009. Pedoman manajemen informasi kesehatan di sarana pelayanan kesehatan, jakarta: Universitas indonesia (UI Press)

Presiden Republik Indonesia. Undang Undang Republik Indonesia No 24 Tahun 2011 Tentang Badan Penyelenggara Jaminan Sosial Kesehatan. Jakarta: Seketariat Negara. 2011

Susanto, Anton. 2016. Penerapan Manajemen Mutu Pelayanan di unit Rekam Medis. Rumah Sakit PKU Muhammadiyah,Surakarta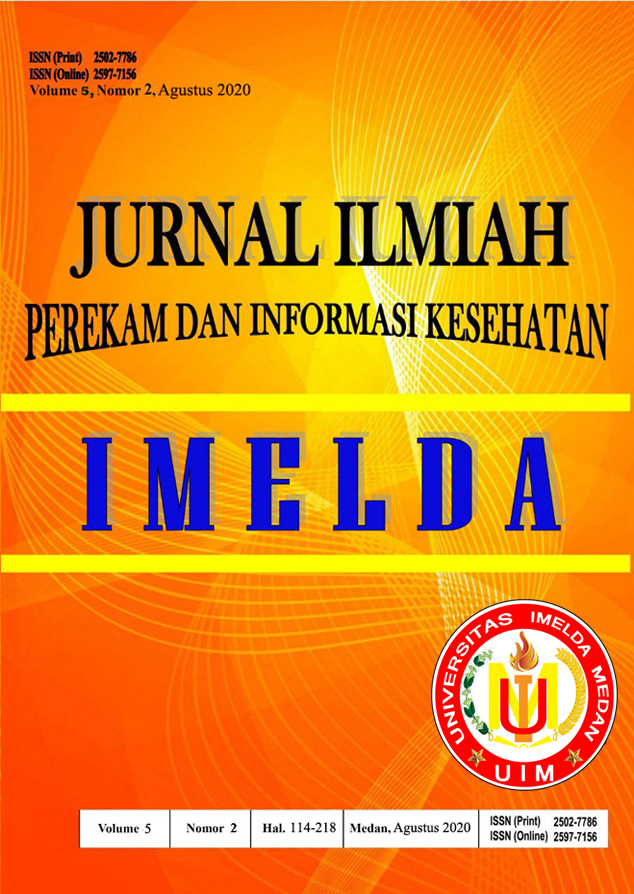 How to Cite
Christy, J. (2020). MUTU PELAYANAN PETUGAS REKAM MEDIS TERHADAP TINGKAT KEPUASAN PASIEN BPJS RAWAT JALAN DI RUMAH SAKIT UMUM IPI MEDAN TAHUN 2019. Jurnal Ilmiah Perekam Dan Informasi Kesehatan Imelda (JIPIKI), 5(2), 181-186. https://doi.org/10.2411/jipiki.v5i2.419
Copyright (c) 2020 Jurnal Ilmiah Perekam dan Informasi Kesehatan Imelda
This work is licensed under a Creative Commons Attribution-ShareAlike 4.0 International License.