HUBUNGAN RIWAYAT SAKIT DAN ASUPAN GIZI (ENERGI DAN PROTEIN) DENGAN STATUS GIZI LANSIA DI WILAYAH KERJA PUSKESMAS PADANGMATINGGI KOTA PADANGSIDIMPUAN
Johanna Christy

Dosen STIKes Imelda Medan
Keywords:
History of illness, Nutritional Intake, Nutritional Status, Elderly.
Abstract
One of the increasing benchmarks of the progress of a nation is seen from the life expectancy of its population. Increasing life expectancy is reflected in the increasing number of elderly (elderly) population. The increasingly elderly population in Indonesia will have a major impact on the management of health problems. This study aims to see aims to know the history of illness, energy intake and protein intake with nutritional status in the elderly in the work area of ​​Padangmatinggi in Padangsidimpuan Health Center.
This research type is quantitative with cross sectional research design. This study was conducted by assessing the food method of food recall 24 hours. Nutritional status with IMT / U. The sample in this study amounted to 100 people who are elderly. Data analysis is univariate, and bivariate with Chi Square Test. The result of bivariate test shows that there is correlation between history of illness (p=0,000), energy intake (p=0.000), and protein intake (p=0.000) with nutritional status. Cadres should more often give counseling about balanced nutrition to the community, especially elderly to improve knowledge, attitudes, and behavior of balanced nutrition in elderly and always monitor nutritional status of elderly through posyandu elderly in order to maintain normal BMI. The health office is more often to monitor the nutritional status and health of the elderly in the working area of ​​Padang municipal health center of Padangsidimpuan in order to maintain the normal nutritional status in the elderly and the elderly to avoid degenerative diseases.
Downloads
Download data is not yet available.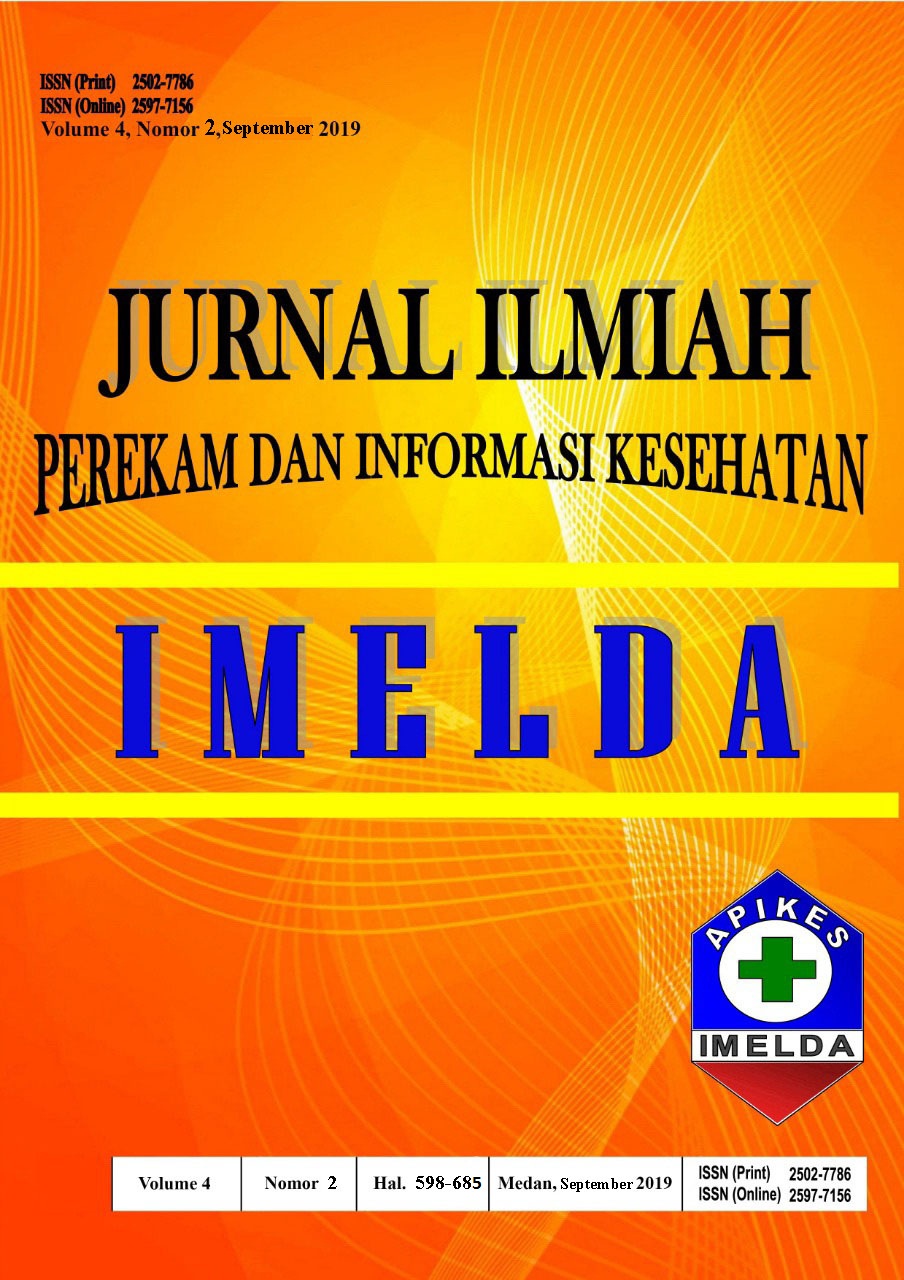 How to Cite
Christy, J. (2019). HUBUNGAN RIWAYAT SAKIT DAN ASUPAN GIZI (ENERGI DAN PROTEIN) DENGAN STATUS GIZI LANSIA DI WILAYAH KERJA PUSKESMAS PADANGMATINGGI KOTA PADANGSIDIMPUAN. Jurnal Ilmiah Perekam Dan Informasi Kesehatan Imelda (JIPIKI), 4(2), 661-667. Retrieved from https://jurnal.uimedan.ac.id/index.php/JIPIKI/article/view/90
Copyright (c) 2019 Jurnal Ilmiah Perekam dan Informasi Kesehatan Imelda
This work is licensed under a Creative Commons Attribution-ShareAlike 4.0 International License.